RAD/Grey er et syv uger gammelt bureau, udsprunget af GreyWorks, der i øvrigt selv er blot halvandet år gammel.
Og så har vi Sir Winston Churchills fødested, Blenheim Palace – opført af John Churchill, den første Hertug af Marlborough, på det stykke land, som var belønningen for hans sejr over franskmændene ved Slaget på Blenheim i 1704.
Her var RAD/Grey på opgave for Englands største og mest omtalte privatfinansierede kunstudstilling, Blenheim Art Foundation.
Opgaven var at skabe en kort dokumentarfilm om tilløbet til kunstudstillingen af Lawrence Weiner, "Within a Realm of Distance", som åbnede for offentligheden søndag den 11. oktober.
Den 73-årige kunster fra New York, Lawrence Weiner, kaldes af mange for "The Godfather of Conceptual Art", mens hans værker kaldes både legendariske og banebrydende af stort set alle fra den etablerede kunstverden.
Filmen toppede tirsdag på et af verdens hotteste sites for kunst og kultur, nowness.com, der er et meget anerkendt site for kunst, kultur, arkitektur.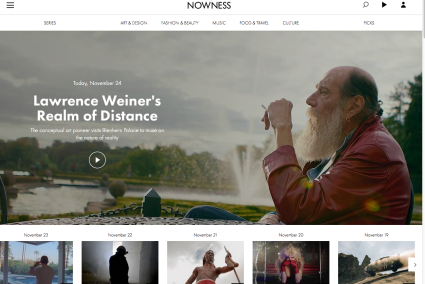 "Det er en ære for uafhængige kreative at få deres arbejde fremhævet på sitet, men at en film, hvor der til sidst står 'Concept & Art Direction RAD/Grey Copenhagen', kommer til tops – det er lidt af en bedrift for et kommercielt bureau," siger Thomas Ørum, CEO for RAD/Grey.
Holdet fra bureauet tilbragte fem dage på slottet og i den nærliggende landsby, Woodstock, i selskab med Blenheim Art Foundations grundlægger Lord Edward Spencer-Churchill og nonprofit-organisationens danske direktør Michael Frahm – samt naturligvis Lawrence Weiner, der havde fået lov til 'tegne' på væggene af paladset, som er på Unescos verdensarv-liste.
Det var, fra arrangørernes side, en delikat balancegang for ikke at ødelægge så meget som et lille stykke tapet, mens man samtidigt monterede gigantiske værker på lofter, vægge og selv på uvurderligt inventar fra den første hertugs tid.
Arbejdet repræsenterer i øvrigt også en balancegang for bureauet.
"Dette er ikke en traditionel reklame. Her er intet logo, ingen call-to-action. Men derimod et kunstnerisk og ydmygt stykke content marketing," siger Thomas Ørum.
Han uddyber:

"Filmen er ikke et typisk RAD/Grey-arbejde, men det er på den anden side heller ikke sidste gang, at vi laver denne type arbejde. Vi vil, mellem den gængse marketing, gå efter disse dedikerede opgaver – den ultimative kreative legeplads, hvor vi får lov til at vise, hvad vi også kan på internationalt plan."