Sats mere på kvinder, er en diskussion, der fra tid til anden har kørt – bl.a. initieret af Lowefriends.
Det kan der faktisk være en sandhed i, konstaterer det lille danske firma, Powerbrands. For ca. fire år siden gik man på markedet med en energidrik, der lagde sig meget mere op af Red Bull og det mere maskuline.
Det kom op at flyve – men undervejs erkendte man, at kvinder var en meget bedre målgruppe for produktet. Det lille bureau Squaws, der er stiftet af tre kvinder – søstrene Anouska og Nina Sinding samt Jette Lautrup – blev hyret, "and the rest is history."
Produktet er nu inde i tæt på 30 markeder, USA står for tur – det er blevet listet i Wallmart – og salget er på få år gået fra ca. en million flasker til et tocifret million-tal. Længere vil firmaets direktør og hovedaktionær, Jørn Senger ikke gå i forhold til at fortælle om salget.
Marketing-værktøjerne er reelt ganske enkle: et nyt navn og et nyt emballage-design har gjort det meste af forskellen.
Produktet startede med navnet PowerShot. Nu hedder det Little Miracles.
"Hele grundideen var at lave en reelt sund og økologisk energidrik, men vi måtte erkende, at et sådant produkt egner sig meget mere til kvinder, og derfor besluttede vi at sadle om i stedet for at lægge os i samme verden som Red Bull," siger Jørn Senger og fortsætter:
"Squaws kom tilbage med navnet Little Miracles, som vi testede. Det skabte noget diskussion, for er det ikke babyer, der er Little Miracles. Men vi kunne godt lide det, og valgte at køre videre. Squaws blev sat til at udforme et nyt design, og det har vist sig at fungere rigtig godt."
Andre marketing-aktiviteter koncentrerer sig om sociale medier og in-store aktiviteter, så samlet er produktet, navnet og emballagen centrum for markedsføringen.
"Navn og design tager udgangspunkt i produktets DNA, økologiske ingredienser, der alle har særlige egenskaber, der hjælper med at give et tilskud af energi i en travl hverdag. Med et budskab om at være 'meaningful drinks to do you good', rammer Little Miracles lige ind i tidsånden, der vakler mellem ønsket om grounding og meditativ ro til hverdagens barske virkelighed, der kræver at man er i gang og på toppen konstant," siger Anouska Sinding.
En anden detalje i emballagen er, at toppen af kapslen har fået budskbet 'Drink to your health'.
Powerbrands er nærmest 'born global'. I Danmark sidder der otte mennesker og støber kuglerne, mens både salg og produktion foregår i udlandet.
Squaws har fået rollen som koncept-keepere og faste sparringspartnere for Jørn Senger – f.eks. på nye produkter. Desuden laver de laver de alle nye labels.
Men når det gælder in-store og social media på de forskellige markeder, så hyres der lokale bureauer.
Selvom det er en dansk født ide, så fylder Danmark fortsat meget lidt i salget.
"England er verdens næststørste softdrink marked, så det er noget mere interessant at komme ind på. Men vi er da nu kommet ind i Irma og på vej hos SuperBest," siger Jørn Senger.
Selve flasken har vist sig at have en anden fordel. EasyJet har taget produktet ind – ikke bare på grund af kvaliteten men også fordi flasken optager meget lidt plads i forhold til indholdsmængden.
Det nye design: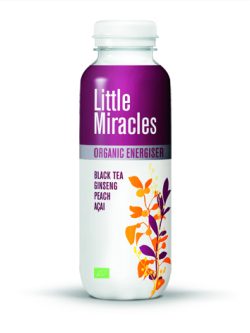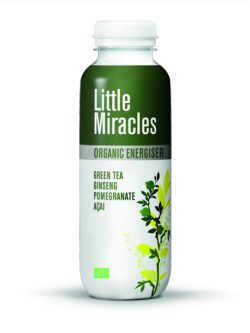 Det oprindelige design: