De kan et eller andet i Helsingør og i Nordsjælland i det hele taget. I årets udgave af MyImageKonference topper Marienlyst Strandhotel den samlede liste over det bedste image blandt møde- og konferencecentre.
Nummer to er også et Helsingør-center, nemlig Comwell Borupgaard, og nummer tre på listen ligger også i Nordsjælland. Det er Rungstedgaard, der ligger i Rungsted.
Det er 867 mødebookere, der har bedømt 78 møde- og konferencecentre i analysen, som laves af MyResearch i samarbejde med Danske Konferencecentre.
Den samlede bedømmelse er sammensat af brand strength, der bygger på kendskab og lysten til at booke stedet og brand position, der bygger på hvordan stedet bedømmes på 9 kvalitative parametre
Marienlyst Strandhotel topper på 5 af de 9 parametre, f.eks. bedst på rigtig god mad.
Søhuset Konferencecenter i Hørsholm vurderes bedst på tekniske faciliteter og Storebælt Sinatur Hotel & Konference i Nyborg vurderes bedst på beliggenheden.
Konventum – også i Helsingør – ligger i toppen på konkurrencedygtige priser.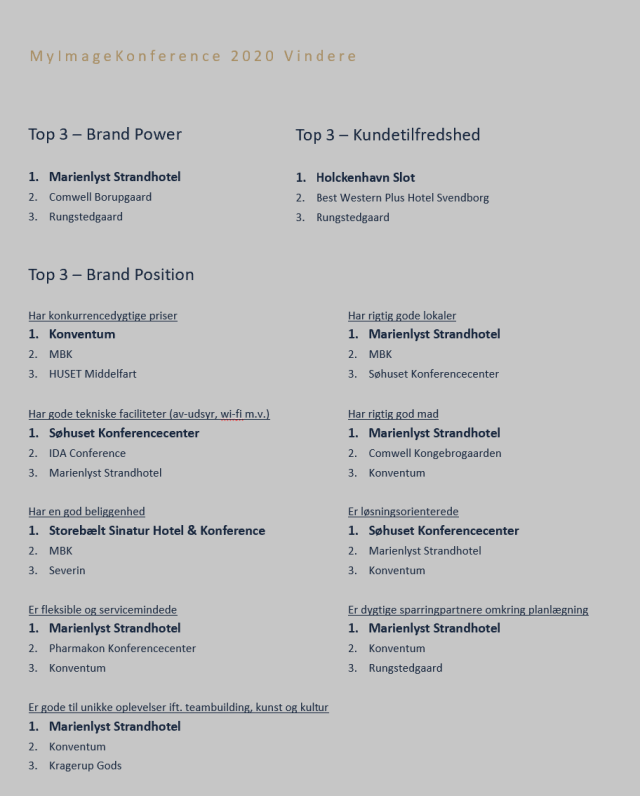 Årets højdespringere
Kigger man på hvem der i den samlede top-10 har udviklet sig mest i positiv retning i årets analyse, er højdespringerne:
Hotel Vejlefjord, der faktisk ligger i Stouby, er gået fra en 10. plads til en 4. plads
IDA Conference på Kalvebod Brygge i København er gået fra nr. 19 til nr. 8
KolleKolle i Værløse er gået fra nr. 18 til nr. 9
De mest tilfredse kunder
Mødebookerne har også svaret på, hvem de er mest tilfredse med. Her topper Holckenhavn Slot i Nyborg foran Best Western Plus Hotel Svendborg og Rungstedgaard.
Tre informationskilder skiller sig ud
Når mødebookerne skal holde sig orienteret bruger de især centrenes egne hjemmesider samt bookingportaler som Danske Konferencecentre og Kursuslex. Først derefter kommer Google og kollegaers gode råd.
MyImageKonference er udkommet i to år. Bag analysen står MyResearch.