Udgangspunktet var opsigtsvækkende. Det må det nødvendigvis være, når et højtprofileret bureau som Mensch går gennem en skilsmisse i partnerkredsen.
Resultatet var bl.a., at adm. dir. Bjørn Stene forlod bureauet, og det placerede en ny person i stolen – nemlig Christina Tønnesen. Men hvis nogen tror, at det fører til helt nye boller på suppen, så kan de godt tro om igen.
"Man skal ikke forvente sig nogle bombastiske programerklæringer fra min side. Jeg vil bedømmes på mine handlinger – ikke på mine udsagn," siger Christina Tønnesen og fortsætter:
"Mensch har altid haft en utrolig stærk kultur, som bygger på, at mange dygtige mennesker, med ekstrem høj faglighed, kan arbejde sammen. Det bliver der ikke lavet om på. Men jeg ser det som min primære opgave nu, at ændre PH værdien i vandet, så så alle kan have det som en fisk i vandet igen."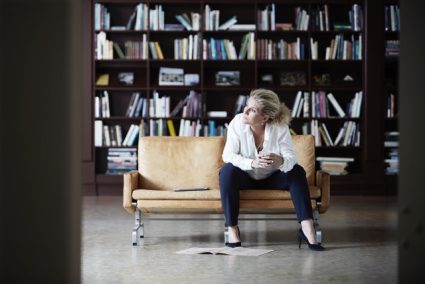 Christina Tønnesen beskriver sig selv som et loyalt menneske, og det udtrykker sig f.eks. på hendes cv, der rummer stor stabilitet. Formelt har hun haft tre arbejdspladser, siden hun i 1997 begyndte i reklamebranchen – men principielt kan man tale om to, for hun var en del af den partnerkreds, som forlod Propaganda og formede Mensch.
"Jeg har altid vidst, at jeg ville arbejde med kommunikation. Jeg interesserer mig helt grundlæggende for de menneskelige dynamikker, baggrunden for vores beslutninger, og hvad der påvirker menneskers adfærd," siger Christina Tønnesen.
Efter Reklameskolen i 1996 blev hun ansat på DDB, hvor hun var i 9 år, og bl.a. havde ansvaret for McDonald's. Sideløbende gennemførte hun også planneruddannelsen.
"Jeg var utrolig glad for min tid på DDB, men da jeg blev kontaktet af Propaganda dengang, var jeg ikke i tvivl. De spillede i deres helt egen liga, og jeg valgte at spille med," siger Christina Tønnesen.
Spiller frem for træner
Det er så 11 år siden – og nu er hun ikke bare partner – hun er adm. dir. Det er dog ikke en titel, der i dagligdagen har stor betydning for Christina Tønnesen. Hvis man skal bruge en sportsmetafor, så er hun som type mere spilleren, der tager det store ansvar på banen end træneren, der sidder på sidelinjen og dirigerer.
"Det, der altid har drevet mig, er en ambition om at være dygtig til det, jeg laver. Jeg insisterer på, at vi skal gøre det lidt bedre hele tiden. Det har så ført til nogle interessante jobmæssige positioner – og altså nu rollen at stå i spidsen for Mensch" siger Christina Tønnesen og fortsætter:
"Vi er et team, hvor jeg er blevet udstyret med en rolle som adm. dir. Men det er og bliver teamet, der bærer bureauet. Som administrerende direktør på Mensch får man ikke en organisation stillet til rådighed. Det er den administrerende direktør, der skal stå til rådighed for organisationen."
Mere blød tilgang til partnere
Men når man taler om organisationen, så finder man her en af de justeringer, der kommer til at ske på bureauet. Mensch har siden sin start været bygget på en filosofi om, at folk der blev ansat skulle have partnerpotentiale. Populært sagt handlede det om, at man inden for et år blev partner eller var på vej ud.
"Det princip har jeg altid syntes var lidt firkantet, og vi kommer til at give større plads til forskellige typer uden at fokusere så meget på partnerskabet," siger Christina Tønnesen og fortsætter:
"Vi har ikke ændret attitude til, at Mensch er et sted, der samler meget dygtige folk, men man kan være dygtig på mange niveauer uden at skulle sigte efter et partnerskab. F.eks. findes der mange unge talenter, som vi hidtil ikke har kunnet ansætte, fordi de ikke var klar til partner-forpligtelsen. At fokusere så meget på partnerpotentialet har begrænset vores rekruttering og her vil vi gerne have mere fleksibilitet."
Christina Tønnesen fortæller samtidig, at bureauet står over for blandt andet at skulle ansætte flere digitale kompetencer, men hun forventer, at det kommer til at tage tid at finde de rigtige.
"Vi tror på langvarige relationer, og derfor vil vi hellere bruge lidt mere tid på at finde de rigtige, selv om vi har et akut behov," siger Christina Tønnesen.
Hun understreger samtidig, at bureauet ikke arbejder med et vækstmål.
"Vi tror, det er langt vigtigere, at have et formål end et vækstmål," siger Christina Tønnesen.
Nye lokaler
Endelig sker der noget rent fysisk, som også kan medvirke til at ændre PH-værdien i vandet – eller i hvert fald påvirke kulturen:
Bureauet flytter fra lokalerne i Sankt Petri Passage, hvor man har boet siden 2009. Det er gamle KTAS-lokaler, som er nærmest statelige i sit udtryk. Fornem kvalitet og fine bygningsdetaljer – men måske lidt mere et advokat-kontor end en kreativ virksomhed.
"Det er svært at sige noget grimt om Skt. Petri, men nu har vi været her i 7 år, og for en kreativ virksomhed er udvikling et nøgleord. Så om lidt rykker vi til Bredgade 41, hvor vi har fundet nogle lokaler med lidt andre bygningsmæssige og æstetiske kvaliteter.," siger Christina Tønnesen.