De Olympiske Lege afholdes om fem år i Tokyo. Og siden 2013 har logoet for belgiske Théâtre de Liège været officielt og ligget fremme på bl.a. Pinterest.
Og hvad filan har de to ting med hinanden at gøre?
En del, viser det sig. For siden Tokyo lancerede sit OL-logo i juli, har det været svøbt ind i anklager om plank – nærmere bestemt, at Kenjiro Sanos olympiske logo lige lovligt meget ligner dét, som Olivier Debie havde skabt for teatret i Liège.
Det vil Tokyos olympiske komité ikke have siddende på sig. Ganske vist er den overbevist om, at de to logoer er forskellige, men krisestemningen er for massiv, og komiteen har nu taget konsekvensen af, at OL-logoet næppe kan forvente opbakning i offentligheden. Og således er logoet droppet, og man er nu gået i gang med at få designet et nyt.
Til BBC siger Olivier Debie, den belgiske designer, at han til at begynde med ikke turde stille sig op foran det store OL-maskineri, men teatrets chef insisterede på, at de gjorde noget – hvilket skete med bistand fra "good copyright lawyers".
Kenjiro Sano har afvist at have planket logoet, men har tankevækkende nok indrømmet, at hans team har kopieret andres arbejde i forbindelse med en øl-reklame.
Mens vi venter på det nye logo, er 1) Sano blevet afkrævet en forklaring af byens OL-komité 2) de sociale medier fyldt med alternative bud.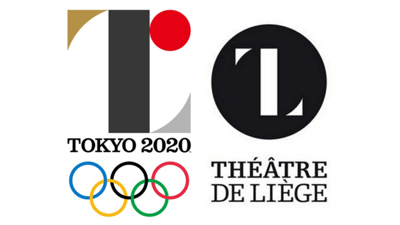 På twitter lagde Olivier Debie denne film op: