Danskere på scenen i Cannes for at modtage den fornemste pris af alle, Grand Prix, er et absolut særsyn. Men i år er det sket indtil flere gange.
Og her tænker vi ikke på, at danske Per Pedersen som næstkommanderende kreativ hos Grey New York ofte har en finger med i spillet – nej, to andre – og langt mindre eksponerede – unge danskere har formået det unikke:
Rasmus Smith Bech og Jonas Roth fra Grey London er det kreative team på Life Paint fra Volvo – en oplysnings-kampagne i ordets bogstavelige forstand – som onsdag aften endnu en gang blev belønnet med en Grand Prix.
En spray, der får cykler og cyklister til at lyse op i mørket, og dermed øger deres trafiksikkerhed.
Arbejdet er det hidtil fremmeste stykke arbejde i Cannes Lions 2015. Som det eneste i de foreløbigt 13 afgjorte kategorier i Cannes har det vundet Grand Prix 2 gange; Mandag toppede den i Promo & Activation Lions, og onsdag aften fik det Grand Prix'en i Design Lions.
"Vi er det kreative team på arbejdet. Der har selvfølgelig været en masse andre mennesker omkring os, så vi kunne få noget til at ske – et virvar af samarbejdspartnere. Det har været spændende … og kaotisk. Det har været tæt på at ende i ingenting, og derfor er det totalt tilfredsstillende, at det lykkedes i det hele taget. Og vi er selvfølgelig mega-stolte over Grand Prix'erne," siger Rasmus Smith Bech til Bureaubiz.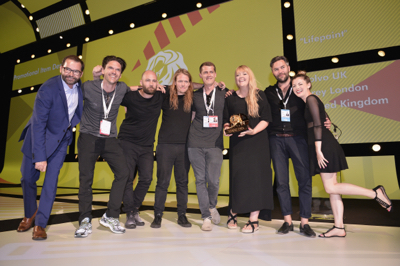 Rasmus Smith Bech og Jonas Roth, Grey London, i centrum – også på scenen i Cannes Lions
Mere dansk bliver det ikke på Grand Prix-plan denne onsdag, men lad os ikke desto mindre – om ikke andet for øvelsens skyld – strække den lidt rødt-hvidt:
I Cyber Lions vandt danske Endomondos nye ejere, Under Armour, med Gisele Bündchen – I will what Iwant. Bureau: Droga5. En kampagne, der på begavet vis blev drevet frem af de mange, mange reaktioner – negative og positive – på de sociale medier, da det über-maskuline brand offentliggjorde, at man havde teamet op med modellen Gisele Bündchen.
ProductDesign Lions havde den danske stat som sponsor og fødselshjælper sidste år. I år gik Grand Prix'en til The Lucky Iron Fish Project fra De Forenede Arabiske Emirater.
Når kosten primært består af ris og fisk, risikerer man at få for lidt jern. Den kan løses ved at putte en jernplade i madgryden, men folk brugte pladen til alle andre formål – først da den blev designet som en fisk, tog folk den til sig. Fisken er fremstillet lokalt af genbrugsjern, og efter ni måneder var antallet af lidelser som følge af jernmangel halveret.
I Radio Lions vandt Grey-netværket sørme også – for Soundcloud. Grand Prix'en gik til en 7:37 min. lang akustisk rekonstruktion af Berlin-muren til ære for dem, der faldt for grænsevagternes kugler.