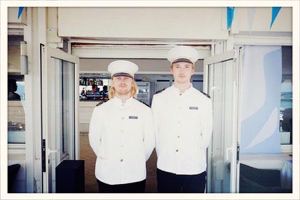 Stefan Arnoldus (tv.) og Jacob Nørremark i arbejdstøjet i Cannes.
Under Cannes Lions havde det unge kreative team købt chauffør-uniformer (hvid jakke, handsker og kasket) og lejet en stor BMW. Forinden havde de markedsført initiativet, Recommendation Ride, over for en række internationale bureau-profiler.
Konceptet var enkelt: Vi kører dig fra Nice til Cannes, og du betaler ved at kigge vores portfolio igennem.
"Stuntet gik utrolig godt, og vi blev fuldt booket fire dage, efter vi havde lagt promotion videoen ud på nettet. Udover de ture, vi kørte, gav det os også mange andre kontakter inden for branchen på internationalt plan, som vi kunne tage fat i efterfølgende," siger Stefan Arnoldus.
Indsatsen blev umiddelbart belønnet med job-samtaler, hvor de to danskere bl.a. tog en uge til London for at tale med McCann, Saatchi og Mother.
Det endte som nævnt med, at teamet skrev under med Colenso BBDO i New Zealand, hvilket understreger udbredelsen af stuntet. 
"Colenso BBDO er et fantastisk bureau, som har lavet virkelig stærkt arbejde på mange af deres forskellige kunder. Trods størrelsen har de ligget blandt verdens mest kreative, men også mest effektive bureauer i verden. Samtidig er Nick Worthington (creative chairman, red.) en legende, og vi er ikke i tvivl om, vi kan lære utroligt meget under ham," siger Jacob Nørremark.
Big Won Report har løbende rangeret bureauet i Top5 på listen over Best Creative Agencies in the World. Dertil kommer, at der på et bureau med ca. 140 ansatte er lidt større mulighed for at være med på mere interessante opgaver fra starten af sammenlignet med en af de 500-mennesker-store bureauer i London.
"Markedet i New Zealand ligner det danske på mange måder. Men de har en mere australsk tilgang til tingene, hvilket betyder at arbejdet kommer meget hurtigt ud og tit har 'mindre' budgetter. Så der bliver satset stort på kreativiteten," siger Stefan Arnoldus.
Det danske team er i dag i London, fordi deres mappe er udvalgt til at være blandt de 20 bedste i Cream-konkurrencen. Derfor præsenterer de nu, på Grey London, foran en række kreative profiler fra de store bureauer.
I præsenterer jer selv på Cream, men har allerede et job …
"Det er jo et rent luksus problem. Eksponering er utrolig vigtigt som ny-udannet team, og selv om vi allerede har et job, skal man ikke undervurdere, at dette kan give nogle rigtig gode muligheder i fremtiden," siger Jacob Nørremark.