ccccccc startede omkring køkkenbordet hos to kammerater, der boede sammen. Men det blev faktisk til et firma, der nu har fem ansatte – og faktisk også gjort sig bemærket med en stor international kunde (læs mere her).
Det er Mads Buhl Hendriksen og Nicolaj Larsson, der stiftede firmaet for to år siden – og nu har Mads Buhl Hendriksen så valgt, at han vil videre.
"Jeg er 25 og jeg har ikke nogen uddannelse, så jeg har en lyst til at søge nye udfordringer, hvor jeg med andre typer og kompetencer kan lære mere," siger Mads Buhl Hendriksen, og tilføjer, at han ikke har noget på hånden, men står helt åben.
Hans rolle i ccccccc har været kunderelationer.
Mads Buhl Henriksen har lavet en opsigelse på de sociale medier, hvor han bl.a. skriver:
"Tak til min trofaste og tålmodige makker Nicolaj, der har udholdt mine alt for overambitiøse og direkte dårlige idéer – samt forgyldt de få gode og gjort dem endnu bedre."
Og så giver han et kritisk indspark til content marketing diskussionen – sammen med en tegning, som en af hans kollegaer har lavet: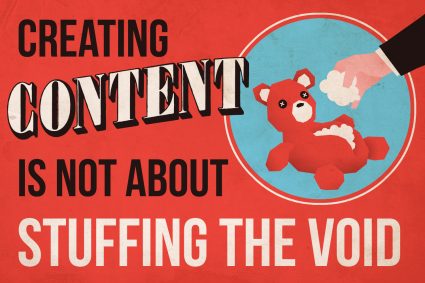 Jeg vil forsat arbejde i den kommercielle branche, hvor vi har mulighed for at gøre en kæmpe forskel, hvis vi husker at skabe værdi – hvad end det er i skikkelse af vidensdeling, underholdning, nytænkning eller perspektiv. Det er hér vi udvikler, inspirerer og gør en reel forskel for omverdenen.