Moderne ledelse i sin yderste form. Således kan man godt beskrive 33-åriger Morten Jørstad, der i det seneste år har været adm. dir. for Geelmuyden.kiese, der efter fusionen med House of Communication er blevet Danmarks største PR-bureau.
Og man kan opleve det meget konkret, når man ankommer til bureauet. Lige inden for indgangen er der et lille fællesområde med et højt bord og nogle høje stole – et møblement man kan se i en del kantiner. Her finder man Morten Jørstads arbejdsplads. Så han har hverken et kontor eller en fast plads, hvor han kan have papirer, mapper etc. liggende – og han kan meget vel være den, der ender med at tage imod gæster.
Morten Jørstad er nordmand, og det har faktisk en lille finger med i, at det lige nu fungerer på den måde.
"Jeg kom til bureauet som nordmand uden væsentlige relationer til det danske marked. For mig var det vigtigt at være synlig omkring en lyst og vilje til at lære folk at kende og vise, at jeg ville ind og være med," siger Morten Jørstad og fortsætter:
"At sidde meget åbent og tilgængeligt har været en god mulighed for at følge med i alt hvad der foregår, og i mange situationer har det også været en god anledning til at møde kunder. Selvfølgelig har det været meningen, at jeg skal have en fast plads på et tidspunkt – men jeg har det faktisk ret godt med at være lidt af en nomade."
For Morten Jørstad handler det også om hans tilgang til ledelse.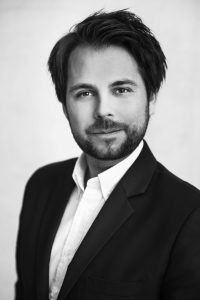 "Sidder man i sit eget kontor ender man let i en form for vakuum, hvor man sidder og træffer beslutninger. Jeg ser moderne ledelse mere som en rolle, hvor man skal være en del af holdet, og man skal turde lytte og få gode råd. I sidste ende er det mig, der skal træffe beslutninger, men jeg mener, at det skal ske i et åbent samspil med organisationen, og her fungerer det godt at sidde meget åbent og tilgængeligt," siger Morten Jørstad.
Geelmuyden.kiese er en institution i den norske bureauverden, hvor bureauets stifter, Hans Geelmuyden, har en position på niveau med Jan Duckert og Jesper Kunde i Danmark. Bureauet hører til Norges største, og Morten Jørstad har været tilknyttet i otte år på baggrund af en uddannelse som civiløkonom. Det var dog ikke bureauverdenen, der trak i første omgang.
"Jeg startede med at være engageret i Unicef, hvor jeg var udsendt til bl.a. Eritrea. Men det var et arbejde, hvor jeg oplevede, hvor stor betydning kommunikation har for at flytte ting, og på den baggrund søgte jeg ind hos Geelmuyden.kiese," siger Morten Jørstad.
Danskere spurgte efter ham
Her har han tidligere arbejdet et år i Stockholm og han sværmer meget for det skandinaviske. Derfor greb han hurtigt bolden, da han blev spurgt, om det ville være noget for ham, at overtage ledelsen i København.
"Der skulle findes en ny leder, og det viste sig, at flere i Danmark havde spurgt om det ville være noget for mig. Så der gik kun ganske få dage, før jeg tog til København for at tage nogle samtaler," siger Morten Jørstad, der siden har oplevet, hvor store forskelle, der egentlig er mellem de nordiske lande.
"Forskellen på kulturen og mentaliteten – og erhvervslivets struktur – er meget større end geografien antyder," siger Morten Jørstad, der også konstaterer store forskelle på den norske og danske bureauverden.
"Eksternt så oplever man et meget mere diversificeret marked i Danmark. Vi møder mange flere forskellige konkurrenter, og en gang imellem i pitches er jeg nødt til at søge råd om, hvad det er for nogle bureauer, vi pludselig er kommet op mod. Jeg tror, det danske bureaumarked er længere fremme på dette punkt end Norge og Sverige," siger Morten Jørstad og fortsætter:
"På den interne kultur er der et andet forhold til jobbet i Danmark. I Norge definerer man sig meget i forhold til sin arbejdsplads og omgås ofte kollegaer privat. I Danmark er der en helt anden tilgang til work-life balancen."
Styr på den danske kræmmer-mentalitet
Den danske kræmmer-mentalitet har han også oplevet – men han synes ikke, den har været svær at håndtere.
"Vi har i Geelmuyden.kiese en meget systematisk tilgang til, hvordan processerne skal være med kunderne om udvikling af kommunikation, og det er den vi præsenterer. Hvis kunderne alene vil diskutere pris, så takker vi hellere nej. Ogn faktisk så synes jeg, at vi i mødet med vores kunder oplever, at de primært fokuserer på værdien af de ændringer, vi kan skabe," siger Morten Jørstad.
På det personlige plan har det ikke været svært at rykke teltpælene op. Han har en kæreste, men ingen børn – så selvom kæresten er blevet i Norge, så er der gode mulighed for at pendle frem og tilbage på skift.
Og så er København for en nordmand meget mere en metropol end Oslo.
"Da jeg kom herned havde jeg en ambition om, at jeg ville ud og se hele landet. Men indtil nu har der været så meget, jeg gerne vil opleve i København, at jeg ikke er nået ud i landet endnu," siger Morten Jørstad.