Influenced er en konference stiftet i 2020 af Josephine Staunsbjerg og Benedicte Grumstrup for at professionalisere branchen – særligt for personer, der arbejder med influencer marketing, men også influenterne selv.
Interessen har været støt stigende; fra godt 100 deltagere første gang, 220 sidste år, og nu 300 deltagere den tredje gang på Scandic CPH Strandpark ved sidste afkørsel før Sverige.
Hvis de mange influencer-professionelle på konferencen i sig selv ikke nok, så kunne talerne supplere med lidt facts:
I Danmark er der 62.000 influenter med min. 1000 følgere.
I år står influencer marketing til at runde 120 mia. kr. på globalt plan. En tidobling på blot seks år og næsten en fordobling i forhold til 2020.
I det svenske Power Barometer er Sverigedemokraterne, Jimmie Åkesson, Greta Thunberg, SVT og Newsner på Top20. Alle de øvrige er influencers.
I dag er halvdelen af klodens befolkning på 7,7 mia. mennesker på de sociale medier.
Konferencen rummede 17 indlæg og 21 talere. Flertallet var målrettet personer, der arbejder med influencere på kampagneniveau.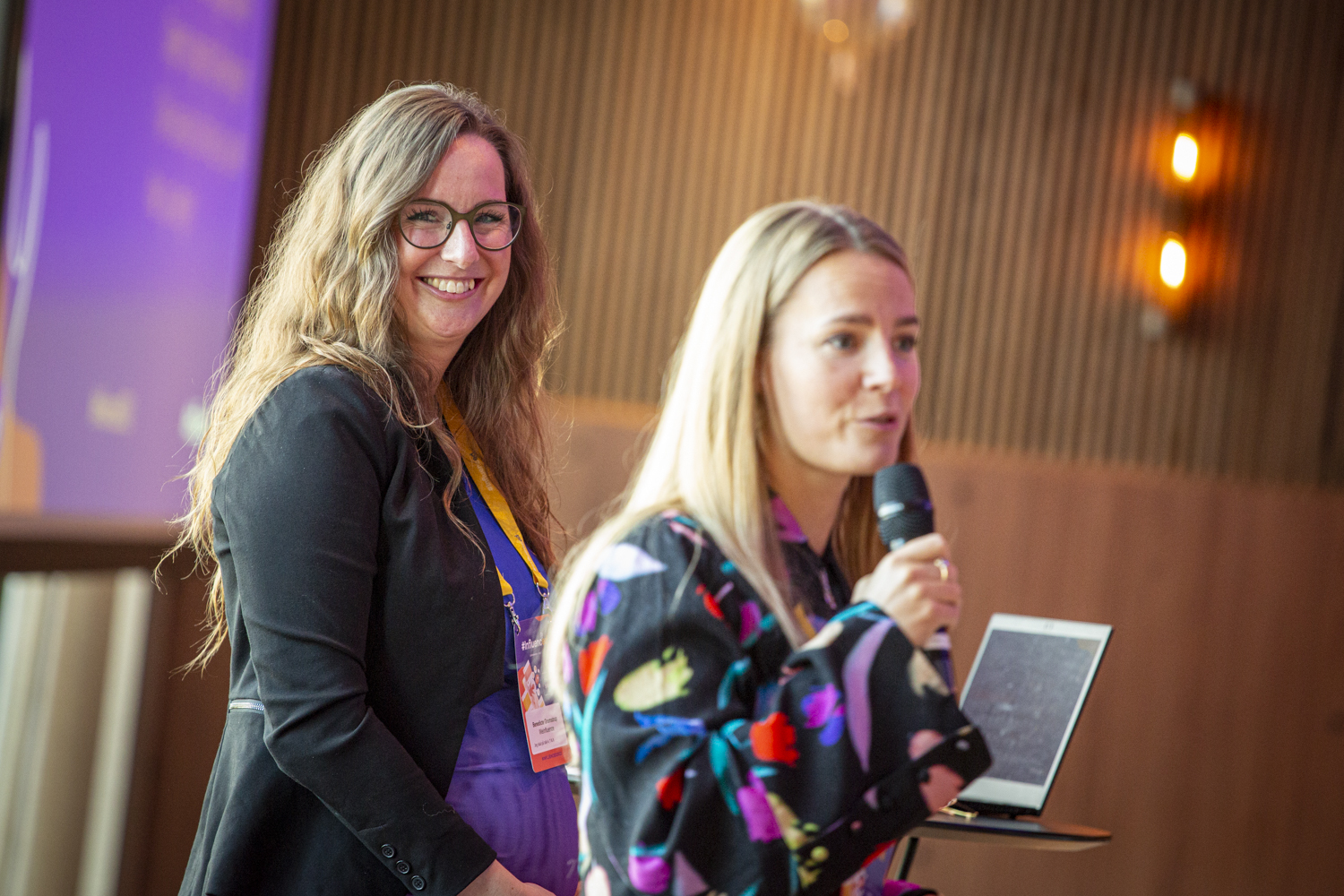 Benedicte Grumstrup og Josephine Staunsbjerg var arrangører af influencer konferencen. Foto: Daniel Schultz Madsen
Det blev gang på gang slået fast, at influencer marketing er blevet en professionel disciplin, men konferencens egen undersøgelse viser, at influencere i udtalt grad stadig betales med produkter. De fleste betaler dog influencere i kontanter, mens performancebaseret betaling udgør en mindre, men ikke ubetydelig del.
"Prissætningen af creators har ændret sig fra 'Ska' de ha' penge?' til "Hvad skal det koste?". Og det er ikke en byttehandel længere," sagde Karoline Boysen, der er head of social hos Republica.
Hun blev suppleret af Jacob Holst Mouritzen, medstifter af Sheer:
"Influencere har i en årrække været prissat lavt i forhold til deres performance. I takt med flere agenter og professionaliseringen er priserne steget, og der er kommet gnidninger – og det sidste ser jeg som noget godt. Hvis der aldrig er nogen bureauer og annoncører, der siger nej til dit tilbud, så har du prissat dig for lavt."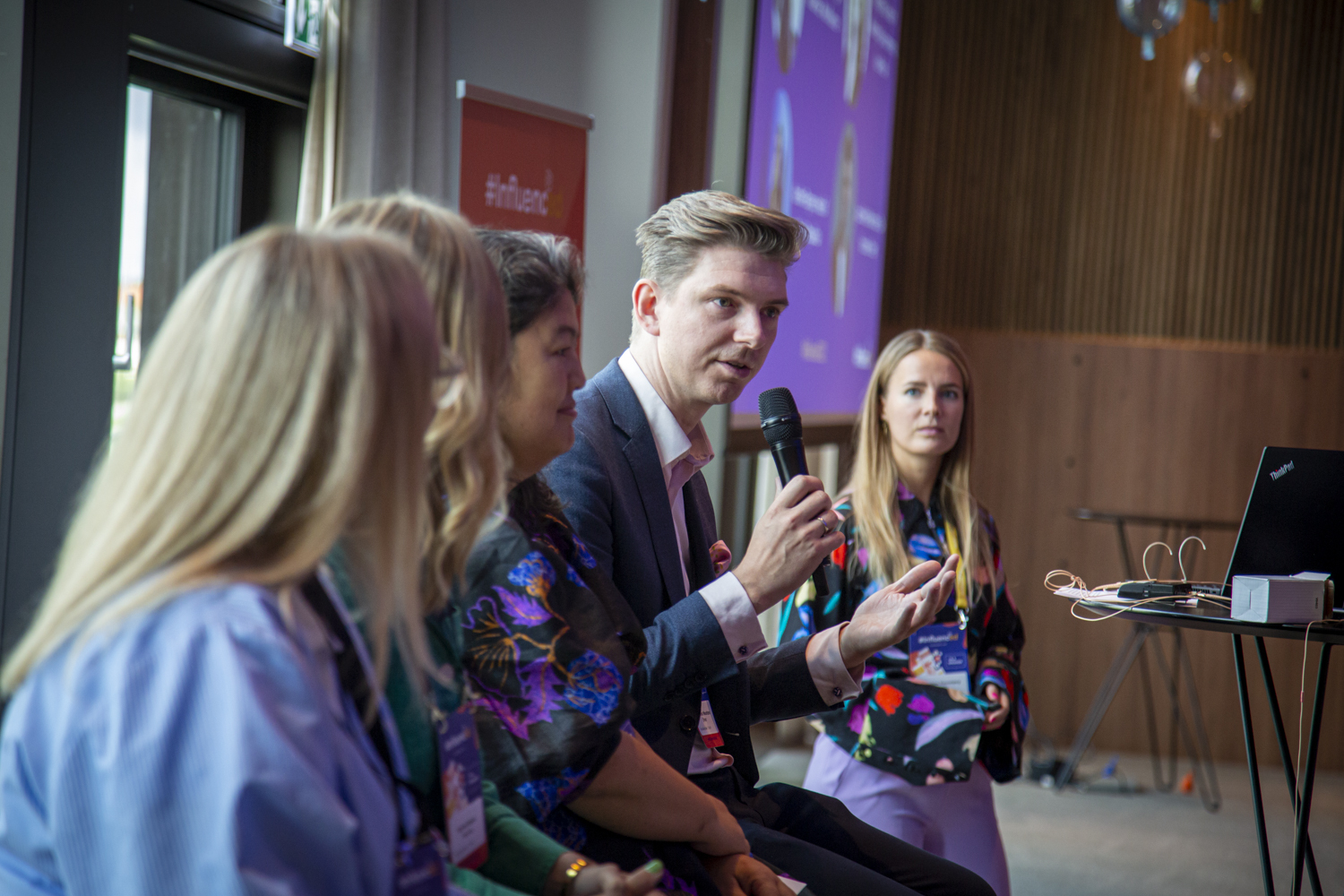 Jacob Holst Mouritzen, medstifter af Sheer. Foto: Daniel Schultz Madsen
TikTok er, indtil videre, "bare billigt", men der kigges naturligvis også på målgrupper, og når onlineapoteket Apopro.dk henvender sig til især kvinder i alderen 40-65 år, så foretrækkes Instagram frem for TikTok.
5 trends inden for influencer marketing 2023
Jonas Westling, chefen for svenske Nine Agency, havde samlet en håndfuld tendenser sammen og indledte med at aflive en fordom, om Facebook kun er for gamle mennesker, og at der ikke sker noget. Her er flere brugere end Instagram og TikTok tilsammen.
Hører antallet af følgere fortiden til?
Duellen mellem The Social Graph og The Interest Graph falder fortsat ud følgernes fordel, men det engagerende indhold vejer stadig tungere for at nå igennem den stigende støj. Content kan gå viralt på en dag, men fokus på indhold giver udsving i distributionen – og gør til en vis grad resultater uforudsigelige.
Instagram bliver udfordret
Diversitet bliver også et ord inden for kanalvalg, hvor Instagram har været altdominerende. Her kan man stadig have succes, men andre overvejelser presser sig på.
Mere data
Med øgede budgetter følger flere krav – om bl.a. data og specialiseret udvælgelse af profiler.
Prissættelse 2.0
Både influencers, bureauer og annoncører fjerner sig fra det vilde vesten, men 62 pct. af de adspurgte i Nine Agencys undersøgelse nævner 'usikkerhed med hensyn til resultater' som den største udfordring i samarbejdet med influencers. Næsten halvdelen svarede 'omkostninger', og det er et problem, når prisen på den samme profil er 25.000 kr. eller 100.000 kr., alt efter hvilket bureau man spørger.
Indhold er vigtigere end nogensinde
Indholdet trumfer personen, og det øger fokus på rettighederne til indhold.
Fra one night stand til ægteskab
Zeth Kragholm Edwardsen, medstifter og CEO i influencer marketingbureauet Woomio, nåede ikke at give alle sine '7 gode råd' om influencer marketing – dertil var spørgelysten blandt deltagerne, især mediabureaumedarbejdere, undervejs i indlægget 'Forudsig din performance og pris med forecast' for stor.
Men han nåede dog dette:
"Influencer marketing er community management 2.0. Tænk langsigtet. Der er ikke nok influencers herhjemme til at praktisere brug & smid væk."
Peter Klit, head of social media og partner i Nordic Social, var inde på noget lignende i sit indlæg om fremtidens sociale medier:
"Fra one night stand til et ægteskab. Influencers bliver ambassadører – i en aktiv co-creation – frem for passive reklamesøjler. Samtidig vil vi se udskillelsesløb i de kommende år, hvor det bliver dyrere at annoncere og få nye kunder, samt sværere at vækste profiler og skære igennem støjen. En del virksomheder vil fjerne droppe kanaler, mens andre vil øge deres investeringer."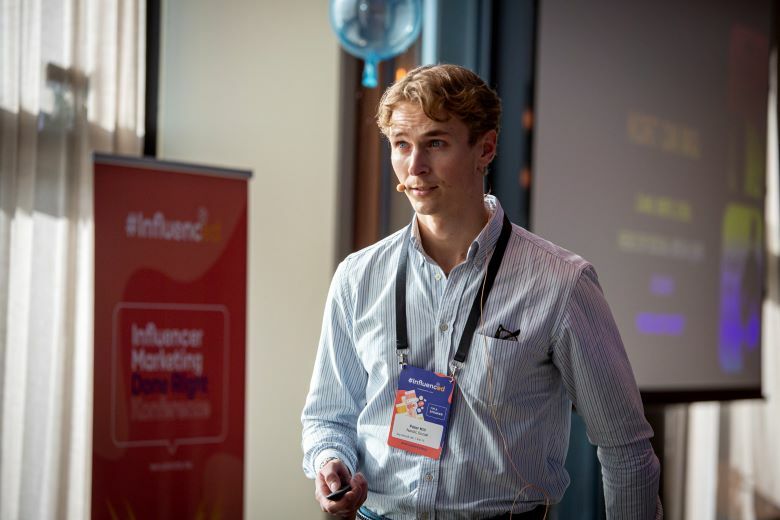 Peter Klit, head of social media og partner i Nordic Social. Foto: Daniel Schultz Madsen
Tre vindere af Influenced Award
Konferencen begyndte og sluttede med en prisuddeling: #Influenced Award.
Hovedprisen: Coop x Represented
Gennemført koncept med råd tråd til Super Brugsens univers. Der var tænkt over hele kunderejsen, og der blev succesfuldt eksperimenteret med koncepter fra andre platforme. Visninger: 21.605.529.
Bedste kreative kampagne: JBL x Wavemaker
Kampagnen har udnyttet platformens muligheder til fulde. Foruden 12 kreative og velproducerede videoer blev slide-funktionen brugt, så influenterne 'kastede' høretelefonerne til hinanden.
Bedste data output: Lalatoys
KPI: Køb af abonnementer. Resultat: ROAS på mere end 700 pct. for flere aktivere influenter.
Vinderen af netop data-kategorien fik dét, der kunne være et vinderbud i kategorien 'Mest overraskende jury-motivation':
"Vinderne fandt ud af, at data ikke er alt. Mavefornemmelser har også et say."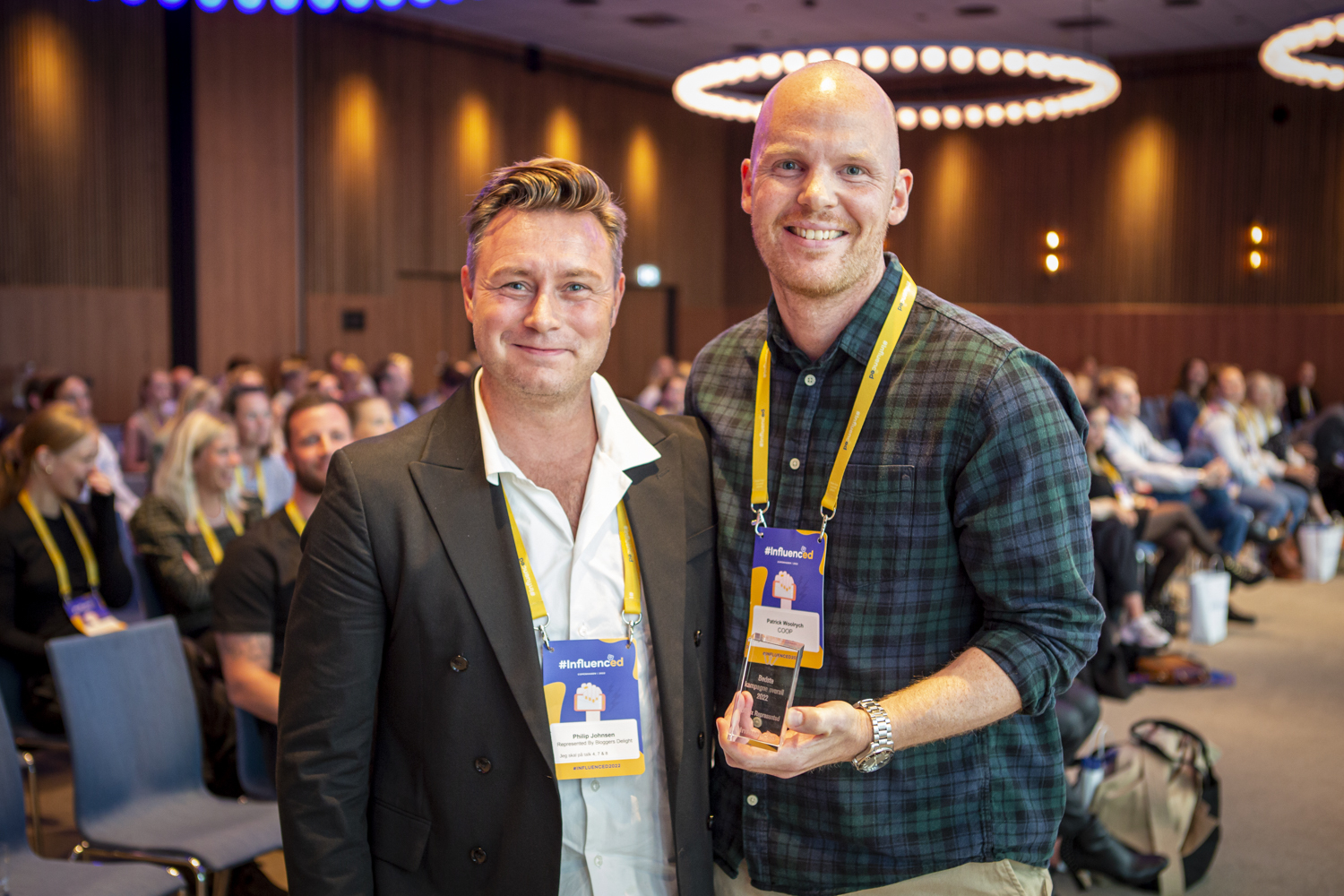 Philip Johnsen fra Represented og Patrick Woolrych fra Coop vandt hovedprisen. Foto: Daniel Schultz Madsen
Næste Influenced-konference finder sted den 14. september 2023.