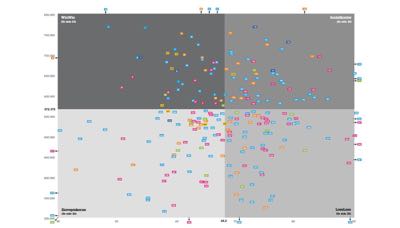 Socialkontorerne var faktisk de mest stabile i forhold til, hvor mange af bureauerne fra sidste år, der forblev i denne gruppe. 29 ud af 43 var Socialkontorer både sidste år og i år i den årlige Bureaurapport fra Bureaubiz
Antallet af bureauer er dog udvidet i rapporten, og desuden er der sket nogle bevægelser, således at gruppen i år består af 52 bureauer.
Grundideen til griddet stammer fra en Ole Stig Lommer-rapport, som nuværende Havas Cph dir., Steen Holm lavede en gang i 90'erne, hvor han gik på jagt efter, hvad der gør vindere til vindere.
Han nåede frem til at dele bureauerne op i fire grupper på basis af to nøgletal: Gennemsnitslønnen og lønandelen.
Gennemsnitslønnen viser, hvor gode bureauerne er til at rekruttere – jo højere løn, des bedre – mens lønandelen viser, hvor god en forretning, bureauet er jo lavere des bedre.
Socialkontorer har således en gennemsnitsløn over branchens gennemsnit og ligeledes en lønandel over gennemsnittet.
Det skal dog bemærkes, at tallene i rapporten er gennemsnitlige personaleomkostninger – d.v.s. inkl. forskellige personaleomkostninger ud over løn. I 2014 krævede det en gennemsnitsløn på over 572.375 kr. at være Socialkontor, mens man skulle have en lønandel på over 68,2.
Reelt er gennemsnitslønnen blandt Socialkontorer på hele 649.204 kr.
Modellen er dynamisk – d.v.s. at grænserne for de fire grupper flytter sig fra år til år – og desuden bevæger bureauerne sig. Faktisk kan man opleve usædvanlige bevægelser. F.eks. er der fire bureauer, der er gået fra Slavepiskere – d.v.s. en løn og lønandel under gennemsnittet – til Socialkontorer. Det gælder Agenda og Wonderfuel, der begge lå relativt tæt på centrum sidste år, og så DDB og We Love People, der begge havde et vanskeligt år, hvorfor deres lønandel er steget betragteligt. Hos DDB steg lønnen samtidig en del, mens stigningen var begrænset hos We Love People.
10 bureauer fik reduceret deres lønandel så meget, at de flyttede til Winwin, mens 7 reducerede gennemsnitslønnen så meget, at de røg ned i Loselose.
Socialkontorer
(parentesen fortæller, om bureauet har skiftet gruppe i forhold til sidste år. slav fra Slavepiskere, ll fra Loselose og soc fra Socialkontorer)
Reklamebureauer
Oktan(tidl. Rosenstand, Kyllebæk)
Robert/Boisen & Likeminded (ww)
J. Walter Thompson Cph (ww)
Digitale bureauer
PR-bureauer
Designbureauer
Dialogbureauer
Relationshuset Gekko (ww)
Mediabureauer