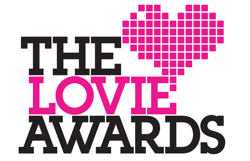 4 guld, 4 bronze og 3 stk. People's Choice Awards. Det var den danske høst ved dagens uddeling.
Afsenderen er The International Academy of Digital Arts and Sciences, og man føler næsten trang til at rejse sig i ærbødighed. Mere jordnært taler vi om The Lovie Awards, der er den europæiske søster til den globale Webby Awards.
Prisen hylder "overall experience as well as excellence" inden for snart sagt alt digitalt; websites, mobil-sites, apps, online reklame, internet video og social – det være sig indhold, kreativitet, engagement og integration.
I alt 7 danske arbejder fra lige så mange bureauer var på forhånd fundet værdige til en pris, og blandt disse finalister kunne publikum så give deres besyv med.
Finale-deltagerne fik i alt 11 awards med hjem:
UncleGrey – BBB Cultures for Weber

2 guld + 2 People's Choice Awards
Spring/Summer – Beagle

1 guld
Molamil – Pass it on for Skole 200 sekretariatet og Lundbeckfonden

1 guld
CP+B – World Premiere The Rap Mic Contest for Aiaiai

1 bronze + 1 People's Choice Awards
Dwarf – Burger on the fly for Halifax

1 bronze
DigitasLBi – XC90 Virtual Launch for Volvo

1 bronze
VisitDenmark og Everplaces – Bike & Camp Denmark

1 bronze
Lars Samuelsen, Chief Strategy Officer hos UncleGrey, kalder den dobbelte Weber-vinder et opgør:
"Weber og BBQ Cultures giver nyt liv til en række af deres hædervundne styrker og dermed publikum mulighed for at interagere med mærket på en ny, innovativ og underholdende måde. Det er et opgør med det meget taktiske fokus, der i stigende grad får lov til at definere en stadig større del af marketingbudgetterne," siger Lars Samuelsen.
Han tilføjer:
"Vi tror stadig på, at det er dybe relationer, der flytter mærke i forbrugernes bevidsthed og vil også i fremtiden blive ved med at arbejde hårdt for at udvikle inspirerende og meningsfulde relationer for virksomheder, der tror på kvalitet i kommunikationen."
Efter offentliggørelsen af vinderne følger – i næste måned, i London – den fysiske overrækkelse af priserne.
Sidste år, blandt 1500 indsendelser fra 30 lande, vandt danske bureauer i alt 7 guld, 4 sølv og 2 bronze ved Lovie Awards.