DDB har sendt halvdelen af bureauet til SXSW i Austin Texas. Den kan Boye & Spellerberg slå: Hele bureauet er taget afsted.
Det er selvfølgelig ikke helt sammenligneligt, når der er betydelig forskel på størrelsen af de to bureauer, men de tre Boye & Spellerberg'er kan dog nyde oplevelserne i SXSW med særdeles god samvittighed.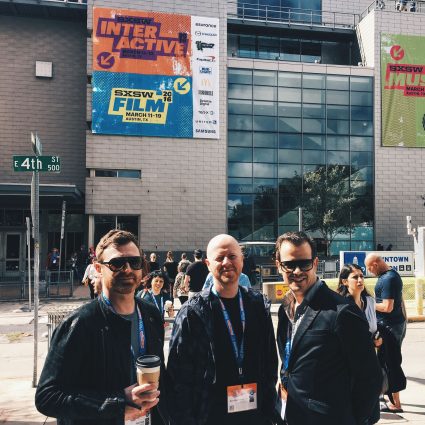 Bjarne Spellerberg (t.h.) og Peter Boye med Kent Stephan Jensen i midten – hele bureauet til SXSW i Austin.
De er nemlig taget afsted oven på at have afleveret et fuldgodt regnskab for bureauets År To.
Bureauets start var ellers flyvende. Peter Boye og Bjarne Spellerberg præsterede en bruttoavance på 3,2 mio. kr., men de evnede altså at løfte den med knap 50 pct. i det andet år.
Samtidig blev der både råd til at ansætte Kent Stephan Jensen, lægge lidt mere i lønningsposen og placere knap 30 pct. af væksten på bundlinjen, som således steg med 37 pct.
Det er kort sagt stærke nøgletal, de leverer. Og Bjarne Spellerberg er da også godt tilfreds.
"Vi er gode til at tiltrække kunder af en vis størrelse. Og så forstår vi at blive købt til det, vi er bedst til. Nemlig brandfortællinger til det store publikum," siger Bjarne Spellerberg og fortsætter:
"De bureauer, der besidder den fundamentale kompetence, er mindre udsatte i forhold til skiftende medievaner og -tendenser. Det stærke koncept transcenderer nemlig dem alle. På Boye & Spellerberg omfavner vi derfor enhver måde, hvorved vi kan folde koncepter ud og skabe meningsfuld kontakt til vores kunders kunder. Og det øger i sagens natur bureauets indtjeningspotentiale."
Bureauet har i 2015 løst opgaver for Shimano Nordic, TDC, Magistrenes a-kasse, Drømmeland, casino.dk, de Egmont ejede selskaber Dansk Reklame Film, Airmagine og Media Direct Norge samt Realdania/Bolius.
Desuden vandt man sammen med Mediacom budgettet for Storebælt, hvor man udkommer med en ny kommunikation i 2016.
Bureauet havde en overskudsgrad på 32,2 – det er højt, og det er da heller ikke Bjarne Spellerbergs og Peter Boyes hensigt at puge penge sammen. De skal sættes i arbejde – og gerne i form af nyansættelser.
"Hvis vi kan finde et par skarpe folk yderligere, så skal vi have dem ombord. Vi har rygende travlt….," siger Bjarne Spellerberg og tilføjer om det at rejse til SXSW, mens man har travlt:
"Ind imellem må vi investere i input, der kan styrke vores output. Og når Obama kan tage sig tid til SXSW, kan vi nok også."
Nøgletal for Boye & Spellerberg
Bruttoavance 4,7 mio. kr. +46,9 pct.
Bruttoavance pr. medarbejder 1,741 mio. kr. +8,8 pct.
Resultat af primær drift +1,513 mio. kr. + 37,2 pct.
Bruttoavancen er estimeret af Bureaubiz