Fremtidens reklame er – ingen reklame. Sådan lidt groft sat op kan man konkludere sådan oven på den reklame-hackaton, som Envision lagde lokaler til, hvor 11 grupper med ca. 60 unge – studerende, ansatte, free-lancere og andre – hen over week-enden søgte at stykke et bud sammen på "The Future of Advertising".
Kom de med svaret? Næppe. Men det ville også være at stille forkerte forventninger.
"Er der et facit på fremtidens reklame? Nej selvfølgelig er der ikke det. Svaret er processen – svaret er, at fremtidens reklame handler om den måde du nærer en kultur, hvor mange forskellige typer finder sammen om at skabe reklame," sagde Envisions digitale direktør, Hannu Vangsgaard ved afslutningen.
Kom de unge med ideer, der måske kan bruges til noget? Sandsynligvis. Det var i hvert fald budskabet fra mindst en af de jury-medlemmer, der skulle kåre en vinder. Og det var en yderst kompetent jury:
Ulrik Feldskov Juul, Creative Director, LEGO Group
Morten Larsen, stifter og formand, Hungry Group
Kåre Berenthz-Nicolaisen, digital chef, Arla Danmark
Mona Juul, administrerende direktør, envision
Toke Lund, digital chef, Dansk Supermarked Group
De valgte en vinder, der foreslog et anderledes pointsystem, hvor unge mennesker kan samle point op gennem al mulig transport uden at have en Kia (Kia var casen på hackatonet). Hensigten er selvsagt at skubbe folk mod en Kia som deres første bil.Kia var så interesseret i ideen, at de har inviteret holdet til et møde sammen med reklamebureauet for at teste anvendeligheden.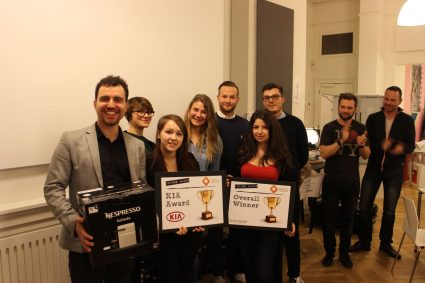 Vindergruppen, der foreslog et anderledes pointsystem til Kia bestod af:

Fra venstre – Stoyan Yankov, Lyuba Tsancheva Halacheva, Kristina Jakaviciute,
Ani Yordanova, Nicolai Henriksen, Roxana Jula og Andrei Toth.
Unge kan ikke lide tidens reklamer
Men hvis man ser ud over vinderen og i stedet ser på tværs af de mange bud – og tager i betragtning, at det er unge, der her taler – så er det slående, hvor kritiske de er over for karakteren af de reklamer, man oplever i dag.
Det er støj, som ingen kan bruge til noget. De unge kan i hvert fald ikke – og så kan man ane baggrunden for, at adblocking er ved at blive et hot emne.
Den kritiske tilgang til det aktuelle støjniveau blev gentaget igen og igen – men der var ingen der begyndte at tale om bedre reklamer. Eller mere kreative reklamer.
I stedet blev der talt om relevans og relationer – typisk bygget ind i en digital kontekst – og ofte med aktiv brug af apps. Danske Banks MobilePay er et populært produkt og et forbillede i kredse som denne.
Dele-økonomi, socialt ansvar og at medvirke til at løse nogen af klodens problemer var også emner, der ofte dukkede op.
Hertil kom, at de unge i den grad har fanget, at der i dag er noget, der hedder data – et begreb som ikke altid er lige populært i den kreative del af branchen.
Men data er det, der kan medvirke til at skabe større relevans og relation – og dermed fjerne støjen fra ligegyldig reklame.
F.eks. havde en gruppe et forslag om at bruge data til at etablere en slags personlig assistent for hver enkelt person, som kan håndtere dialogen med brands, etablere en slags personlig profil og på det grundlag sortere i de budskaber, man bliver udsat for.
Ikke altid lige nyt
Skal man tage de kritiske briller på, så var det ikke altid lige nyt. F.eks. er sponsorater, bonus-klubber og pointsystemer velkendte begreber, der er svære at tale om som "The Future of Advertising".
Man kan også sige, at den kommercielle vinkel ikke altid virkede lige gennemtænkt.
På den anden side, så kan et sponsorat eller et pointsystem godt være knyttet sammen med nogle andre ideer, som gør dem mere interessant – som man så det i vinderen. Hertil kommer, at en reklame-hackaton i sin kontekst er en ideation-proces – det er ikke her den fuldt færdige og eksekverbare ide kommer.
Og måske skal nogen af ideerne også have et år eller to til at modne.
Men anskuer man i stedet en sådan reklame-hackaton med deltagelse af unge mennesker som en markedsanalyse – som en kvalitativ fokus-gruppe – så ligger der et klart budskab.
Andre analyser vil pege på, at unge faktisk er forbrugere af reklame – mange af forslagene vil formentlig også indebære en eller anden form for reklame for at komme ud over disken – men relevans og relationer frem for banal push vil blive centrale begreber.