Online-butikker har løbende skruet op for deres ambitioner og markedsføring, og Bureaubiz beretter jævnligt om bureauer, der er blevet hyret til at booste webshops og e-handelsløsninger.
Nu opfordrer et andet bureau, Jensen Retail Group, detailhandlen til at kigge sig bagover skulderen og ikke bare buldre digitalt frem:

"Forstærket af finanskrisen har der været fokus været på digitale løsninger – og dét i en grad, at udviklingen af de fysiske butikker mange steder har stået stille de seneste år. Samtidig med at forbrugerne har ændret sig. Og hvis man som butiksejer konceptuelt ikke tager stilling til de fysiske forhold, så får man problemer," siger Thomas Jensen, adm. direktør i Jensen Retail Group.
Bureauet har i 18 år beskæftiget sig med indkøbsindsigt, og selvom tiden er blevet mere digital, så går vi fortsat i de fysiske butikker.
"Vi handler af primært to årsager; fordi vi skal, eller fordi vi har lyst. Der er altså tale om to forskellige behovsårsager – og den forståelse skal butikkerne være bedre til at forstå og udnytte," siger Thomas Jensen og tilføjer:
"Man kan ikke bare trække kommunikationen fra den digitale virkelighed ned over hovedet på den fysiske butik – og tro, at så hænger det hele sammen. Forbrugere forventer en oplevelse, når de nu har gjort sig den ulejlighed at forlade deres hjem."
Det er især kæderne, der har forsømt at opdatere butikkerne, lyder kritikken:
"De senere år har mange kæde-ejere optimeret økonomien, logistikken og beliggenheden. Men de har forsømt at skabe oplevelser for kunderne, uden at der skal gå ballonklovne i den," siger Thomas Jensen.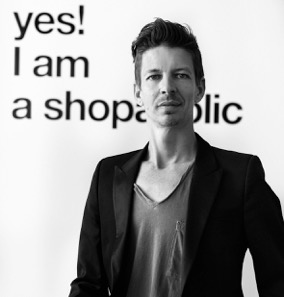 Han peger på nogle, der har bedre fat om butiksindretningen anno 2015:
"Det bobler hos de uafhængige butikker. Mange af dem henter koncept–inspiration fra hoteller og restauranter – og kuraterer og iscenesætter sig frem til en oplevelse."
Det lyder mest af alt æstetisk …
"Det er ikke design for designet skyld. En velgennemtænkt og velfungerende butik bygger mærkets position, er relevant for kunden og sælger varer.
Han tilføjer:
"Og når den lille procentdel, som udviklingen af den fysiske butik udgør på budgettet, så bliver nedprioriteret eller glemt, så giver det ikke længere mening at tale om omnichannel."
Er det ikke bare jer, der føler jer forsømt?
"Det går nu fornuftigt for os, for det er jo ikke sådan, at alle overser betydningen af den fysiske butik. Vi var f.eks. med fra starten, da Johan Bülow åbnede sin første butik på Kgs. Nytorv i København. Senest har vi opdateret 3 af hans butikker og været med til at bygge 5 nye; 2 i Danmark og 3 i Tyskland. Her bruges butikkerne til både at tilgodese kundens behov og iscenesætte sig selv," siger Thomas Jensen.
Det lyder stadig ret analogt …
"Det står vi gerne ved, fordi fysiske butikker som udgangspunkt jo er analoge. Vi prikker bare detailhandlen på skulderen: Når man nu har de fysiske butikker, så giver det bedst mening – også i vores tid – at udvikle dem. Men til dén oplevelse kan man med fordel sagtens tænke digitale ydelser ind. Og det ene udelukker ikke det andet. Eksempelvis går Johan Bülows butikker hånd-i-hånd med en velfungerede e-commerce" siger Thomas Jensen.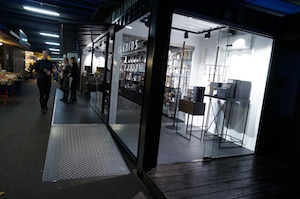 Lakrids by Johan Bülow Butik, Carlsplatz Düsseldorf. 40 fod container ombygget til et lakrids-univers. Foto: Lakrids by Johan Bülow