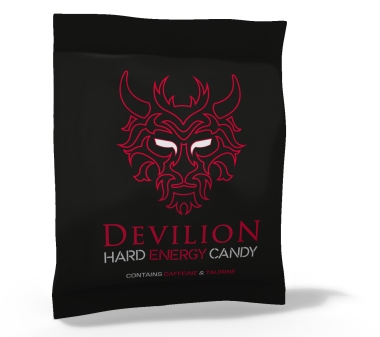 Red Bull er et østrigsk eventyr ud i energidrikke. Devilion kan blive et dansk eventyr ud i energibolsjer.
Det nye ligger ikke kun i produktet, men også i tilgangen til det. Devilion er nemlig skabt af en foretagsom bolsje-producent og et bureau.
Det sker ikke hver dag, men heldigvis ofte nok til, at man bemærker det: Når et bureau bruger sine kompetencer, der ellers er tiltænkt kunderne og deres produkter, til at skabe noget på egen hånd – og fra bunden af.
"Martin Folmer fra Blåvand Bolcher og Adtomic har indgået et partnerskab om at producere bolsjer – ud fra indsigten om, at der i dag findes tre slags bolsje-slik: Den medicinske, "farmor-bolsjerne" og det man kunne kalde tegneserie-bolsjer. Men ingen energi-slik," siger Søren Pedersen, adm. direktør hos Adtomic.
Blåvand Bolcher har brugt to år på at udvikle selve produktet og har nu taget hul på produktionen af Devilion, der rummer taurin og koffein ligesom Red Bull – og smagen er også i retning af den, man kender fra energidrikken.
"Adtomic har redesignet posen med rød og sort farve. Vi bruger vores indsigt, og vores viden om positionering og markedsføring. Devilion er slik til voksne, og markedsført til dem, der går i byen. Det er nightlife, svedigt og et ordentligt skud energi – 5-6 bolsjer svarer til den mængde taurin og koffein, der er i en Red Bull – og på en halv time får du hurtigt spist de bolsjer," siger Søren Pedersen.
Han udnævner hard energy candy til at være en ny kategori – en fornemmelse, der blev bekræftet, da bureauet tidligere på året var på slikmesse i Tyskland.
"Devilion blev fremhævet som én af verdensnyhederne på messen, og vi må have ramt en nerve i systemet, for vi fik henvendelser fra mindst 50 virksomheder i 30 lande;  i Nord- og Sydamerika, Australien, Norden, Europa i øvrigt. Lige nu og her kommer vi til salg i Tyskland via Edeka – og vi er på vej i Australien, England, Spanien, Slovenien … og Luxembourg," siger Søren Pedersen.
Én ting er, hvad der er nyt for slik-branchen, noget andet er, hvad bolsjerne repræsenterer af nyt for bureauet:
"Vi lærer noget om at opbygge distributionssystemer  – hvad der ikke er ligetil – og diskuterer prissætning. Det er næppe normalt at høre et bureau, der ikke vil lave Above the Line. Men vi bærer selv omkostningerne, og vi har ikke råd til at gå ud med store reklamekampagner. Den slags lærer os ikke kun at være ydmyge og løbe hurtigt, men også at løbe foran. Vi kan se, hvad der ligger af muligheder, hvis man involverer et reklamebureau fra begyndelsen," siger Søren Pedersen.
Han tilføjer, at slik med effekt ikke vil begrænse sig til Devilion – der er flere bolsjeprodukter på vej.