Creative Circle Award (CCA) uddelte i alt 91 cirkler ved 2023-udgaven af showet – under åben himmel fredag aften i Banegaarden i København.
40 cirkler var af guld, 45 af sølv og blot 6 af bronze.
Rekordmange indsendelser, rekordmange uddelte cirkler og rekord i antal guld – og i antal sølv.
Guldstøvet hang tykt i luften, særlig i tre kategorier – Copywriting, Campaign & Websites samt Ambient & Posters – hvor der helt enestående blev uddelt tre guld i hver kategori. Læg dertil andre tre kategorier, hvor der blev uddelt dobbelt-guld.
Tre bureauer vandt hver otte cirkler; TV 2 Creative, Nord DDB og &Co. Flest guld – seks til hver – vandt hhv. Virtue og TV 2 Creative.
I alt 31 danske bureauer vandt cirkler, og godt halvdelen vandt guld. Også godt halvdelen af bureauerne vandt flere cirkler på en glad aften for dansk kreativitet.
"Niveauet er højere i år, så der er uddelt flere guld end nogensinde. Juryen giver ikke guld for at være flink, men for at anerkende kreativt arbejde i absolut topklasse," siger Dorte Nielsen, der er formand for Creative Circle.
Med så mange vinderne under ét, og så mange guldvindere, er det umuligt at fremhæve dem alle særskilt. Her er lidt udpluk:
Tre cases, der allerede har vundet meget, vandt endnu mere: Backup Ukraine (Virtue), Chillboards (Nord DDB), og Københavnerbænken (TV 2 Creative).
Studio 28K debuterede med 6 cirkler, heraf 4 af guld.
Den kreative fight mellem Netto (Brandhouse/Subsero) og Irma (Republica) blev belønnet med en guld til hver i Copywriting.
&Co. blev det mest pointvindende bureau – 38 shortlister blev toppet med 3 guld og 5 sølv på aftenen.
Og med så mange vindere har ingen CCA-konferencier været på så intenst arbejde som Olga Bastian, der håndterede afviklingen legende.
Aftenens største – og eneste stående – bifald gik til én, der ikke er her længere: Per Pedersen. En kreativ, der om nogen kendte vejen til scenen for at modtage en award. Per Pedersen, der døde 4. januar i år, blev tildelt den fornemmeste pris af dem alle, Creative Achievement Award, og hans enke, Nanna, gik på scenen for at modtage den – og lod Per P. få de sidste ord i en rørende film.
Årets bureau
Advertising – & Co.
Digital Design – Studio 28K
Design – e-Types
Årets kunde
Advertising – Polycam x Unesco x Blueshield
Digital Design – ESPN
Design – Golden Days
CCA 2023 – Vinderliste
Ambient & Posters
Guld
50 Queens
Accenture Song, Golden Days
Golden Days
Københavnerbænken
TV 2 Creative
TV 2 Danmark
Swedish Seedballs
Robert/Boisen & Like-minded
IKEA Danmark, WWF Danmark
Animation
Sølv
LEGO Jazz Quartet
Advance A/S, The LEGO Agency
The LEGO Group
Branded Content
Sølv
Kill Your Darlings
by The Network
together
Bronze
Jørgen og den tykke bog
DI – Dansk Industri
DI – Dansk Industri
Campaign Websites
Guld
ESPN: Ovechkin 800
Studio 28K
ESPN
The Female Gaze
Accenture Song, Meta
Kunsthal Charlottenborg
ESPN: 2022 Year in Review
Studio 28K
ESPN
Commerce Websites
Sølv
Notes® Set a tone for your home
Norgram
Notes®
Company Websites / Large Corp.
Sølv
Perez Art Museum Miami
Spring/Summer
Pérez Art Museum Miami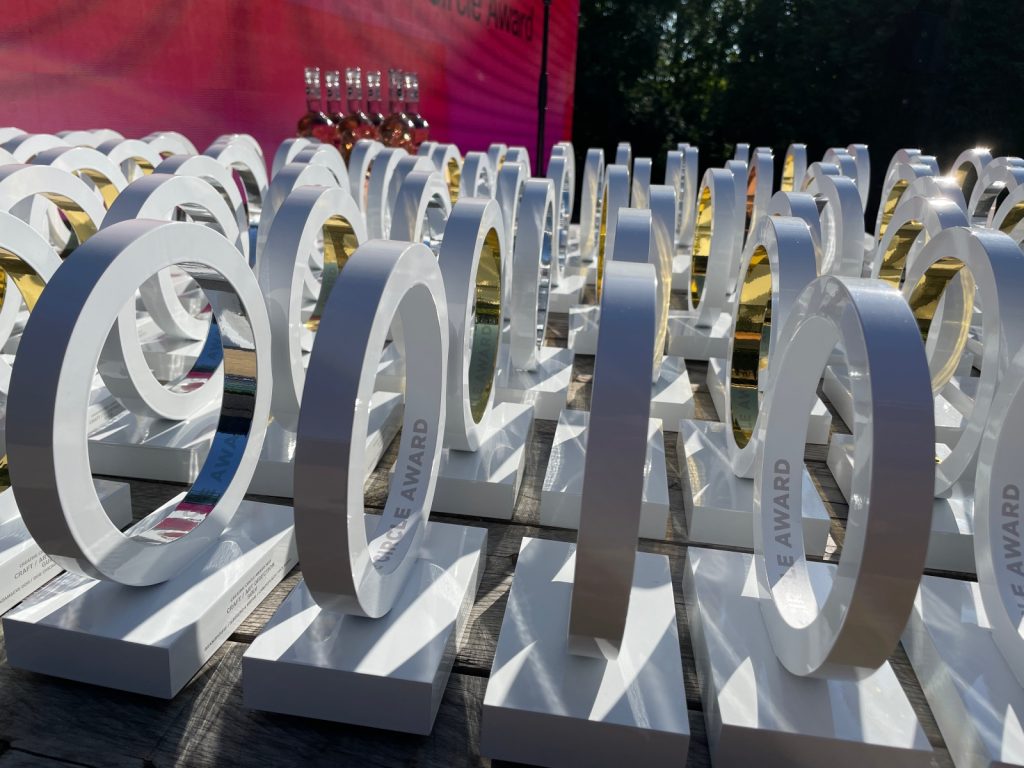 Company Websites / Small Corp.
Guld
Sølv
Søren Rose Studio
Spring/Summer
Søren Rose Studio
Corporate Identity
Sølv
Andel Brand Family
e-Types
Andel
Andel Energi Identity
e-Types
Andel Energi
Craft / App Design
Bronze
Ramasjang Jam
Hello Monday
DR
Craft / Art Direction
Guld
Chillboards
Nord DDB, Adam&eveDDB, DDB Chicago
Molson Coors
Sølv
CamouFlags
Brandhouse/Subsero, Virtue
VICE Media
Craft / Art Direction Film
Sølv
En velfortjent tak
Robert/Boisen & Like-minded
Dansk Retursystem
Craft / Copywriting
Guld
Netto – Irma
Brandhouse/Subsero
Netto
Irma vs. Netto
Republica
Irma
Valgkampagnøøøh
& Co. / NoA
Politiken
Craft / Copywriting Film & Lyd
Guld
Godt, det ikke er os, der skal spille mod os
TV 2 Creative
TV 2 Sport
Sølv
Synoptik – Knud Romer
Brandhouse/Subsero
Synoptik
Craft / Creative Programming
Guld
The Female Gaze
Accenture Song, Meta
Kunsthal Charlottenborg
Craft / Direction
Guld
Cancerfonden – Rør Ved Mig
Honeytrap Film
Cancerfonden
Craft / Illustration
Guld
Chillboards
Nord DDB, Adam&eveDDB, DDB Chicago
Molson Coors
Craft / Photography
Sølv
Så har vi nok en vaccine til dig
Pong
Sundhedsstyrelsen
Craft / Website Design
Guld
ESPN: Ovechkin 800
Studio 28K
ESPN
Sølv
Søren Rose Studio
Spring/Summer
Søren Rose Studio
ESPN: 2022 Year in Review
Studio 28K
ESPN
Creative Audio Design
Bronze
50 Queens
Accenture Song, Golden Days
Golden Days
Creative Impact – on business
Sølv
Share it with a hater
& Co. / NoA, & Co. Productions / NoA
Lakrids By Bülow
Creative Impact – on society
Sølv
Patent og Varemærkestyrelsen – Check the tag
Robert/Boisen & Like-minded
Patent- og Varemærkestyrelsen
Hjelm har alle dage været en god idé
& Co. / NoA
Rådet for Sikker Trafik
Creative Loyalty
Sølv
Swedish Seedballs
Robert/Boisen & Like-minded
IKEA Danmark, WWF Danmark
The Resell Tag
Uncle Grey
Samsøe Samsøe
Creative Partnerships
Guld
Backup Ukraine
Virtue
Polycam x Unesco x Blueshield
Creative Use of Influencers
Sølv
Synoptik – Knud Romer
Brandhouse/Subsero
Synoptik
Creative Use of New Realities
Bronze
Cerebral Palsy
Khora
Jonstrupvang bosted – Region Hovedstaden, Mark Schram Christensen (Københavns Universitet)
Creative Use of Technology
Guld
Backup Ukraine
Virtue
Polycam x Unesco x Blueshield
Digital Campaigns
Sølv
Follow Their Leader
Nord DDB
Non-Violence Project Foundation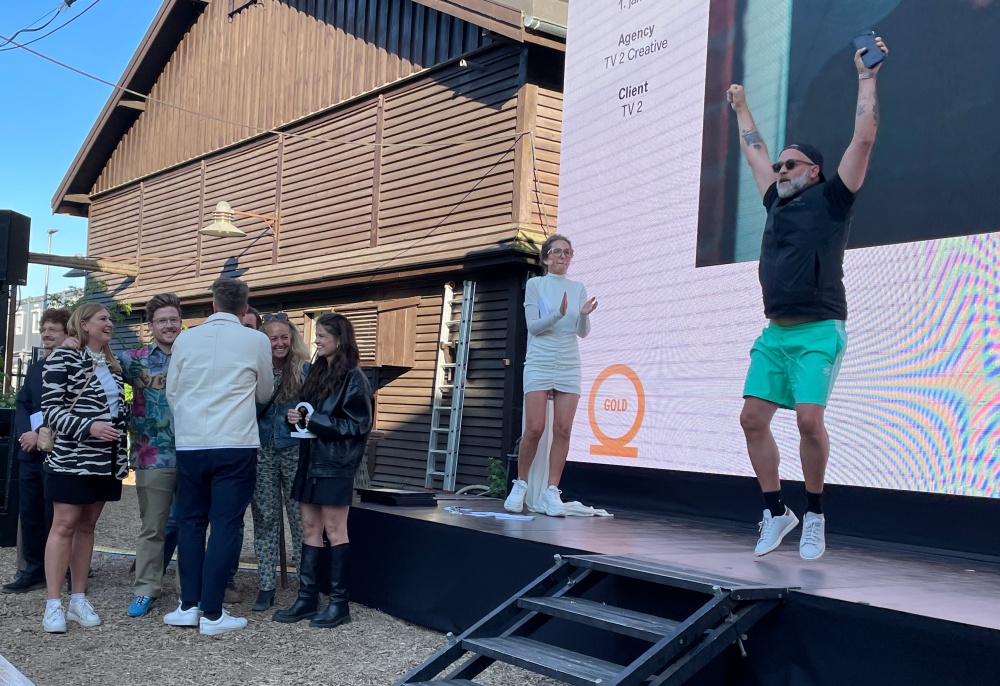 Digital Media / Single Executions
Guld
Backup Ukraine
Virtue
Polycam x Unesco x Blueshield
Earned Media
Guld
Backup Ukraine
VIRTUE
Polycam x Unesco x Blueshield
Sølv
Chillboards
Nord DDB, Adam&eveDDB, DDB Chicago
Molson Coors
Københavnerbænken
TV 2 Creative
TV 2 Danmark
Editorial / Design
Guld
Damer der var for meget
e-Types
Gads Forlag
Sølv
Bolia Brandbook
Uncle Grey
Bolia
Film / 1 – 20 sekunder
Guld
Tag KLOVN med på ferie
TV 2 Creative
TV 2 Fiktion
Film / 21 – 60 sekunder
Sølv
19 grader er ikke helt skævt
& Co. / NoA
HOFOR
Film / 61 +
Guld
Starter først 1. januar
TV 2 Creative
TV 2 Danmark
Sølv
The Green Search
Robert/Boisen & Like-minded
Andel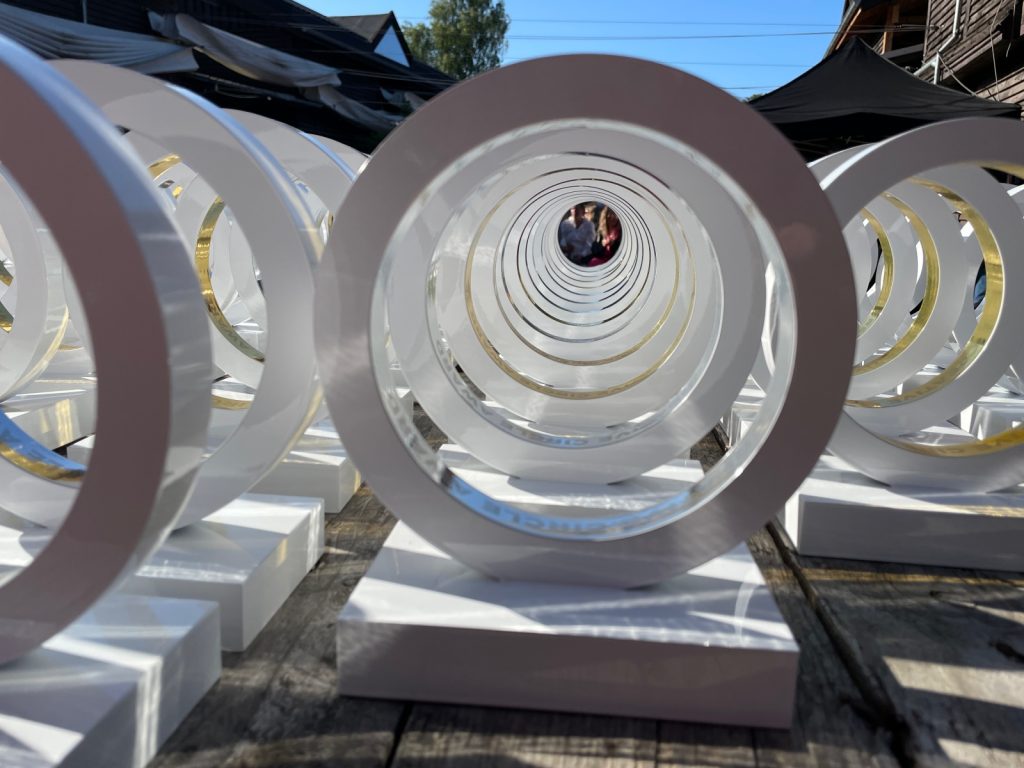 Humour in Advertising
Sølv
Netto – Irma
Brandhouse/Subsero
Netto
Valgkampagnøøøh
& Co. / NoA
Politiken
Integrated Campaigns
Sølv
Så har vi nok en vaccine til dig
Pong
Sundhedsstyrelsen
Valgkampagnøøøh
& Co. / NoA
Politiken
Logo
Sølv
Danish Music Awards
Uncle Grey
IFPI
PAS NORMAL STUDIOS x Carlsberg Research Labs
Kontrapunkt
PAS NORMAL STUDIOS & Carlsberg
Media & Informational Websites
Guld
ESPN: Ovechkin 800
Studio 28K
ESPN
Sølv
ESPN: 2022 Year in Review
Studio 28K
ESPN
Motion Design
Sølv
We Love Graphic Design, Opening Titles
Friction
HK Grafisk
Outdoor
Guld
Netto – Irma
Brandhouse/Subsero
Netto
Packaging / Food
Sølv
Grow Up
Simply
Them 1888
Paridan
Bessermachen Designstudio, Brandhouse/Subsero
Paridan Food A/S
Packaging / Non-food
Guld
Notes®
Norgram, T for Troels
Notes®
Poster Design
Guld
Queens Festival
Studio C
Golden Days
Print
Sølv
Gi'r du en omgang?
Wibroe, Duckert & Partners
Carlsberg
Bronze
Tour de France
TV 2 Creative
TV 2 Sport
Print / Design
Guld
STAMSTEDER
Salvador
Carlsberg Fondet
Promo & Activation / Digital
Guld
Backup Ukraine
Virtue
Polycam x Unesco x Blueshield
Sølv
Follow Their Leader
Nord DDB
Non-Violence Project Foundation
Promo & Activation / Physical
Guld
Chillboards
Nord DDB, Adam&eveDDB, DDB Chicago
Molson Coors
Københavnerbænken
TV 2 Creative
TV 2 Danmark
Radio & Audio
Guld
Tag KLOVN med på ferie
TV 2 Creative
TV 2 Fiktion
Rebrand / Corporate Identity
Sølv
Danish Music Awards
Uncle Grey
IFPI
Rebrand / Small Business Identity
Sølv
Paridan
Bessermachen Designstudio, Brandhouse/Subsero
Paridan Food A/S
Mixed and canned
CLOSER Studio
Mikropolis
Selfpromotion
Guld
The Ballet of Creativity
& Co. / NoA
& Co. / NoA
Single Media Campaigns
Guld
Chillboards
Nord DDB, Adam&eveDDB, DDB Chicago
Molson Coors
Valgkampagnøøøh
& Co. / NoA
Politiken
Single Media Campaigns / Film
Guld
Jørgen og den tykke bog
DI – Dansk Industri
DI – Dansk Industri
Small Business Identity
Guld
Queens Festival
Studio C
Golden Days
Sølv
E.1 Identity
e-Types
Education Esbjerg
SoMe Campaigns
Guld
Follow Their Leader
Nord DDB
Non-Violence Project Foundation
Sølv
Escape the Loop
Ogilvy Danmark
The International OCD Foundation
The Resell Tag
Uncle Grey
Samsøe Samsøe
SoMe Single Post
Bronze
One Star Review
Uncle Grey
Domino's Pizza Denmark
Spatial Design
Guld
Backup Ukraine
VIRTUE
Polycam x Unesco x Blue Shield
50 Queens
Accenture Song, Golden Days
Golden Days
Type Design
Sølv
DS 737
Playtype Foundry
Playtype
TASAKI
Kontrapunkt
TASAKI