& Co. hev hele 7 priser, herunder titlen som Årets Bureau, med hjem fra The True Awards, der løb af stablen sidste fredag.
Statuetterne kommer imidlertid ikke til at stå alene på trofæhylden på kontoret i Adelgade, København. Ifølge Bureaubiz' vinderliste har & Co. hentet 17 priser for 'The DNA Journey' og 26 for 'Alt det, vi deler', hvilket gør & Co. til det mest vindende bureau to år i træk*. Et vindermomentum, der lader til at kunne fortsætte ind i 2019.
Så hvad er deres hemmelighed? Bureaubiz har taget en snak med kreativ direktør Robert Cerkez og copywriter Johan Køhler.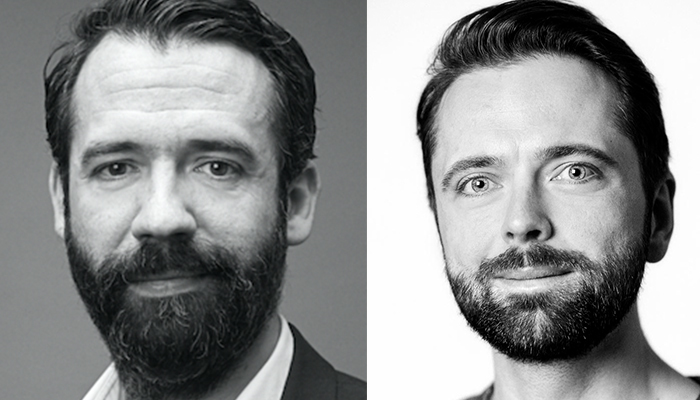 Robert Cerkez (tv.) og Johan Køhler (th.)
Årets bureau tror på følelser, men…
Da Bureaubiz delte & Co.s seneste SAS-film, 'The Arrivals', på Facebook, vakte det stor begejstring blandt følgerne. En enkelt forbeholden stemme rejste sig dog i kommentarsporet:
"Det er ved at være samme formular hver gang, hva'? Emotions, emotions, emotions. Dæmpet colorgrading, vemodig melodi, gråd, glæde. Men: "Why change a winning formula?" Følelser virker."
& Co. ligger imidlertid ikke skjul på, at følelser fylder en del i deres kampagner, men fastholder samtidig, at man ikke kan koge deres arbejde ned til udelukkende at centrere sig om det emotionelle:
"Kigger man dybere ind i kampagnestrukturen, møder man et stort net af elementer, der har andre formål end at tale ind til følelserne. Hvis strategien udelukkende er at tale ind til følelser, får du en noget ensidig kampagne," forklarer Robert Cerkez, kreativ direktør i & Co., og fortsætter:
"Vores erfaring er, at rammer du den rigtige følelse gennem en hero-film og i lanceringsperioden, så arbejder de opfølgende og mere taktiske kampagneelementer langt hårdere og har større effekt."
Copywriter Johan Køhler er enig: "Det er jo ikke en ny kommunikativ sandhed, at det er patos, der bevæger mennesker. Sådan har det altid været."
Foruden følelser rummer & Co.s kampagner da også klare koblinger til det samfund, vi lever i:
"Vi tror på, at kampagner, der har en kontekst og giver et perspektiv på det samfund, vi er en del af, har større relevans og derved også større mulighed for at starte samtaler og rejse mellem mennesker," siger Robert Cerkez.
Han forklarer endvidere, at man hos & Co. ikke længere taler om "purpose":
"Vi taler i stedet om, hvordan brands kan blive en relevant del af menneskers liv. Når vi lykkes med det, vokser lysten hos vores brands til at være mere end "bare" et produkt eller en tjeneste."
Johan Køhler, copywriter hos & Co., stemmer i:
"Purpose er i vores optik et modeord ligesom disruption, for det har aldrig været en dårlig idé at ville se sine kunder som mere end forbrugere – og det bliver det heller aldrig. Og der er meget, der tyder på, at det kun bliver vigtigere og vigtigere at kunne se sin virksomhed i et holistisk perspektiv i stedet for bare i et kapitalistisk-kommercielt."
Et sådant arbejde er dog ikke uden faldgruber, og troværdighed er key:
"For os er det vigtigt, at der er intern opbakning, ressourcer til at støtte formålet og ikke mindst lysten til at gøre en forskel. Hvis ikke de ting er der, så kan man ligeså godt fokusere på mere rationelle eller funktionelle fordele. Det er mere ærligt," fortæller Cerkez.
Så hvad er hemmeligheden bag de mange statuetter?
"Hemmeligheden er nok, at vi ikke tænker i priser, men at vi arbejder tæt sammen med kunderne om, hvad der er rigtigt. Når man laver kommunikation, der virker, så bliver det bemærket verden over, og så er vi naturligvis taknemmelige og stolte over, at det bliver bemærket."
Og bemærket bliver de. Den nye SAS-film blev hurtigt Ad of the Day på Adweek og har siden offentliggørelsen på SAS' Facebookside scoret 15 millioner visninger.

SAS-filmen har i skrivende stund fået 18. mio. views, 110.000 delinger og 69.000 kommentarer.
Going places, takes you places
Da det skandinaviske flyselskab SAS var klar til at kaste sig over den syvende kampagne i "We are Travelers"-universet, ønskede man at fortsætte det strategiske arbejde og den community-følelse, som bureaunetværket The North Alliance startede i 2014, men med eksekvering på de sociale mediers præmisser.
"Vi valgte i slutningen af sidste år at flytte lead fra ét NoA-bureau til et andet og valgte at udvide vores samarbejde med & Co., da de har en god forståelse for det at tænke distribution ind i den kreative idé. De har også i flere tilfælde vist, at de netop ser en større rolle i kommunikationen, og de formår at oversætte virksomheders reelle purpose i kommunikationen, som folk forstår og engagerer sig i," siger Didrik Fjeldstad, VP for brand & marketing i SAS Group.
Resultatet blev en rørende film, skudt gennem spionglas fra tre specialbyggede tårne i Københavns Lufthavns ankomsthal. Og hovedpersonerne – det er virkelige mennesker i virkelighedens verden. Sådan da:
"Enkelte af scenerne er, hvad man kunne kalde rekonstruktioner – altså rigtige mennesker, men som ikke har været ude at rejse på dagen for optagelsen. Vi turde simpelthen ikke gå på optagelse uden et sikkerhedsnet," forklarer Johan Køhler.
Han fortsætter:
"Vi var nødt til at være helt sikre på at få et eller andet med hjem, men lykkeligvis var virkeligheden endnu mere fantastisk, end vi havde forestillet os, så vi brugte ikke særlig mange af vores rekonstruktioner. Der er vistnok seks rekonstruktioner i den endelige film og cirka 60 fuldstændig ægte medvirkende. Så må man jo selv gætte, hvad der er hvad."
Den 3+ minutter lange kampagnefilm er desuden ikke overplastret med SAS-logoer fra ende til anden. Der skildres ingen SAS-fly eller stewardesser i den blå SAS-uniform.
"I en tid, hvor ad annoyance stiger og ad recall falder, ser vi vigtigheden i at fortælle en mere væsentlig historie, der appellerer til folks følelser og holdning til os som brand snarere end deres rationelle opfattelse af produktet SAS," fortæller Didrik Fjeldstad.
Adweek var da også hurtige til at påpege ligheden mellem SAS-filmen og den engelske komedie Love Actually, hvor en ankomsthal netop tjener som en slags rammefortælling for filmen.
"Vi er klart inspirerede af Richard Curtis' ikoniske scene. Den er fantastisk, og den var selvfølgelig med i vores første præsentation for SAS. Den er dog et tableau om kærlighed, og det er SAS-filmen ikke. 'The Arrivals' er fyldt med små og meget forskellige portrætter. Idéen er ikke et Love Actually-remake. Idéen er at portrættere indsigten om, at man kommer forandret hjem fra en rejse, og hvor kan man observere den indsigt bedre end i det sekund, hvor man træder tilbage ind i den verden, man forlod? I ankomsthallen," fortæller Johan Køhler og uddyber:
"Der er lavet mange, mange ikoniske filmscener på togperroner, i lufthavne og ved busstoppesteder, fordi der er tale om symbolmættede steder, og det er her transitionen sker, når folk enten tager af sted eller vender hjem. Det er et smukt sted at lave portrætter, og det har været rørende at se al den kærlighed, filmen har fået i hele verden." 
*Baseret på de 9 prisuddelinger, som indgår på Bureaubiz' vinderliste: AEA, CCA, DDA, D&AD, Rambuk, The True Awards, Cannes Lions, Eurobest og Echo Awards.