I syv år har Coca-Cola arbejdet under platformen "Open happiness", men nu er det slut. Selskabet har i dag i Paris lanceret en helt ny strategi og en ny platform under temaet "Taste the feeling".
Grundlæggende vil Coca-Cola søge tilbage til sit kerne DNA og have mere fokus på produktet. Desuden vil man slå ind på en single brand strategi, hvor Coca-Cola, Coke Zero og Coca-Cola Light skal markedsføres under samme platform.
Det er et stort projekt, når en af verdens største annoncører vil skifte platform, og forberedelserne har da også stået på i langt tid. Allerede i foråret kom det frem, at man overvejede fremtiden for Open Happiness. Det skete med den nye globale marketingchef, Marcos de Quinto, ved roret, og med bistand fra en stribe bureauer.
I sidste ende er det fire bureauer, der har fået lead-rollen: Ogilvy New York, Sra. Rushmore i Madrid og de to argentiske bureauer Santo og Mercado-McCann. F.eks. er det sidstnævnte, der har kreeret lead-spottet, Anthem.
Men også andre bureauer har bidraget med materiale og med film blandt de 10 første spot. Og i takt med, at kampagnen udvikler sig vil flere kunne komme med – som f.eks. Wieden + Kennedy, der oprindeligt skabte Open Happiness.
Marcos de Quinto fortæller til AdAge, at Coca-Cola vil bevæge sig i en mere ydmyg retning. Reklamer vil bruge en story-telling, der længe har været associeret med Coca-Cola. De vil skildre hverdags-øjeblikke som f.eks. en første date, og sætte flasker i front.
"Den nye kampagne vil vende tilbage til kerne-værdier for Coca-Cola. Vi har talt meget om brandet men talt meget lidt om produktet," siger han til AdAge.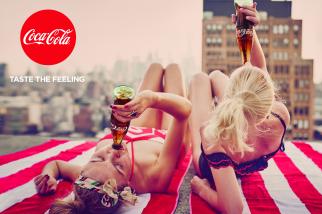 Den nye strategi kommer i et marked, hvor selskabet kæmper med at skabe vækst, og marketing spiller en central rolle i disse bestræbelser, hvor der flyttes mere fokus på at sælge Cokes frem for Coke.
Single brand strategien vurderes vigtig i denne sammenhæng. Pointen her er, at man grundlæggende er en Coca-Cola forbruger, der så kan have forskellige preferencer.
"Loyale forbrugere har altid elsket Coca-Cola. Men der kan være øjeblikke, hvor man gerne vil reducere sukkerindtaget, og her har man så tvunget folk til at købe ind i en ny identitet," siger Marcos de Quinto.
Kilde: AdAge