Det er ikke ofte, at Red Bull går ud og fortæller om deres marketingstrategi. Måske var det derfor, at dialogbureauet Magnetix blev nødt til at flytte deres arrangement i går om content marketing til Dagmar Bio.
Her mødte dobbelt så mange som oprindeligt forventet, nemlig 200 marketingfolk, op for at høre Red Bulls marketingdirektør, Claus Nielsen.
Og hvad fik tilhørerne med hjem? For det første, at en succesrig content marketing kræver, at man tør gå langt ud over sit eget produkt. For det andet, at man skal tænke i at være et mediehus, og for det tredje, at man skal kunne dokumentere dét, man laver.
Indhold skal tale for sig selv
Grunden til, at Red Bull normalt ikke fortæller om det, de går og laver, er, at det gerne skulle tale for sig selv. Og det er netop essensen i deres marketingstrategi.
Østrigske Red Bulls indhold skal nemlig i sig selv være så interessant, at folk taler om det, og at medier skriver om det.
Det er primært via events – især inden for ekstremsport – at Red Bull skaber indhold. Det mest kendte er uden tvivl Felix Baumgartners spring i 2012 fra stratosfæren, i 39 kilometers højde.
Ifølge kreativ strateg Søren Ravn og kreativ chef Nicholai Reinseth, begge fra Magnetix, handler content marketing lige præcis om at turde gå langt væk fra sit produkt og tale om det, der interesserer målgruppen.
Red Bull, der laver indhold på mange forskellige kanaler, har blandt mange forskellige typer indhold, lavet en miniserie, der følger en gruppe danskere og deres dybe passion indenfor f.eks. snowboard, mountain bike, løb og surf.
Virksomheden bag energidrikken har også skabt flere dokumentarfilm. Lige nu er man i gang med en dokumentar om den danske triatlet Camilla Pedersen, der efter at have ligget i koma på grund af et styrt, sidste år vandt VM i triatlon.
Hvis man skal beskæftige sig med content marketing, skal man gøre det helhjertet. Det betyder, at man skal tænke mere som et mediehus fremfor at tænke i marketing, fortalte de to Magnetix-folk og et helt centralt element i Red Bulls content marketing-strategi er da også virksomhedens mediehus, som blev etableret i 2007.
"Vi producerede en masse 'content', men der var ingen struktur omkring hverken ideer, arkivering af indhold eller distribution," fortalte Red Bulls Claus Nielsen og fortsatte:
"Med mediehuset har vi nu kvalitetssikret vores arbejde og distribution. i Danmark laver vi 30-40 medieproduktioner hvert år og de leveres ind til det globale medienetværk. Nu har vi en kæmpe pool af content, vi kan trække på."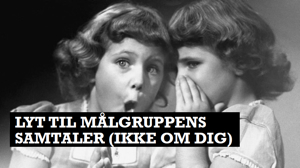 Content skal dokumenteres
Man kan godt regne ud, at det ikke er småpenge, som Red Bull bruger på at skabe indhold. Spørgsmålet er så, hvad udbyttet er. Måler de overhovedet på det?
Det bør man i hvert fald gøre ifølge Magnetix' Søren Ravn og Nicholai Reinseth. Først og fremmest af den simple grund, at hvis man ikke kan dokumentere resultaterne af content marketing, så vil det højst sandsynligt blive sparet væk ved den første sparerunde. Ydermere kan en form for dokumentation give indikationer af, hvad målgruppen finder interessant nu og i fremtiden.
Og selvfølgelig måler Red Bull indsatsen af deres content marketing.
"Vi måler både på ROI og på de forskellige brand parametre og så laver vi løbende markedsanalyser, bl.a. om, hvordan folk opfatter os," fortalte Claus Nielsen.
Selvom content marketing ikke direkte skal skabe salg, så er det til syvende og sidst også det, som det handler om. Og Claus Nielsen kunne fortælle, at der de senere par år har været salgsstigninger på omkring 20-30 procent i forhold til samme periode året før.