Efter et par tekniske problemer, der involverede en ikke-så-selvforklarende krokodille som pauseskærm, delte Mindshare tirsdag i et webinar ud af indsigterne fra de nyeste tal fra Reklameanalysen, der vejrer danskernes holdning til reklamer. Det blev understreget, at dette var de foreløbige indsigter, for analysen er først endeligt færdig til september.
Det er det 20. år, analysen bliver foretaget, men som så meget andet skal den nu ses i lyset af corona.
Det var derfor udgangspunktet for webinaret, for som følge af corona, mere end bare lurer krisen – og hvordan er det nu lige med reklamer og kriser? Den kobling forsøgte Arnt Gustafsson, der er direktør for Strategi og Analyse, at gøre os klogere på sammen med Mindshares kommunikationsdirektør, Thomas Mark.
Og det er så her, i danskernes holdning til reklamer i krisetider, at den føromtalte krokodille sådan nogenlunde tager form som andet end pauseskærm. Arnt Gustafsson trak tråde tilbage til finanskrisen, hvor Reklameanalysen påviste, at danskernes holdning til reklamer ændrede sig markant i en positiv retning.
Vores irritation over reklamerne faldt og vores opmærksomhed var øget, fortalte han. Med andre ord var der ret gunstige forhold for reklamer.
Men siden dengang er danskernes irritation over reklamer fordoblet, mens vores opmærksomhed næsten er halveret.
Tegnet som grafer får man to kurver, der under finanskrisen nærmede sig hinanden, for derefter at fjerne sig i meget skarpe linjer – som en vidtgabende krokodille.
Reklamer til gengæld for information
En forklaring på denne udvikling er ifølge Arnt Gustafsson, at mængden af reklamer, vi bliver udsat for i stigende grad, måske har gjort os blaserte, så vi ikke skænker dem opmærksomhed, og at vi simpelthen ikke orker dem.
42 % svarer nemlig, at de ligefrem bliver irriterede, når de ser reklamer. Han pegede også på selve formen for reklamer – der nu med fx retargeting føles mere insisterende og jagende – som en væsentlig årsag til vores irritation.
Ifølge Arnt Gustafsson var reklamer også i højere grad accepterede under finanskrisen, fordi vi i krisetider er villige til at se dem, hvis der følger brugbar information med i dem. Og så er tilbud mere relevante, når de økonomiske udsigter er mindre sikre.
Arnt Gustafsson mener derfor, at vi er i en situation med gunstige forudsætninger for reklamer. Faktisk "en god situation – set med reklameøjne," som han sagde. Ifølge Reklameanalysen er reklamer nemlig mere effektive i krisetider – men det betyder ikke, at man som annoncør skal bombardere kunderne. For de bliver i forvejen bombet med informationer og nyheder om corona.
Ansvarlige reklamer
Han påpegede derfor, at vi sidder med et ansvar, når vi køber en reklameplads. For vi køber også folks opmærksomhed, så vi skal gøre det tiden værd at forholde sig til vores reklamer. I tillæg dertil påpegede han, at reklamer faktisk spiller en rolle, når det kommer til at normalisere hverdagen. Det er en måde, brands kan skabe et fast holdepunkt og lader os vide, at de i hvert fald ikke er forandrede – og at hjulene er i gang.
Han mener derfor, at man ikke nødvendigvis behøver at tale om corona eller social distance længere – men at det dog fylder meget i folks bevidsthed, hvorfor det er svært ikke at tage det tema op på et tidspunkt. Også her skal man være opmærksom på sin egen position.
Hvis man er i en truet og presset branche i stedet for i en branche, der ikke er påvirket af corona eller ligefrem oplever vækst, er det to vidt forskellige signaler, man skal reagere på.
Slutteligt gav Arnt Gustafsson 3 råd med på vejen:
Vær synlig.
Som virksomheder og brands har vi en rolle at spille i at normalisere og fastholde, at hverdagen stadig findes og virker.
Et eksempel på et brand, der har gjort det på en succesfuld måde, er Dagrofa, der tog budskabet om afstand til sig.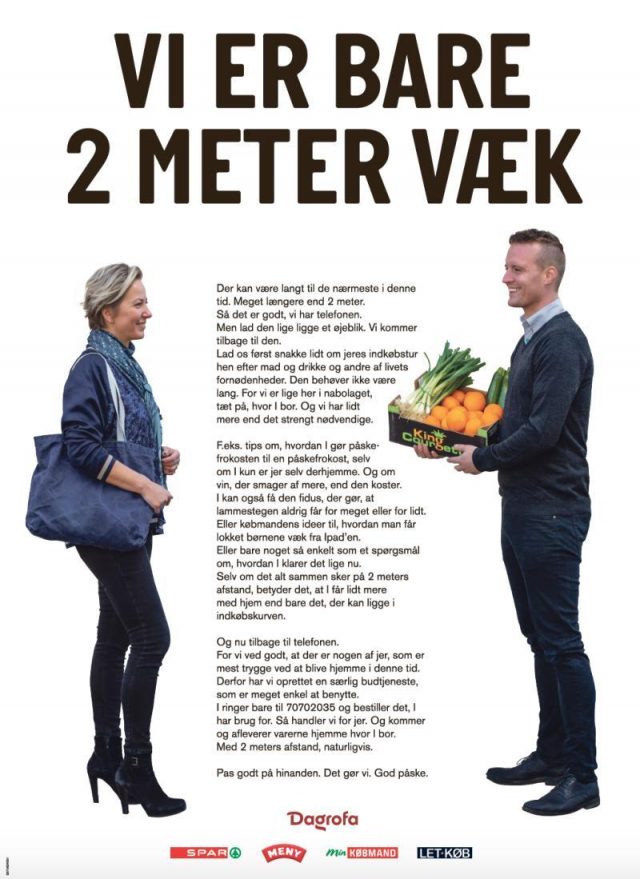 Vær dig selv.
Dit brand skal være et fast holdepunkt, og ikke skifte identitet som vinden blæser.
Et godt eksempel, som Arnt Gustafsson fremhævede, er fra pornosiden Pornhub, der på trods af krisen holder fast i deres kerne – de provokerer, som de altid har gjort, men er lydhøre for signalerne ude i samfundet. F.eks. har de lavet reklamen "It's ok – you can touch yourself."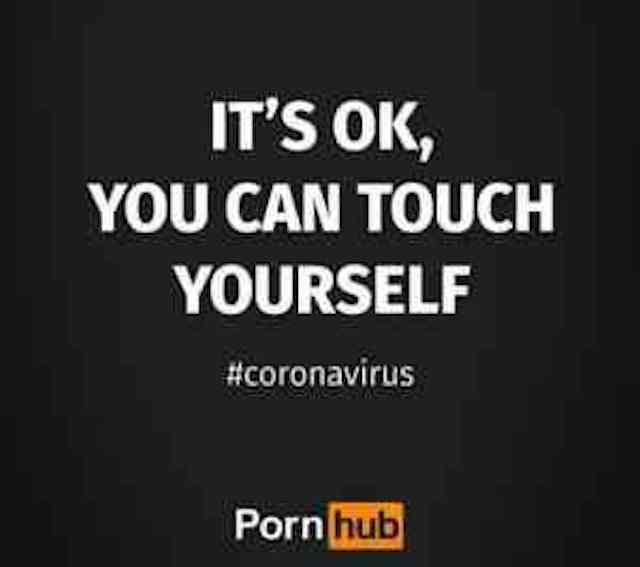 Gør det enkelt.
Der er rigtig mange nyheder, så vi skal som annoncører tænke på, at vi skal kommunikere klart og enkelt. Et godt eksempel er Volvo, der normalt påpeger, hvor sikre deres biler er. Og dén besked varierer de til "Right now, the safest place to be isn't in a Volvo", som de skrev på sociale medier.