Ikea vil ikke nøjes med at sælge møbler, men fokuserer også på den udvikling, der skal til for at løse fremtidens problemer.
Og til at bistå med dette store formål har Ikea entreret med et dansk bureau. Det sker konkret ved at lade Rebel Agency stå bag et innovationslab, Space10, der officielt åbner i dag i København.
Rebel Agency stod bag særkollektionen, Bråkig (rebel på svensk), der blev lanceret for snart to år siden i Europa og for et lille år siden i yderligere 20 lande, primært uden for Europa.
Carla Cammilla Hjort, stifter og CEO af Rebel Agency, og Simon Caspersen, kommunikationsdirektør, blev oven på den succesfulde og hurtigt udsolgte kollektion, inviteret til møde med Inter Ikeas Systems adm. direktør, og det blev starten på innovationslab'en.
"Ikeas CEO havde et godt øje til Carla, og vi var blevet inviteret til at komme med ideer til at udvikle Ikea, men da Carla og jeg brainstormede, havde vi så mange visioner for Ikea, at vi i stedet foreslog CEO'en at oprette et eksternt innovationslab, hvor vi kunne udvikle vores ideer og teste dem i et helt andet tempo, end man ville kunne internt i organisationen – og så kunne Ikea selv plukke de prototyper, som de tænder på, " siger Simon Caspersen.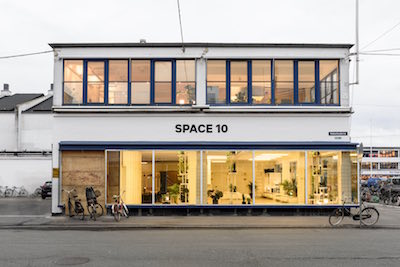 Space10 holder til i nyindrettede lokaler i Kødbyen, København – og udover selve lab'en er der også blevet plads til de øvrige selskaber i Rebel-gruppen; Rebel Agency, ArtRebels og Trailerpark Festival.
"Rebel Agency leverer fire fastansatte til Space10. Vi skal udkomme fire gange årligt – igennem de næste tre år – med ideer til, hvordan vi løser nogle af de massive problemer, som vi står over for i byerne i fremtiden gennem en række forskellige labs. Vi bryder hele klient/bureau-tankegangen, hvor vi skal ud og sælge ideer ind – i stedet dækker Ikea vores udgifter, og vi dedikerer vores tid til Ikea," siger Simon Caspersen.
Han uddyber:
"Hver gang har vi fokus på et nyt tema, og her håndplukker vi de mest interessante talenter til opgaven. I forbindelse med The Fresh Living lab inviterede vi 12 interaktionsdesignere ind fra bl.a. Tyrkiet, Kina, Rusland og USA i 2 uger. Målet er hurtigt at skabe konkrete ideer og prototyper."
Produktet er selve konceptet og metoden omkring Space10 – og ikke en ny møbelkollektion.
"Vi går ikke ud og fortæller, at i foråret 2016 bliver det virkelig moderne med pastelfarver. Vi fokuserer ikke på kortsigtet udvikling, men på innovation. En af ideerne, vi har udviklet, er at integrere teknologi i overfladen på bl.a. borde. Når man så sætter varme ting – en kop kaffe eller en gryde – på bordet, så absorberer det varmen og omdanner den til el … som kan oplade din mobil. Vi har bygget en prototype, der virker, så nu er det op til Ikea, om det er en idé, de vil integrere i deres møbler, " siger Simon Caspersen.
Space10 er støttet af Inter Ikea Systems, men styret – hvad angår konceptet og faciliteringen – af Rebel Agency, der arbejder uafhængigt af Ikea.
Göran Nilsson, Ikea Concept Innovation Manager fra Inter Ikea Systems, siger i anledning af åbningen:
"We feel a real connection to the bigger purpose of Space10. Ikea already does a lot to improve the lives of the many people, and with Space10 we hope to take this vision even further. Whether or not the solutions are immediately relevant to our current business is not important. What matters is to look into new directions and be ready to make changes."