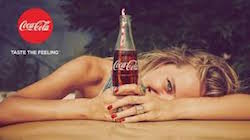 For nogle uger siden sagde Coca-Cola officielt farvel til den syv år gamle platform Open happiness og goddag til den nye; Taste the feeling.
Den nye kampagne rulles også ud i Danmark i denne tid, og det har fået to bureau-direktører til tasterne – ikke med begejstring, men med kritik, og dén uddyber de over for BT.
Flemming Møldrup, kreativ dir. for netværksbureauet Grizzly samt fast ekspert på DR's 'Kender du typen', kalder det en forældet måde at sælge sit produkt på.
"De billeder, jeg har set i bybilledet, med kvinder på, minder mig om tidligere tiders kvindesyn, hvor de bare skal se sexede ud, mens mændene modsat kvinderne slukker tørsten efter at have udrettet noget. Jeg kan ikke forstå, at der ikke har været et ramaskrig," siger Flemming Møldrup til BT.
Han finder støtte i sin kritik hos Mark Mikael Müller, der er Director, Social & Digital Campaigning, hos Advice.
Han hæfter sig ved flaskens placering nær kvindernes mund.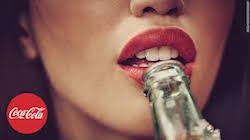 "Alt med en seksuel undertone tiltrækker opmærksomhed – det er reklamebranchen bevidst om. Det er det lette valg, men det forkerte valg. Den måde, de eksplicit viser produktet på, er kønsnedsættende og fordummende," siger Mark Mikael Müller til BT.
Han finder det 'deprimerende', at Coca-Cola, der har været bannerfører for moderne kommunikation, vælger at være så bagudskuende.
Hos Coca-Cola Danmark er man ifølge kommunikationsdirektør Michael Bonde-Nielsen opmærksom på billedsidens 'sensuelle og lidenskabelige præg', men kritikken afviser han:

"Vi forholder os ikke til fantasirige fortolkninger, som billederne måtte give anledning til. Vi glæder os i stedet over de mange positive reaktioner, vi har fået på den nye kampagne," siger han til BT.
Kilde: BT.dk