Louis Elsass Meyer skrev sig onsdag eftermiddag – i en fyldt Debussy-sal i festivalpalæet i Cannes – ind i den ret så overbevisende række af unge, danske kreative, der stryger til tops i Future Lions.
Future Lions har nu i 10 år haft den stort set samme enkle brief: "Reklamér for et produkt fra et globalt brand på en måde, der ikke havde været muligt for tre år siden".
Og dén har danske studerende formået at fange – med Louis Elsass' gevinst som 4. danske topplacering i dette årti.
1800 studerende fra et rekordstort antal lande, 60 i alt, deltog i årets Future Lions, som AKQA arrangerer, og disse 5 teams vandt:
• chromebook_type for Google af Elton Rhee, Ludvig Pehrson og Louis Meyer (Miami Ad School, San Francisco og Europe)
• Safe Stamp for Heineken International af Divya Seshadri og Meghan D. O'Neill (Miami Ad School, San Francisco)
• UberFIRST-AID for Uber af Andrea Raia, Andrea Zanino, Pierpaolo Bivio og Francesco Sguinzi (Fondazione Accademia di Comunicazione, Italien)
• Snaphelp for Snapchat af Yusol Shim (KyungHee University, Bigant Academy, Sydkorea)
• Treeprint for World Wide Fund for Nature (WWF) af Cheryl Seah Su Yin (LASALLE College of the Arts, Singapore)
Det dansk-svensk-canadiske arbejde Chromebook type tager fat på problemet, at mens kloden går mod at være fuldt wifi-dækket, så er en tredjedel af befolkningen afskåret fra strøm. Det løses med en computer, der oplades via dine tryk på tastaturet.
Bureaubiz har tidligere på måneden omtalt seks arbejder, som danske studerende havde på shortlisten – Future Lions Top100 – men ved dén lejlighed blev Chrombook Type overset … i al fald som et arbejde med dansk islæt.
Louis Elsass var ganske vist nævnt, men det var udelukkende for et andet arbejde fra teamet, Lego world.
Denne fodfejl undskylder vinderen gerne. Han præsenterer her sit team:
"Elton er fra skolen i San Francisco, mens Ludvig og jeg har gået på skolen i Hamburg. Vi kender hinanden fra J. Walter Thompson i New York, hvor vi lige har afsluttet vores praktik," siger Louis Elsass til Bureaubiz.
Han tilføjer:
"Jeg hørte om Miami Ad School fra én, der kendte den – og talte godt om den. Den har et godt ry i branchen, og vi lærer at få ideer ret hurtigt."
Future Lions har etableret sig som en regulær karrierekanon, og trioen er netop færdiguddannet – og uden job.
"Vi håber at kunne få et job og arbejde videre sammen som et team. Hvis ikke det lykkes i Cannes, så har vi også en chance i London, for vi har vundet i D&AD," siger Louis Meyer.
De seneste års danske vindere i Future Lions:
2010 – Peter Ammentorp og Nicolai Villads samt Thomas Ilum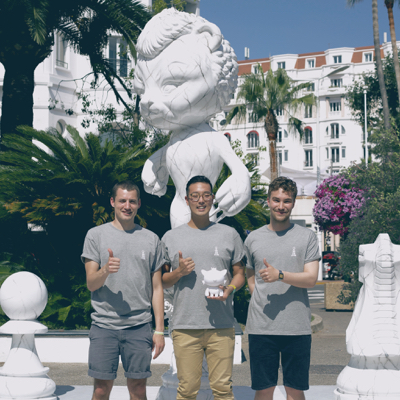 Future Lions-vindere 2015 med chromebook_type – fra venstre Louis Elsass Meyer (Danmark), Elton Rhee (Canado) og Ludvig Pehrson (Sverige).