Der er blevet talt meget om data – især big data – de senere år. Og det er da også data-driven marketing der var udgangspunktet på den netop afholdte direct marketing konference &Then i Boston.
Men flere indlæg, herunder flere blandt keynote-speakerne, handlede om at nå ind til folks følelser og om at skabe en bevægelse.
Det er naturligvis ikke nogen overraskelse, at en bureaumand som Kevin Roberts, der er Saatchi & Saatchis bestyrelsesformand, sagde, at den gode ide stadig er det allervigtigste.
Men han tilføjede, at som modpol til data, som er rationelle, skal man have det emotionelle med i marketing, så man rammer folks følelser.
"Det er vigtigt at finde ud af forbrugernes følelser. Og man skal ikke regne med, at de selv kan fortælle dem. Data kan fortælle fakta, men kan ikke fortælle, hvad der står mellem linjerne," sagde han til deltagerne på konferencen.
Skab en historie, der bliver til en bevægelse
Det handler ikke om at sælge et produkt men om at skabe en bevægelse, fortsatte Kevin Roberts, og det gør man – ikke ved storytelling – men ved story-sharing.
"Jeres rolle er at dele historier. Forbrugere vil dele en historie og blive en del af den."
At forbrugerne vil være en del af historien er også et tema for det amerikanske bureau SapientNitro.
Det fortalte Executive creative director, Barry Fiske til de danskere, der var taget til Boston og som tillæg til konferencen var inviteret på en række virksomhedsbesøg arrangeret af TCC – the Competence Company.
Barry Fiske brugte formuleringen: Stop med at lave reklamer. Skab verdener i stedet for, hvor forbrugerne kan være en del af den verden.
Hos SapientNitro, der har 13.000 ansatte verden over, kalder de det for Storyscaping.
Som eksempel fortalte de om konceptet 'American Girl', der produceres af Mattel. Dukken repræsenterer USA's historie gennem de forskellige pigedukker, der produceres og den verden, der omgiver dukken.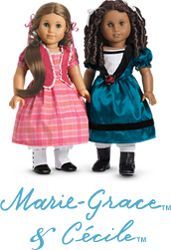 Marie-Grace og Cécile repræsenterer 1853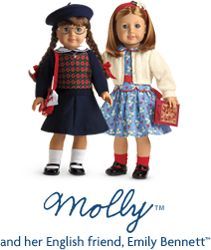 Molly repræsenterer 1944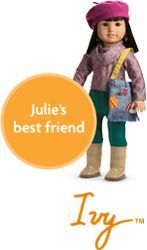 Ivy repræsenterer 1974
Sko-historien der blev til 45 millioner
Tilbage til konferencen, hvor en anden keynote-speaker, Blake Mycoskie, var et levende eksempel på et produkt, der blev til en bevægelse, fordi det er en historie, forbrugerne vil dele.
Blake Mycoskie er grundlægger af Toms, der startede som et projekt med at give et par sko til et fattigt barn, hver gang der blev solgt et par sko.
Toms har siden 2006 givet 45 millioner par sko til børn og har siden udvidet konceptet til briller og drikkevand.
"Kunderne køber ikke bare et par sko, de bliver engagerede i historien og fortæller den videre til andre" fortalte Blake Mycoskie, der selv havde mødt en dame tilfældigt, som engageret havde fortalt ham om, at de sko hun havde på ikke blot var et par sko, men et projekt, fordi et barn havde fået et par sko, da hun havde købt et par.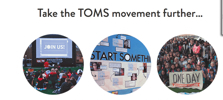 Og det er netop følelser, der får folk til at dele deres historier, sagde Saatchi & Saatchis Kevin Roberts:
"Rationalitet fører til konklusioner, mens følelser fører til handling. og de fører ikke bare til handling men skaber også loyalitet, " sagde bureauchefen, og sluttede af med at sige, at for at finde ud af om en ide er den rigtige, skal man stille sig selv tre spørgsmål:
Ønsker jeg at se den igen? Vil jeg dele den? Vil jeg være en del af den?
Eksempler på historier, der blev delt, som Saatchi & Saatchis bestyrelsesformand Kevin Roberts viste på &then konferencen.
https://www.youtube.com/watch?v=aeuK8YePo-M