For Anders Larsen (35) har karrieren indtil nu heddet IUM. Han begyndte på bureauet i september 2005 efter overstået uddannelse, så han har nået at fejre 10 års jubilæum.
Men kun lige akkurat for d. 30. september sagde han farvel til jobbet som Head of Digital for i stedet at begynde et job som CEO på dealsitet, Downtown. Her erstatter han Erik Balck Sørensen, som er en del af den gruppe, som har stiftet bl.a. Downtown, Billeto, Bloggers Delight og Take Offer.
"Efter 5 år som adm. dir. for Downtown tror jeg, at Erik gerne ville prøve sig af på andre områder, og her er jeg så kommet ind i billedet. Men han er fortsat i bestyrelsen og en del af founder-gruppen," siger Anders Larsen.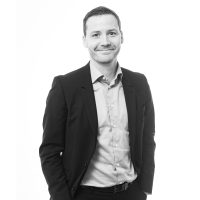 Downtown er en 5 år gammel virksomhed, der har TV 2 i ejerkredsen, og som karakteriserer sig selv som Danmarks største kampagnesite, der hver dag sender en mail til 300.000 danskere.
Det er dog også en virksomhed, som i sit seneste regnskabsår måtte notere tilbagegang og et underskud på ca. 1,3 mio. kr. mod et overskud på 1,1 mio. året før. Man har dog netop afsluttet det seneste regnskabsår, så det er 1 år gamle tal.
"Markedet er rigtig nok presset, men det er også et marked, der er inde i en konsolideringsfase, og her har Downtown et rigtig fint fundament i form af mange meget loyale medlemmer," siger Anders Larsen og fortsætter:
"Som bureaumand har jeg en lidt anden profil end Erik Balck Sørensen. Jeg har i en årrække prædiket for e-commerce virksomheder om, hvordan de skal være gode til at arbejde med f.eks. deres data og brugere i forhold til både at sælge mere og udvide basen. Nu skal jeg så vise, at jeg selv kan omsætte mine kompetencer til virkelighed, og det bliver rigtig spændende."
Anders Larsen bruger lige nu sin tid på at lære alle hjørner at virksomheden at kende, før han vil lægge en retning for udviklingen af Downtown.
"Vi er oppe mod nogle mere kapitalstærke konkurrenter, der typisk indgår i større mediekoncerner. Derfor skal vi være lidt smartere. Vi kan så bryste os med at være nogen af de første og med, at der er et stærkt hold, hvor mange har været med fra start," siger Anders Larsen.
Hos IUM er Katrine Grandahl udnævnt som ny Head of Digital.