Den store NextM-konference, som GroupM afholdt torsdag-fredag i Terminal 1 i København Nordhavn, begyndte med en moderne hippie og sluttede med en bamsefar.
Førstnævnte, Chris Dancy, havde tabt 45 kg på et år ved bl.a. at tage kontrol over egne data. Det har sidstnævnte, Brad Templeton fra Singularity University, ikke.
Chris Dancy var imødekommende og åben, Brad Templeton var forkølet og ville – ganske betænksomt, i grunden – ikke give hånden.
Men konferencens første – og sidstemand lignede på et yderst væsentligt punkt hinanden: At bruge teknologi på at gøre noget godt – redde verden, faktisk.
Chris Dancy ville gøre det via big data, Brad Templeton vil gøre det mere konkret og ganske indgribende i vores hverdag; Med robotbiler.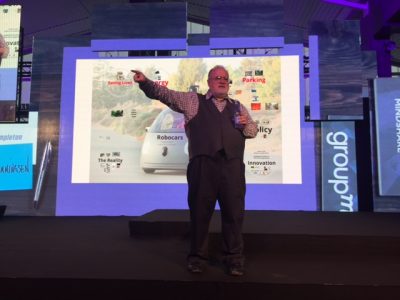 Og da Brat Templeton har været med i en årrække på Googles udvikling af robotbiler, så har han noget at have sin vision i.
"1,2 mio. dræbt i trafikken på verdensplan. 34.000 i USA. Danmark er – hvadenten du kigger trafikdrab pr. km eller bil – på det halve af USAs niveau, men der dør stadig over 20 cyklister i Danmark om året i trafikken. Alkohol er involveret i 40 pct. af trafikdrab – robotter drikker ikke," konstaterede Brad Templeton.
På en længere USA-tur var en bil selvkørende 99 pct. af strækningen. Det skal helst være 99,999 pct., men den sidste decimal er svær, erkendte Brad Templeton – og vendte tilbage til det svære og det nær-perfekte.
Ikke science-fiction
Det mest interessante var ikke kun hans helikopter-perspektiv på robotbilerne, men også at de ikke er science-fiction.
"Alle bilproducenter er på vej med selvkørende biler. Uber-direktøren har proklameret at ville af med sine chauffører. Apple taler om en selvkørende bil i 2019. Googles bil kører allerede. Og har kørt over 2 mio. km," sagde Brad Templeton.
Hvad enten udgangspunktet er 'Biler med computer' eller 'Computere der kan køre', så er perspektiverne de samme – og de er kolossale inden for 15-16 fremhævede industrier, bl.a.:
"Forsikringer. Finansiering. Sygehuse. Mediaforbrug – en amerikaner tilbringer i snit 1 time i bil pr. dag … og hører radio. Og ejendomsmhandel – bl.a. i form af færre P-pladser. Vi kan have parker inden for parkering, men jeg har affundet mig med tanken om, at der nok bliver bygget høje ejendomskomplekser i stedet," sagde Brad Templeton.
Fordelene er indlysende, når man skifter fra at sælge og markedsføre ture frem for biler. Så er det underordnet, hvad bilen kører på, og hvor længe den f.eks. er om at lade op.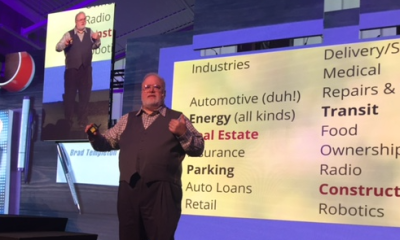 "Vi kommer ikke til at ændre infrastruktur. Det billigste og mest nærliggende er Smart cars, stupid roads. Det er den fattige mands teleportal," sagde Brad Templeton og pegede på fordelene ved robotbiler alene i USA:
"Vi vil kunne spare 200 mio. tons CO2 om året, og det vil ikke være nødvendigt at importere olie. Og amerikanere har jo en sær vane med at gå i krig for netop olie."
Men indsatsen kræver ikke kun tekniske kraftpræstationer, men også en anden indstilling fra brugerne:
"Folk spørger sig selv: Hvilken bil behøver jeg i mit liv? Og i USA er svaret en F 150 fra Ford – en pickup, der passer til hele. Men spørg i stedet dig selv: Hvilken bil behøver jeg i dag?," sagde Brad Templeton.
Han fik en del spørgsmål fra salen og stillede også sig selv en del:
Fejl løses hurtigt
Hvad med uheld? Jo. Og den ene part er en menneskeført bil. Men da robotbiler opfanger alt i 360 grader, i 3D – og lagrer det – så vil enhver tvist være afgjort på 12 sek.
Fejl? Ja, de opstår. En – og i løbet af en uge eller to er alle biler blevet opdateret, så netop denne fejltype aldrig opstår igen. Bilerne er ikke perfekte, men så længe skal vi ikke vente med at komme i gang.
Stoler folk på dem? Ja, faktisk mere, end de burde – og mere end udviklerne selv gør. Googles robotbil har intet rat, ingen pedaler, intet instrumentbræt – og det kræver tilvænning. Men bilen har i øvrigt sidespejle, for det siger loven, at en bil skal have.
"Tilvænningen er også mental. PDLBKBR – People Don't Like Being Killed By Robots. Dertil kommer prisen, som jeg forventer vil komme ned på 15 cents pr. km. Billigere end en busbillet, men folk er endnu ikke vant til at tænke på deres transport på den måde," sagde Brad Templeton.
Ikke kun mennesketransport
På et mere jordnært niveau tilføjede han, at robotbilerne ikke kun er til mennesketransport, hvor biltid bliver dagligstue-tid:
"Droner er effektive til transport af lette ting, men vi vil også se leveringsrobotter. Hvad enten det er en pizza eller 5 par sko – du prøver dem alle, robotten venter gerne, og du sender robotbilen tilbage med de fire par, som ikke passede/klædte dig," sagde Brad Templeton.
Robotbil-manden ville ikke helt aflive den gode gammeldags køreglæde:
"På samme måde som folk stadig rider på hest, vil der også være ture, man tager i sin bil. Oppe i bjergene – okay, ikke her i Danmark, men andre smukke steder.
Brad Templeton brugte John F. Kennedy-ordene om månefærden:
"Vi skal bygge og køre i robotbiler. Ikke fordi det er let, men fordi det er svært. Og det vil lykkes. Og det vil ændre verden."