Tirsdag aften blev det til en dansk Grand Prix i Cannes Lions. Historisk, og torsdag aften var ikke mindre historisk. For det er oppe i det lag, når ikke ét, men to danske teams entrerer scenen i palæet samme aften for at modtage hver sin guldløve.
I Direct Lions gik guldløven til Accenture Song, Marketsquare og Dentsu x med Ikea Cirkulär, og Virtue supplerede sin Grand Prix med en guldløve i Media Lions med Backup Ukraine for Polycam og Unesco.
Og
Læg dertil 4 sølv og 3 bronze fordelt på Uncle Grey (sølv og bronze) for Samsøe Samsøe, Cirkulär-holdet (sølv) og Virtue og Backup Ukraine (2 sølv og 2 bronze) – og allerede nu, før sidstedagen i Cannes, har dansk kreativitet lagt betragteligt oven i 2021-resultatet.
For Accenture Song, tidl. Hjaltelin Stahl, er guldløven en formidabel måde at lancere det nye bureaunavn.
Inde i palæet sagde Accenture Songs nordiske CCO, Adam Kerj:
"At få Ikeas kunder – og dem er der en millard af – med på en cirkulær rejse kan kun gøres med kreativitet. Og det kræver en stærk kreativ idé at få en så kompleks løsning til at fungere på med så mange stakeholders på næsten 30 markeder. Ikea gør verden til et lidt bedre sted, og de får deres kunder til at gøre en del af arbejdet selv – lige som når møblerne skal samles."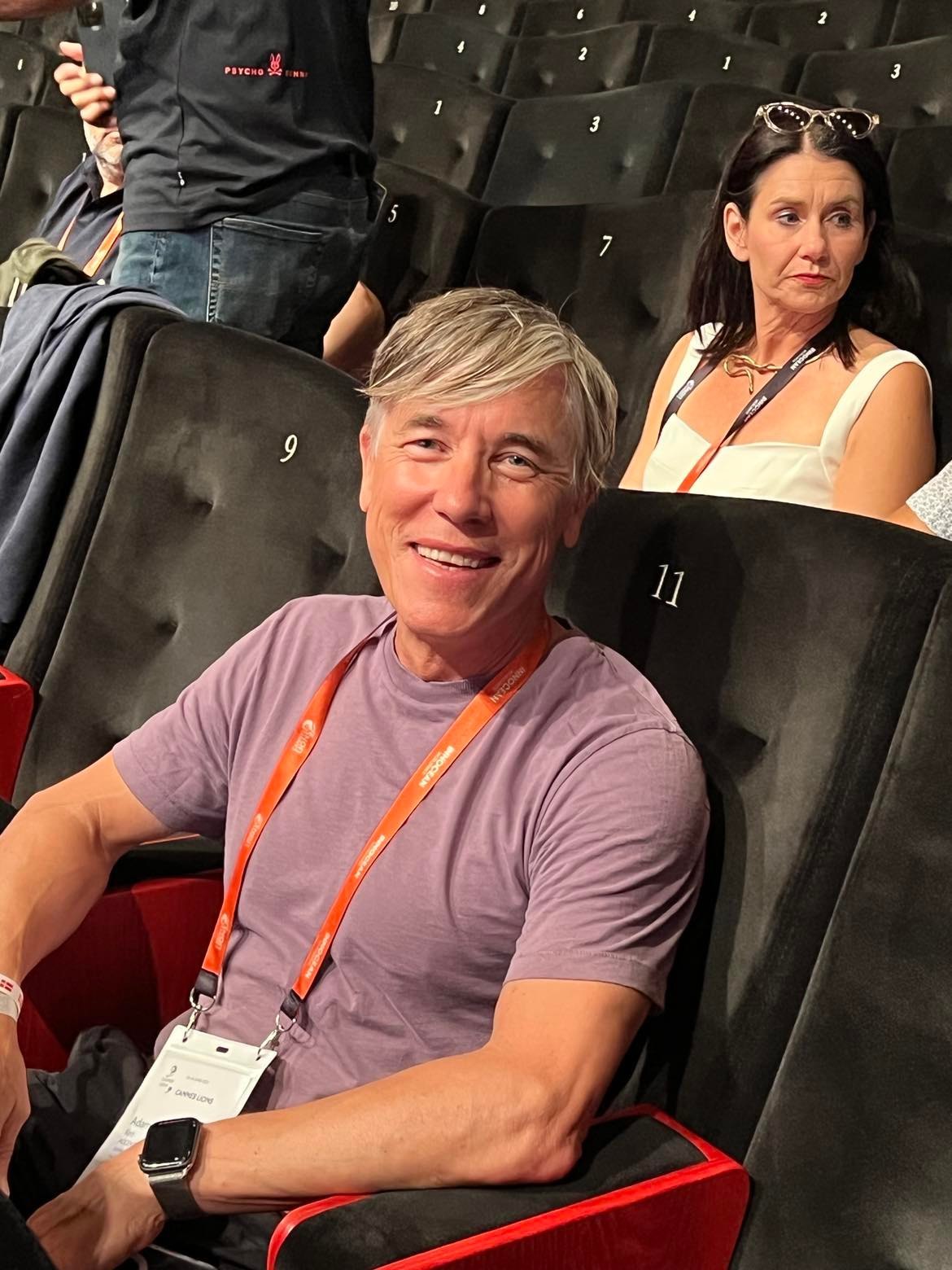 Adam Kerj i Festivalpalæet, før han sammen med kunde og bureaukolleger skal op for at modtage guldløven for Ikeas case Cirkulär. Foto Pia Osbæck
Jurypræsidenterne i hele Cannes-ugen talte om 'power of partnerships', og Ikea bragte usædvanlige partnere sammen: Sit eks-bureau Hjaltelin Stahl og sin faste bureaupartner Marketsquare. Sidstnævnte bureau har vundet flere internationale priser på det seneste og tager nu sin første guldløve.
Direct Lions jury president Fred Levron, der er global chief creative officer, Dentsu International, siger om Cirkulär: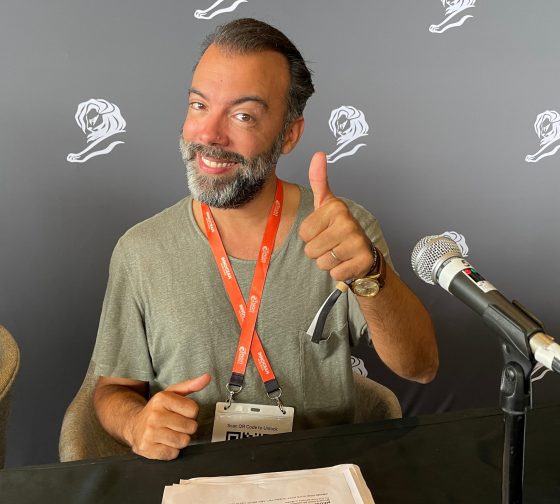 Fred Levron, jury president. Foto: Peter Engholm
"Stor hilsen til teamet. Jeg vil meget gerne have budskabet ud: At Ikea som stor møbelproducent anerkender, at de er en del af problemet med vores begrænsede ressourcer. Og at de leverer en løsning, der er genial: At tilskynde en genbrugende adfærd. Det er ikke et moment, men et movement. For Cirkulär er blevet en fast del af deres forretning."
Virtue kender fra tirsdagens Grand Prix-sejr vejen til scenen i palæet, men bare fordi man er ypperlig i Digital craft, kan man godt være fantastisk i Media Lions.
Her er Morten Grubak, Martin Furze Nørgaard og Christina Smidt fra Virtue på vej op på scenen for at modtage deres guldløve. Video: Pia Osbæck
Jury president Daryl Lee, global CEO, IPG Mediabrands, siger om Virtues løsning for Polycam og Unesco: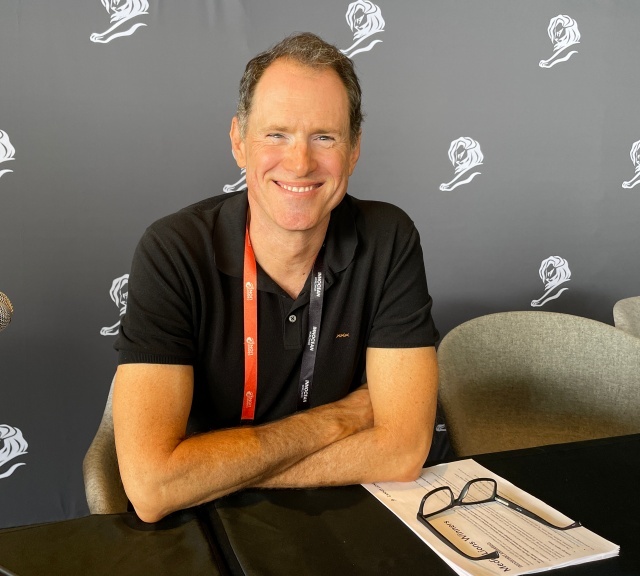 Jury president Daryl Lee. Foto: Peter Engholm
"Backup Ukraine er enspektakulær case – og en favorit til Grand Prix'en. Det er i sig selv stærkt, når et brand og en godgørende organisation går sammen. Backup Ukraine er ikke kun teknologi, men en social experience og i sidste ende social purpose. "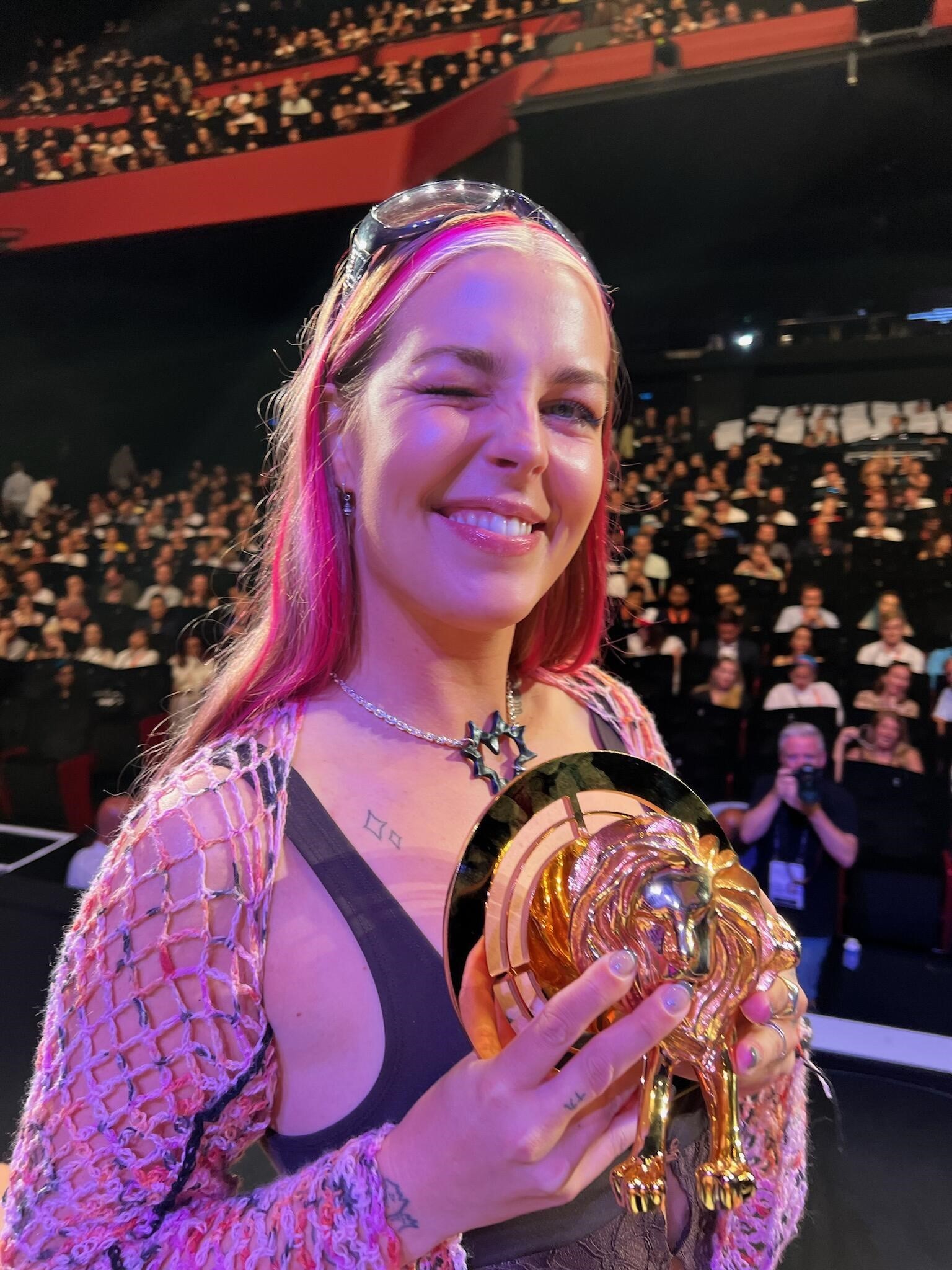 Christine Smith på scenen igen for Virtue. Foto: Morten Grubak
Cannes Lions 2022
– dansk Grand Prix, guld, sølv og bronze
Grand Prix
Digital craft
Backup Ukraine
Polycam x Unesco Danmark
Virtue
Guld
Media
Backup Ukraine
Polycam x Unesco Danmark
Virtue
Direct
Cirkulär
Ikea
Accenture Song, Marketsquare og dentsu X
Sølv
Direct
Cirkulär
Ikea
Accenture Song, Marketsquare og dentsu X
Media
Backup Ukraine
Polycam x Unesco Danmark
Virtue
Media
The resell tag
Samsøe Samsøe
Uncle Grey
PR
Backup Ukraine
Polycam x Unesco Danmark
Virtue
Industry Craft
Nord DDB
Chillboards
Coors Light
Digital craft
Backup Ukraine
Polycam x Unesco Danmark
Virtue
Brand experience & activation
Backup Ukraine
Polycam x Unesco Danmark
Virtue
Bronzeløve
Social & influencer
The resell tag
Samsøe Samsøe
Uncle Grey
PR
Backup Ukraine
Polycam x Unesco Danmark
Virtue
Direct
Backup Ukraine
Polycam x Unesco Danmark
Virtue
Outdoor
Nord DDB
Chillboards
Coors Light
Creative strategy
Hjelm har alle dage været en god idé
Rådet for sikker trafik
&Co., New Land, Copenhagen VFX, The Image Faculty og Orchestra
Empty Chairs
Børns Vilkår
Uncle Grey
Mobile
Backup Ukraine
Polycam x Unesco Danmark
Virtue
Brand experience & activation
Backup Ukraine
Polycam x Unesco Danmark
Virtue
Dertil kommer:
Guld
Young Lions Design
Jonas Hjort og Marcus Mahecha, begge fra Kontrapunkt