For et halvt år siden rykkede Mark Mikael Müller teltpælene op hos Mindshare for i stedet at lede en ny afdeling hos Advice for Digital & Social Campaigning.
I første omgang sad de en 2-3 stykker, men siden er det gået stærkt. Nu er der 9 efter, at to erfarne kræfter er kommet til.
Der er tale om Lone Sivebæk (t.v. i billedet), der er startet som Digital Strategist – hun kommer fra Mingler – og Rikke Østergaard, som kommer fra Baby. Hun var Head of Social på Baby og hos Advice får hun titel af Head of Social Strategy.
"Stærk owned media kan give virksomhederne større kontrol over, hvordan marketing skal orkestreres og samtidig løfte brandoplevelsen hos eksisterende kunder og ansatte. Det kræver altså et hold, der både forstår kompleks DDM, social business og ikke mindst kreativitet. Og det hold er blevet kraftigt styrket af både Rikke og Lone," siger Mark Mikael Müller.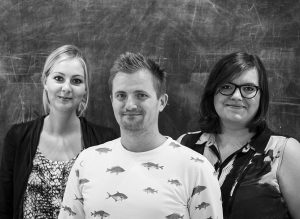 Advice er et bureau, der arbejder ud fra et fokus på netværk, og det at bringe kunderne ind i samtalen. Derfor spiller PR selvsagt en betydelig del, men en bredere tilgang til earned media er en del af opgaven for Mark Michael Müller og hans team.
"I takt med at Facebook er blevet mere og mere et paid media, så er verden blevet mere normal i forhold til earned media. Det der virkelig batter er, når man evner at bygge fortællinger, som kan sætte skub i samtalen," siger Mark Mikael Müller – men fremhæver dog, at man ud over fokus på den kreative udvikling af indhold naturligt også arbejder med annoncerings-strategier som del af at placere indhold i samtalen.
"Advice er et på alle måder anderledes bureau, der tænker social i en bredere kontekst. Her arbejder vi tæt sammen med f.eks. PR og branding både på strategisk og kreativt niveau. Det giver en helt anden dybde i løsningerne – noget som social generelt savner", siger Rikke Østergaard.
Advice er blandt andet bureau for brands som Codan, Lederne, Spar Nord og Kræftens Bekæmpelse, og tæller efter fusionen med Advice Digital over 100 medarbejdere. Kompetencerne spænder fra alt indenfor kreative, branding specialister, public affairs, PR og analyse. Noget som tiltrækker de nye folk.
"Jeg er selv ret begejstret for, hvor meget viden og data, vi ligger inde med på Advice. Vi er derfor i gang med at lancere et dashboard, der gør det muligt for os at monitorere vores egen og kundernes tilstedeværelse. Det giver os mulighed for at handle meget mere adaptivt, hvis noget skal tilrettes eller optimeres fra time til time", siger Lone Sivebæk, der tidligere har haft ansvaret for bl.a. at bygge dashboards og second screen løsninger for Danmarks Radio.