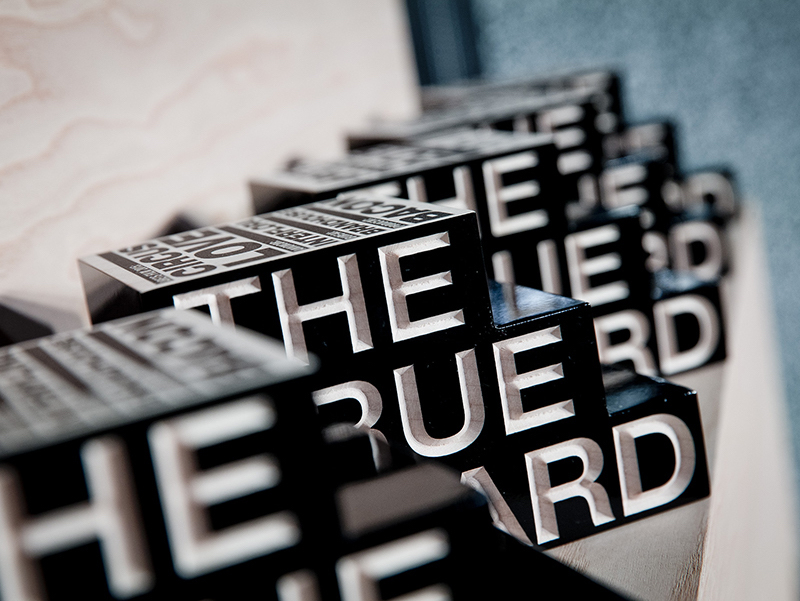 The True Award prisen sætter fokus på de bedste danske reklamefilm, hvor filmene og personerne bag hyldes. Der bliver kåret årets reklamebureau, årets produktionsselskab og årets annoncør.
The True Award blev afholdt første gang i 2007 og er arrangeret af Producentforeningen og Dansk Annoncørforening i samarbejde med TV 2 og Kreativitet & Kommunikation.
Link til arrangementet finder du
her.
Nominerede
BEDSTE FILM – TV OG BIOGRAF 2017
Bureau
Pris
Kunde
Kommunikationsbureauet København,
CCCCCCC
Nomineret
DR
Case:
Sulten der æder alt
& Co.,
& Co. Productions,
Moland Film
Sølv
TV2
Case:
Alt det vi deler
Brandhouse,
Honeytrap
Nomineret
Rådet for Sikker Trafik
Case:
Farten vælger for dig
Brandhouse,
Bacon
Nomineret
Interflora
Case:
Helping Hand
Brandhouse,
Bacon
Nomineret
Interflora
Case:
It's complicated
Charlie Tango,
Bacon
Sølv
Dankort
Case:
På beløbet siden 1983
Hjaltelin Stahl,
Pegasus Productions
Nomineret
Telia
Case:
Lad dig ikke begrænse
DDB Copenhagen,
Spoiled Productions
Bronze
McDonald´s Danmark
Case:
Lysglimt
Robert/Boisen & Likeminded,
Gobsmack
Nomineret
Tryg Forsikring, TryghedsGruppen og TrygFonden
Case:
Har du reddet liv uden at vide det?
BEDSTE FILM – ONLINE 2017
Bureau
Pris
Kunde
Wibroe, Duckert & Partners
Nomineret
Kari Traa
Case:
Celebrate Yourself
& Co.,
& Co. Productions
Sølv
Kræftens Bekæmpelse og TrygFonden
Case:
Help a dane / Bertelsen Thai
& Co. Productions,
& Co.,
Honeytrap
Nomineret
Rådet for Sikker Trafik og TrygFonden
Case:
Nederen Forældre / Filips far
& Co.,
Bacon,
Moland Film
Guld
TV2
Case:
Alt det vi deler
& Co.,
& Co. Productions
Nomineret
Codan
Case:
Sikker Online / Hacker Eksperimentet
Brandhouse,
The Woerks
Nomineret
Interflora
Case:
Det Store Mor-Eksperiment
Nobody Cph
Nomineret
Carlsberg
Case:
Carlsberg TED X
Robert/Boisen & Likeminded,
Gobsmack
Nomineret
Spies Rejser
Case:
Do it forever
Robert/Boisen & Likeminded,
Gobsmack
Bronze
BØRNEfonden
Case:
Hvornår er man gammel nok?
Robert/Boisen & Likeminded,
Gobsmack
Nomineret
Kræftens Bekæmpelse og TrygFonden
Case:
Spritstiv Speeddate
BEDSTE FILM – ONLINE – ENTERTAINTMENT 2017
Bureau
Pris
Kunde
Marvelous
Nomineret
Microsoft
Case:
Walter & Alma
& Co.,
& Co. Productions,
Honeytrap
Bronze
Rådet for Sikker Trafik og TrygFonden
Case:
Nederen Forældre / Filips far
Robert/Boisen & Likeminded,
Gobsmack
Nomineret
BØRNEfonden
Case:
Hvornår er man gammel nok?
& Co.,
& Co. Productions,
Moland Film
Guld
TV2
Case:
Alt det vi deler
Robert/Boisen & Likeminded,
Gobsmack
Sølv
Kræftens Bekæmpelse og TrygFonden
Case:
Spritstiv Speeddate
& Co.,
& Co. Productions
Nomineret
Kræftens Bekæmpelse og TrygFonden
Case:
Help a dane
BEDSTE FILM – ONLINE ­ – VIRALT 2017
Bureau
Pris
Kunde
Mediacom A/S
Nomineret
Volkswagen
Case:
Pakkeboksen
& Co.,
& Co. Productions
Sølv
Kræftens Bekæmpelse og TrygFonden
Case:
Help a dane / Bertelsen Thai
& Co.,
& Co. Productions,
Honeytrap
Nomineret
Rådet for Sikker Trafik og TrygFonden
Case:
Nederen Forældre / Filips far
Brandhouse
Interflora
Case:
Det Store Mor-Eksperiment
& Co.,
& Co. Productions,
Moland Film
Guld
TV2
Case:
Alt det vi deler
Robert/Boisen & Likeminded
Nomineret
Spies Rejser
Case:
Do it forever
Robert/Boisen & Likeminded,
Gobsmack
Sølv
Kræftens Bekæmpelse og TrygFonden
Case:
Spritstiv Speeddate
BEDSTE FILMKAMPAGNE 2017
Bureau
Pris
Kunde
Wibroe, Duckert & Partners,
Honeytrap
Nomineret
Tuborg
Case:
Tuborg
Brandhouse
Nomineret
Interflora
Case:
Der er mange måder at sige det på
& Co.,
& Co. Productions
Guld
Kræftens Bekæmpelse og TrygFonden
Case:
Help a dane
Hjaltelin Stahl,
Pegasus Productions
Nomineret
Telia
Case:
Lad dig ikke begrænse
Robert/Boisen & Likeminded,
Gobsmack
Sølv
Kræftens Bekæmpelse og TrygFonden
Case:
Spritstiv Speeddate
Advice A/S,
The Woerks
Bronze
Danske Bank
Case:
Scamster
BEDSTE INSTRUKTION 2017
Bureau
Pris
Kunde
New Land
Sølv
Alt-J
Case:
In Cold Blood - instrueret af Casper Balslev
Wibroe, Duckert & Partners,
Bacon
Bronze
Kari Traa
Case:
Celebrate Yourself - instrueret af Martin Werner
Intet bureau
Nomineret
IKEA
Case:
Every Other Week - instrueret af Martin Werner
& Co.,
Bacon
Nomineret
Rådet For Sikker Trafik
Case:
Hvad skal der til? Instrueret af Jacob Marky
Brandhouse
Nomineret
Interflora
Case:
Interflora – It´s Complicated - instrueret af Martin Werner
Charlie Tango
Nomineret
NETS
Case:
På beløbet siden 1983 - instrueret af Tomas Jonsgården
BBH
Guld
Playstation
Case:
The King - instrueret af Martin de Thurah
Nobody Cph
Sølv
Carlsberg
Case:
Carlsberg TED X - instrueret af Rune Milton
Hobby Film
Nomineret
VR Finnish Railroads
Case:
The Journey - instrueret af Torben Kjelstrup
DDB Copenhagen,
Spoiled Productions
Nomineret
McDonald´s Danmark
Case:
Lysglimt - instrueret af Kasper Torsting
& Co.,
Moland Film
Nomineret
TV2
Case:
Alt det vi deler - instrueret af Asger Leth
& Co.,
Moland Film
Nomineret
Fazer
Case:
Fazer Chocolate instrueret af Rune Milton
BEDSTE FOTO 2017
Bureau
Pris
Kunde
TBWA/Helsinki
Nomineret
Helsingin Sanomat
Case:
The Greeting - Fotograf: Matthias Troelstrup
New Land,
Black Dog Filmslack
Alt-j
Case:
In Cold Blood - Fotograf: Niels Thastum
Uncle Grey,
New Land
Nomineret
Canon
Case:
Redefine Ordinary - Fotograf: Magnus Jønck
Mayday Film
Nomineret
Maryfonden
Case:
Maryfonden - Fotograf: Talib Rasmussen & Jens-Jakob Thorsen
Brandhouse,
Bacon
Nomineret
Interflora
Case:
Interflora – It´s Complicated - Fotograf: Laust Trier Mørk
Bacon
Nomineret
CPH DOX
Case:
The Future Isn´t What It Used To Be - Fotograf: Jasper Spanning
Nobody Cph
Nomineret
Carlsberg
Case:
Carlsberg TED X - Fotograf: Kasper Wind
Bureau
Pris
Kunde
Hjaltelin Stahl,
Pegasus Productions
Nomineret
Telia
Case:
Lad dig ikke begrænse: Bruno - Fotograf: Erik Henriksson
BEDSTE KLIP – 2017
Bureau
Pris
Kunde
Happiness Brussels
Carlsberg
Case:
Carlsberg TED X - Klipper: Freddie Smith & Rune Milton
The Woerks,
TBWA/Helsinki
Nomineret
Helsingin Sanomat
Case:
The Greeting - Klipper: Freddy Smith
Virtue
Nomineret
ECCO
Case:
ECCO INTRINSIC TR - Klipper: Ogi Curcic
Charlie Tango,
Bacon
Nomineret
NETS
Case:
På beløbet siden 1983 - Klipper: Olivier Bugge Coutté
& Co.,
Honeytrap
Nomineret
Rådet for sikker trafik
Case:
Nederen Forældre / Filips far - Klipper: Dan Loghin
Hjaltelin Stahl,
Pegasus Productions
Nomineret
Telia
Case:
Lad dig ikke begrænse: Ihan - Klipper: Jeppe Bødskov
& Co.,
Moland Film
Nomineret
TV2
Case:
Alt det vi deler - Klipper: Jacob Thuesen
BEDSTE SOUND DESIGN 2017
Bureau
Pris
Kunde
The Woerks
Nomineret
Helsingin Sanomat
Case:
The Proposal - Sound designer: Kevin Koch
Bureau
Pris
Kunde
Wieden+Kennedy
Nomineret
Jordan
Case:
Breakfast Club - Sound designer: Adrian Aurelius / ballad - Komponist: Lasse Martinussen / ballad
Nike,
Furlined
Nomineret
Nike
Case:
Seoul - Sound designer: Adrian Aurelius & Philip Nicolai Flindt / ballad
BBH
Nomineret
Playstation
Case:
The King - Adrian Aurelius & Philip Nicolai Flindt / ballad - Komponist: Eurythmics
Anorak
Nomineret
KLP
Case:
What You Sacrifice - Sound designer: Adrian Aurelius / ballad
Nobody Cph
Nomineret
Carlsberg
Case:
Carlsberg TED X - Sound designer: Kevin Koch - Komponist: Jonas Horsted Larsen
Hjaltelin Stahl,
Pegasus Productions
Telia
Case:
Lad dig ikke begrænse: Ihan - Sound designer: Bjørn Vidø / Freezone Komponist: Patrizia Helander & Barbara Chamoun
DDB Copenhagen,
Spoiled Productions
Nomineret
Roskilde Festival
Case:
KlubRå - Komponist & Sound designer: Morten Søgaard
Gobsmack,
The Base
Nomineret
Les Deux + Kobenhagen Fur
Case:
Beyond Borders - Sound designer: Bjørn Vidø / FreeZone Komponist: Andreas Mark Stefansen
BEDSTE FILMMUSIK 2017
Bureau
Pris
Kunde
Bacon
Nomineret
Magnum, Unilever
Case:
The Ceremony - Sound designer: Jesper Gadeberg Komponist: Bob Marley
Brandhouse,
Bacon
Nomineret
Interflora
Case:
Helping Hand - Sound designer: Adrian Aurelius / ballad Komponist: Ben Kaniewski & Louise Alenius
Brandhouse,
Bacon
Nomineret
Interflora
Case:
Interflora – It´s Complicated - Sound designer: Adrian Aurelius / ballad Komponist: Ben Kaniewski & Louise Alenius
Charlie Tango,
Bacon
Nomineret
NETS
Case:
På beløbet siden 1983 - Sound designer: Philip Nicolai Flindt / ballad Komponist: WhoMadeWho
& Co.,
Honeytrap
Nomineret
Rådet for sikker trafik
Case:
Nederen Forældre / Filips far - Sound designer: Samuel Lehn @ Supersonic Komponist: Søren Rasted
Nobody Cph
Carlsberg
Case:
Carlsberg TED X - Sound designer: Kevin Koch Komponist: Jonas Horsted Larsen
DDB Copenhagen,
Spoiled Productions
Nomineret
Roskilde Festival
Case:
Tick Tock - Sound designer: Jakob Steen Komponist: Jakob Steen – vokalist/sanger: Anja Christoffersen
BEDSTE VISUAL EFFECTS/3D 2017
Bureau
Pris
Kunde
Bacon
Nomineret
Magnum, Unilever
Case:
Magnum Pints - VFX-/CGI Artist: Bacon X & Mikros Image
& Co.
Nomineret
Marieke Appel
Case:
The Big Berry Heist - VFX-/CGI Artist: Jan Tvilling & Jonas Drehn / Bacon X
Grabarz & Partner,
CZAR Hamburg
Volkswagen
Case:
Laughing Horses - VFX-/CGI Artist: Jan Tvilling & Jonas Drehn / Bacon X
Nobody Cph
Nomineret
Carlsberg
Case:
Carlsberg TED X
BEDSTE PRODUCTION DESIGN 2017
Bureau
Pris
Kunde
New Land
Alt-J
Case:
In Cold Blood - Production-/Set Designer: Anna Gry Skovdal
Konstellation & Republica
Nomineret
Pergo
Case:
Life of a Floor
Virtue
Nomineret
Ecco
Case:
ECCO INTRINSIC TR - Production-/Set Designer: Morten Grubak
Wibroe, Duckert & Partners,
Bacon
Nomineret
Kari Traa
Case:
Celebrate Yourself - Production-/Set Designer: Serban Porupca & Emilie Thalund
Bacon
Nomineret
Magnum
Case:
Games - Production-/Set Designer: Peter Grant
Brandhouse,
Bacon
Nomineret
Inteflora
Case:
Interflora – It´s Complicated - Production-/Set Designer: Martin Krejzlik
Charlie Tango,
Bacon
Nomineret
NETS
Case:
På beløbet siden 1983 - Production-/Set Designer: Wonderland
GRAND PRIX
Bureau
Pris
Kunde
& Co.,
& Co. Productions,
Moland Film
Nomineret
TV2
Case:
Alt det vi deler
ÅRETS ANNONCØR
Bureau
Pris
Kunde
Intet bureau
Kræftens Bekæmpelse & TrygFonden
ÅRETS BUREAU
ÅRETS PRODUCENT
Bureau
Pris
Kunde
Moland Film