Co-creation er godt på vej til at blive endnu et tidens overbrugte og misforståede buzzwords – sammen med agilitet, disruption og alle de andre. Dermed lurer faren for, at vi alle vrager co-creation som et par underbukser, der er vendt en gang for meget. Og det er en skam!
Det mener Line Schmeltz og Anna Karina Kjeldsen, som har bidraget med et kapitel til bogen Co-creating Brands: Brand Management from A Co-creative Perspective.
Line Schmeltz, der er ph.d. og lektor ved Aalborg Universitet, og Anna Karina Kjeldsen, der er ph.d. og lektor ved Erhvervsakademi Aarhus, mener desuden, at co-creation er en uomgængelig præmis for de fleste brands – også selvom de ikke ved det.
Bureaubiz har spurgt de to bogbidragsydere om fem gode grunde til at arbejde med co-creation.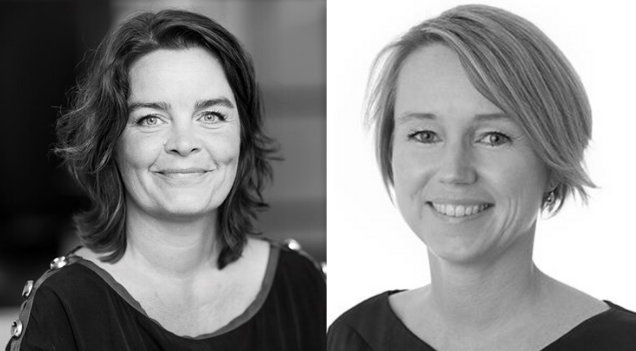 Anna Karina Kjeldsen og Line Schmeltz. Deres kapitel i Co-creation brand bygger på et forskningsprojekt med Statens Museum for Kunst som case.
Line Schmeltz og Anna Karina Kjeldsens gode grunde til at arbejde med co-creation:
1. Organisationen ejer brandet – men brandet lever 'derude'
Den tid er forbi, hvor brands kunne defineres bag lukkede døre, øverst og inderst i organisationen. Det samme gælder ideen om brand-manualer, der beskriver brandet i bullet points, fem faste kerneværdier og deraf afledte handleanvisninger, der sikrer statisk, ensrettet kommunikation af brandet i alle sammenhænge.
I dag er de fleste eksperter nemlig enige om, at selvom organisationen juridisk set ejer brandet, så gælder det ikke længere definitionen af brandets indhold og værdi.
Sandheden er snarere, at det som brandet står for og forbindes med, opstår og lever i samspillet mellem organisationen og dens omverden.
Man kan altså godt definere, hvad man vil have, at ens brand skal stå for, men man kan aldrig kontrollere, hvad den enkelte kunde, journalist eller leverandør forbinder med det.
Den erkendelse er grundtanken i brand co-creation, som handler om at arbejde strategisk med at skabe brandet i konstant dialog med omverdenen. Brandet lever og får værdi gennem de kontinuerlige interaktioner og forhandlinger, der finder sted mellem virksomheden og dens stakeholdere – og ikke mindst stakeholderne imellem.
Så i stedet for at tale om 'vores brand', skal vi hellere tale om 'vores branding' og erkende, at vi brander hele tiden, sammen med alle vores stakeholdere.
2. Brandet har ikke én stemme – men lever i netværk
Brand co-creation arbejder strategisk med det, der af mange kaldes the networked world. Alle kan være i forbindelse med alle, alle kan få indsigt, og alle kan komme til orde på tværs af landegrænser, markeder og kanaler – og det stiller brand managers over for en række udfordringer.
Brandet kommunikeres ikke længere kun af få personer i virksomheden via dertil udvalgte kanaler. Brandet kommunikeres potentielt i alle bevidste og ubevidste touch points, som organisationen har med omverdenen – og samtidig kommunikeres det videre uden for egen rækkevidde – i netværk, fora og WOM-kæder.
Brandets værdi og betydning bliver dermed flydende, adaptiv, og med co-creation skal vi lære at leve med, at brandet ikke længere har én stemme, én værdi, én identitet, men mange. Det åbner op for, at mange kan bidrage til brandet, og at mange (flere) kan se sig selv i brandet.
3. Co-creation giver medarbejderne en stemme
Brand co-creation har også den styrke, at medarbejderne involveres aktivt og får en tydelig stemme i brandet. For når man slipper brandet fri, favner man alle medarbejderes aktive og afgørende rolle som brandere, og det øger ikke kun medarbejdernes følelse af ansvar og ejerskab i forhold til brandet, det skærper også den enkeltes bevidsthed om den rolle, hun spiller som brander.
Vores bidrag til bogen, i form af et studie af Statens Museum for Kunst og museets strategiske arbejde med brand co-creation, illustrerer her en meget vigtig pointe: medarbejderne er ikke en stor homogen masse med én harmoniseret stemme.
Så der kan opstå problemer, hvis de forskellige medarbejdere har meget forskellige opfattelser af, hvad brandet skal være. Det kan ende i en situation, hvor brandet taler med meget forskellige – nogle gange endda disharmoniske – stemmer udadtil. Det laver forstyrrende larm.
Derfor skal man som brand manager indstille sig på, at med co-creation skifter man rolle fra at være den, der initierer og faciliterer kommunikation og dialog om brandet, til at være den der identificerer og nogle gange mægler mellem de forskellige, måske endda konkurrerende, interne stemmer i organisationen.
Man kan næsten sige, at man med brand co-creation går fra at have én brand manager i organisationen, til at alle bliver brand managers.
4. Co-creation er også co-controlling
Hvis man kaster sig ud i co-creation, betyder det, at man som virksomhed og brand manager skal indstille sig på i langt højere grad at lytte ydmygt end at tale højlydt. Vi kender det fra os selv: hvis vi skal investere i at udvikle noget sammen med andre, skal de også lytte til vores ideer og ikke kun tale om deres egne. Det samme gør sig gældende ved brand co-creation.
Co-creation fører dermed uundgåeligt til co-controlling: for hvis man vil have andre til at byde ind og medudvikle brandet, er man også nødt til at slippe ideen om fuldstændig kontrol over det.
Brand managers har selvfølgelig stadig indflydelse på brandets retning og udvikling, men de hverken ejer eller kontrollerer det fuldstændigt selv længere.
Det kræver mod. Men hvis man lykkes med co-creation, så er vejen samtidig banet for et højere medarbejderengagement, for tæt dialog med vigtige stakeholdere, og for både indsigt i og loyalitet fra kunderne – fordi de har fået adgang til cockpittet.
5. You can run, but you can't hide …
Som punkterne ovenfor tydeligt viser, så er det hverken nemt eller et quick fix at arbejde med brand co-creation. Det er faktisk både udfordrende, kaotisk og nogle gange lettere uoverskueligt – og det kræver vedholdende fokus. Så man kunne vælge at sige, at vi ikke vil gå den vej med vores brand.
Men selvom man ikke arbejder strategisk med brand co-creation, så kan man på ingen måde undgå, at co-creation alligevel finder sted i et eller andet omfang i en netværksbaseret og digital verden.
Jeres stakeholdere vil stadig diskutere, forhandle og udvikle brandets betydning og værdi imellem hinanden. Det I skal spørge jer selv om er, om I vil være med i samtalen eller ej.
Co-creating Brands: Brand Management from A Co-creative Perspective af professor dr. Holger J. Schmidt, Koblenz University of Applied Sciences i Tyskland samt Nicholas Ind, associate professor på Kristiania University College, Oslo.