Simon Wooller og Thomas Thorstholm har ikke ligget på den lade side, siden de i begyndelsen af i år gik i luften med The Orbit Agency oven på deres afgang som ledere for Halbye Kaag JWT.
Men hidtil har de ikke fortalt om kunder, så på den led er det nu første gang, at de træder frem i medierne med en kunde.
Der er tale om Audiofly, der er Australiens mest markante brand inden for høretelefoner. Så nu er situationen den, at et australsk firma har valgt en australier til at hjælpe med at lancere mærket på det nordiske marked.
"Vores brand har en unik historie og et ligeså unikt produkt. Der passer perfekt til de nordiske forbrugere, så jeg har store forventninger. Jeg har gennem årene arbejdet med mange forskellige bureauer, og The Orbit Agency arbejder meget mere metodisk, end jeg er vant til," siger Joacim Sverlinger, CEO, Audiofly Nordic.
Markedet for høretelefoner vokser fortsat, og Audiofly har en ambitiøs plan om at tage en større del af det segment. Audiofly tilbyder nemlig både en øget holdbarhed og modeller med flere højtalere indbygget i selve enheden.
"Forskellige markeder, konkurrenter og del-målgrupper samt forbrugsmønstre stiller altid krav. Så en kampagne, målrettet hele norden med et internationalt premium brand, stiller endnu større krav til både eksekvering og planlægning," siger Simon Wooller, og tilføjer:
"Kampagnen har naturligvis et digitalt omdrejningspunkt, men bliver også synlig på tværs af en række mediaflader; print, in-store, outdoor, events mm. Social media-kampagnen, som bl.a. involverer en række kendte DJ's i Norge, Sverige og Danmark, er allerede godt i gang."
The Orbit Agency har også stået for bygningen af e-commerce sitet sideløbende med udviklingen af kampagnen. Produkterne kan allerede nu købes på Audiofly.dk og via Facebook.com/audioflynordic, mens kampagnen bliver synlig i Sverige, Norge, Danmark frem mod jul.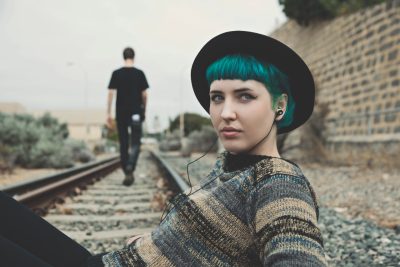 Ovenstående billede sætter tone of voice, og skal bruges til bl.a. point of sale. Men når det gælder reklamer, vil man arbejde med en række andre ideer, der er designet til at fungere i de medier, de optræder.