For mange år siden lød det fra en stor annoncør: "Jeg spilder halvdelen af mine marketingkroner. Jeg ved bare ikke hvilken halvdel."
Sådan taler man ikke i dag. Bl.a. fordi man vil sige, at man ved, hvilken halvdel, man spilder – og så selvfølgelig skærer den fra. Annoncørerne har øget deres krav til performance, der måles på ROI og ROMI, procurement øger presset, og finansfolkene i en virksomhed vil have målbare indsatser.
Det er en performance-kultur, og hvem kan være mod det?
Tjah – det er der faktisk en svensker, der kan. Fredrik Hallberg er Head of Strategy and Innovation/Chief Strategy Officer ved Vizeum, og han har skrevet et indlæg på Linkedin under overskriften "Vår prestationsångest dödar våra varumarken".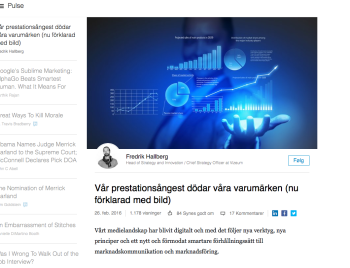 Essensen af hans indlæg er dybest set, at den halvdel af marketingkronerne, som man har betragtet som spild, måske ikke var spild alligevel.
ROMI fører til suboptimering
Han gennemgår bl.a. matematikken i ROI og ROMI og konstaterer, at der er en negativ korrelation mellem de to. Når ROMI øges, falder ROI.
ROMI (return on marketing investment) defineres som procent og udregnes som ((indtægter-udgifter/udgifter)x100). Det er en formel, som ret beset betyder, at den største ROMI opnås ved ikke at investere penge i marketing overhovedet.
Fredrik Hallberg konstaterer således, at optimeringen af afkast pr. investeret mediakrone leder til en suboptimering, som hæmmer brandets evne til at øge sin markedsandel og salg.
Fredrik Hallberg tager fat i en indsigt, som også blev fremdraget i et meget omtalt essay af Ian Lesley på Financial Times i efteråret. Den handler om købsfrekvensen på Coca-Cola. Mere end 80 pct. af Coca-Colas kunder køber kun Coca-Cola et par gange om året, og det er en indsigt, som i dag omfatter mange andre produkter og kategorier.
Udfordringen er derfor, at man skal markedsføre sig over for mange og tilfældige lavfrekvente kunder. Derfor skal man søge efter de mindst værdifulde og højsthængende frugter frem for de lavesthængende og mest værdifulde kunder.
Det er en helt anden markedsførings-opgave, og som Ian Lesley også konstaterede, så er det en opgave, hvor man skal have placeret den lille stump af emotionel tilknytning, som får en forbruger til at vælge brandet i det øjeblik, hun træffer købsbeslutningen – måske langt senere end selve påvirkningen.
Essensen af branding
"Det er netop det, branding handler om – en investering i installationen af en følelse eller en sympati i forhold til et brand. En installation, der ikke skal skaffe salg her og nu (conversion rate) men står som et potentiale til den dag, behovet for produktet/kategorien opstår. Og som derfor gør mærket mere værd," siger reklamemanden, Søren Nøhr, der har en mangeårig erfaring fra bl.a. arbejdet med Mercedes i Danmark.
Ian Lesley tog fat i den digitale tilgang og konstaterede, at tv fortsat er langt det bedste medie til at folde den slags markedsføring ud på. (Bureauer snublet i det digitale)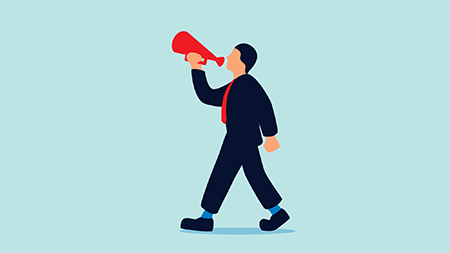 Under alle omstændigheder, så ligner dette et opgør med tendensen til at måle og optimere effekten. For måske var der alligevel et eller andet i den halvdel, som man betragtede som spildt – den er bare ikke så ligetil at måle sig frem til.
"Vi afgrænser vores reklameinvesteringer mod tydeligt definerede målgrupper og vi optimerer løbende indsatserne, så spild minimeres og leverer maksimal afkastning pr. investeret mediakrone. Intet kan være mere forkert," skriver Fredrik Hallberg og konstaterer, at vi ikke opdager det, fordi vi måler de forkerte ting.
Grisene bliver ikke tungere af at blive vejet
Søren Nøhr fremhæver, at mange brands er blevet forblændet af alt det, man kan måle og glemmer, at det ikke er målingen, der er målet. Som en klog mand engang sagde: "Grisene bliver ikke tungere af at blive vejet".
"Det er jo ikke fordi man skal måle mindre. Men netop fordi målingerne af den direkte effekt (CTR, conversion rate etc.) er blevet så nemme (billige) at udføre, så er det det vi gør," siger Søren Nøhr og fortsætter:
"Men vi undlader at måle den mere diffuse brandeffekt. For den digitale udvikling har (i det store hele) ikke gjort det lettere, dvs. billigere, at måle sympati og brandværdi. Og så måler man og suboptimerer på det, der er til at gå til – dvs. salg her og nu. Det er nyttigt, naturligvis. Men det er også ensidigt."
Søren Nøhr fremhæver desuden, at man risikerer at smide barnet ud med badevandet. For kombinationen af kort- og langsigtede virkninger, som ofte er massekommunikationens følgesvend, søges elimineret.
"Vi skal jo bare sælge, vil mange marketing- og reklamefolk sige. Men en branche, der har historieløsheden som princip, overser netop den investering der er foretaget gennem lang tid – den 'spildte' investering. Når den salgsoptimerende kommunikation endnu virker, er det fordi den trækker på et brandkendskab, det har tager årtier at opbygge – den installation af sympati, som er et resultat af kommunikationsinvesteringer foretaget over en årrække," siger Søren Nøhr og fortsætter:
"Den investering forsvinder ikke med det samme – der kan gå langt tid. Men den forsvinder. Så sikkert som at du har glemt hvad din mormor børstede tænder i. En eller anden morgen vågner et brand op og opdager at ingen længere kender dem, bortset fra deres højfrekvente kunder. Fordi de kun har suboptimeret og ikke tænkt på det brede kendskab."
Stræbe efter mindre effekt
Fredrik Hallberg slutter af med at konstatere:
Vi som branche burde i stedet for høje klikrater stræbe efter lave klikrater.
Vi burde i stedet for at maksimere konverteringsrater arbejde på at minimere dem.
Vi burde i stedet for at glædes over en høj ROMI blive urolige, når den øges.
Vi burde i stedet for høje engagementsniveauer anstrenge os hårdere for at mindske dem, og vi burde i stedet for høj træfsikkerhed maksimere spildet i vores markedsføring.
Fredrik Hallberg og tilføjer: "Lykkes vi med denne bedrift, indebær det, at vi gør et fortræffeligt job med at forsøge at skabe tilvækst for vores opdragsgivere og deres varemærker."
Hele hans indlæg kan læses her.
Søren Nøhr slutter med at konstatere, at det i dag ikke kun er massemedier, der kan bygge brands.
Andre former for bevidst eller ubevidst engagement i brandet kan også gøre jobbet. Som når Red Bull sponserer eller laver rav i medierne. Eller når Coca Cola iscenesætter brandværdien 'Del fornøjelsen' gennem emballager med personnavne på og instrumenter til at dele, både on- og off-line.