UncleGrey fik fredag aften en bronzeløve i den nye konkurrence, Entertainment For Music. Dermed kom bureauet op på 3 bronze og når man kigger på antal short-lister og løver, så har bureauet været totalt dominerende blandt danske bureauer ved årets festival.
I hvert fald antalsmæssigt.
For når det gælder ædelheden i metallet, så topper Very klart UncleGrey. Bureauet kan nemlig tage en Guldløve med hjem for Fords skilsmisse-projekt. Det sker i den ligeledes nye kategori, Entertainment.
Ikke et ondt ord om short-lister samt bronze og sølv – men prestigen i Guld er mange gange større.
For Very er det første gang man deltager i Cannes-festivalen, så det må siges at være noget af en debut. Og det er ikke fordi, man er gået til den i tilmeldinger. Bureauet har ikke indsendt andet end Ford-projektet – men hvorfor bruge penge på mere, når man nu har en vinder.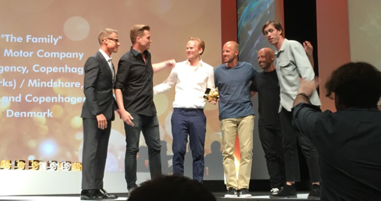 Very og New Land på scenen i Cannes fredag aften.
Verys Guldløve er en af 7, der blev uddelt i konkurrencen, der også rummede en Grand Prix for et projekt for New York Times.
Fords skilsmisseprojekt er inden for Online fiction over 15 minutter. Den 16 minutter lange film fortæller om en familie, der er ved at blive brudt op af en skilsmisse – ikke en helt normal scene for en bilreklame.
"Ford Danmark ønsker at udfordre måden at tænke og opleve reklamer på. Vi vil gerne engagere forbrugerne på en anderledes måde ved at tale til deres følelser i øjenhøjde med virkeligheden – både de positive og de negative," sagde Kristine Dam Jensen, Marketing & Communications Supervisor for Ford, da filmen blev præsenteret i februar.
Det er Ford i Danmark, der har stået for projektet, men det havde et internationalt perspektiv, og Verys adm. dir., Thomas Bjerg kan fortælle, at projektet har opnået stor international opmærksomhed og en stærk ROI.
Be On opgør projektets rækkevidde således. Filmen har genereret så meget PR, at 300 mio. mennesker har haft mulighed for at se historien. Vurderingen er, at man har opnået ca. 90 mio. impressions og at 300.000 har set hele eller noget af filmen.PR-værdien er opgjort til godt 7 mio. kr.
https://www.youtube.com/watch?v=5sd7CPtGhKY
"The Family"
Ford Motor Company
Very
Be On/Mindshare
New Land
"Stort cadeaux til kunden for at turde gå helt nye veje, og stor tak til New Land og Be On for samarbejdet om projektet. Det har været et rigtigt fedt samarbejde, hvor vi har søgt at arbejde med nye indsigter og tage et højaktuelt tema op," siger Thomas Bjerg, der fredag morgen hastede til Cannes for at tage imod Guldløven på scenen fredag aften.
Han kan så tage hjem derefter for at forberede bureauets 10 års jubilæum, der er på torsdag.
Grand Prix'en
Grand Prix'en blev givet til et New York Times projekt om flygtningebørn – The Displaced produceret af vrse.works og instruktøren Imraan Ismail.