Spil er et utroligt velegnet produkt til den digitale verden – alligevel kommer to tredjedel af Danske Spils omsætning fortsat fra den fysiske verden i form af forhandlerne.
Det kan derfor være interessant for Danske Spil, hvis man kan styrke indkøbsoplevelsen med digitale løsninger – og det er der noget, der kan tyde på.
Hidtil har man anvendt en papbrik ved kasselinjerne, som kunderne lægger på båndet, hvorefter der printes en kupon. Men på det seneste har man hos Føtex i Frederiksberg Centret testet en digital-løsning med en touch-screen, som har hævet omsætningen med 20 procent. Det er derfor besluttet at udvide til flere digitale løsninger i butikken.
"Vores forhandlere er et meget vigtigt kontaktpunkt til kunderne. Det vil vi gerne signalere, og derfor har vi også længe ledt efter en løsning, som opfylder vores krav til relevant kommunikation og involvering af kunden, der skal have en god købsoplevelse," siger salgschef Carsten Christensen fra Danske Spil.
Det er også hos Føtex i Frederiksberg Centret, man nu tester, hvordan kunderne tager i mod en fuld implementeret løsning, som både dækker en digital løsning til kasselinjesalg og touchscreen-standere i selve butikken. Kunden vælger selv sit spil på skærmen, får en stregkode-kvittering printet ud og betaler den ved kasselinjen. Decideret selvbetjening tillader den danske spillelovgivning nemlig ikke.
"Det er muligt for Danske Spil at styre indholdet på skærmen fra central hånd, så det hele tiden er opdateret og relevant i forhold til de forskellige spil. Det er en kendt sag, at store puljer i lotterierne driver spillet, og derfor betyder målrettet og relevant kommunikation også et mersalg i butikken," siger Carsten Christensen.
Han bliver suppleret af salgsdirektør for Føtex, Jan Larsen:
"Vi vil også gerne udvide vores digitale muligheder for salg af spil i butikken. Dels letter det arbejdet for vores butiksansatte, dels bidrager det til, at vores kunder får en positiv oplevelse, når de handler hos os."
Viser den nye digitale løsning sig gangbar, kan den blive udrullet til flere af Danske Spils i alt 4.000 forhandlere. Dette vil blive vurderet i slutningen af året.
Løsningen er udviklet sammen med touchline – men skal den rulles ud i større omfang, vil den komme i udbud.
Her er den nye løsning: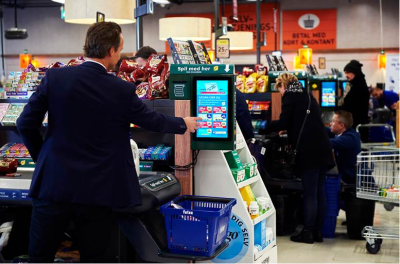 Og her er pap-løsningen – det er den røde stribe til venstre lige over kassebåndet: