Dell og Intel vinder Grand Prix i Cannes Lions. Ikke i de umiddelbart mere nærliggende kategorier Industry craft eller Digital craft, men i Pharma. For casen 'I will always be me'.
Afsættet er MND (Motor neurone disease) – en dødelig sygdom, der fratager den syge enhver fysisk evne – herunder talens kraft. Der er indtil videre ingen kur mod sygdommen, men Dell og Intel hyldes for deres indsats for MND-patienter.
Hidtil har patienterne kunnet bevare deres stemmer digitalt, hvis de indtalte 1600 vendinger, og det tog typisk tre måneder at komme igennem. Kun 1 ud af 8 MND-patienter gennemførte dette.
Ved at gennemtænke teknikken og med litterær hjælp fra bestseller-forfatteren Jill Twiss, skabte Dell og Intel en metode, hvor MND-patienter på blot 30 minutter – med novellen 'I will always be me' – kunne indtale tilstrækkeligt med ord til at bevare deres stemme. Også efter den var væk. Det har 7 ud af 10 gennemført.
De kan herefter skrive dét, de ville sige – og deres egen stemme fortæller det.
"Grand Prix-vinderen giver tid tilbage til dem, der netop ikke har meget tid tilbage. Der er desværre en verden til forskel, om det tager 3 måneder eller 30 minutter," udtaler jurylederen i Pharma Lions, Brett O'Connor, der er executive creative director, VCCP Health i Storbritannien.
Hanne Schmidt: Et ægte problem og solide indsigter
Partner og kreativ direktør i Geelmuyden Kiese, Hanne Schmidt, deltager i festivalen sammen med 2 danske og 4 norske kolleger. Hun siger om Grand Prix-vinderen:
"Det er en stærk vinder, der løser et ægte problem. De bærende indsigter er så solide, at de – selv med behersket kommunikation – kan sætte en hvirvelvind i gang. Når noget virkelig giver mening, så behøver man ikke at crafte så meget."
Hun tilføjer:
"Cannes Lions har alle dage været kontrasternes sted. Glamourøst og store skinnende brands med et bagtæppe af Covid19, corona, #MeToo, klimakrise og krig. Ukraines præsident Zelensky holdt en tale rettet til deltagerne ved Cannes Lions. På den baggrund virker det på stærkt og naturligt, at Dell og Intel løfter blikket fra de nørdede detaljer og hjælper folk med at fastholde den personlighed og karakter, der ligger i deres stemme."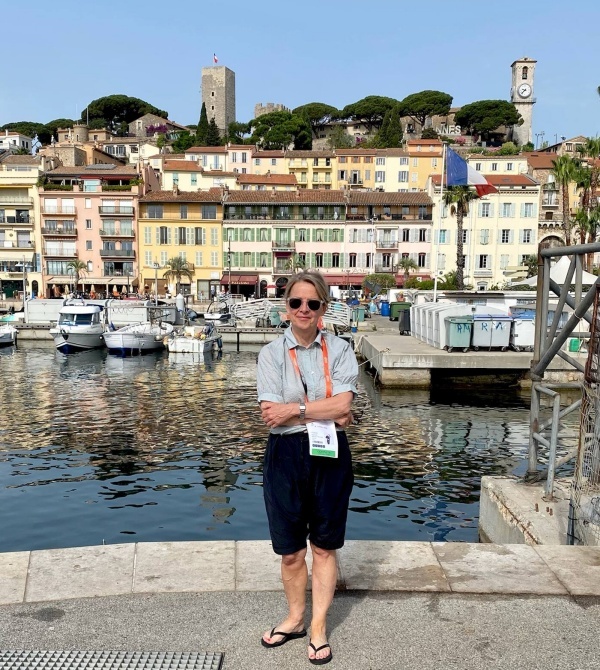 Hanne Schmidt i Cannes
Grand Prix-casen, som VMLY&R, New York, er bureauet på, står derfor også stærkt i Dell og Intells employer branding, mener Hanne Schmidt. I kampen om talent er det afgørende med et større, samfundsrettet perspektiv.
Grand Prix-vinder i et andet perspektiv
Hun peger imidlertid også på et andet perspektiv i forlængelse af 'I will always be me':
"Hvornår skal man give slip på en afdød slægtning? Hvornår skal beskeder og mails eventuelt slettes? Casen giver en stemme til døende, men skal deres stemme gemmes efter døden? Grand Prix-vinderen fortjener hyldesten, men måske kommer vi også til at tage stilling til, om begravelsestalen skal fremføres med den afdødes tale."