Når folk forlader Hello Monday, er de glade – ikke over at lægge digitalbureauet bag sig, men over at have været der.
Det gælder bl.a. Jakob Kahlen (nu B&O) og Asbjørn Poulsen (nu Magic People Voodoo People) – og nu også Sebastian Gram og Mathias Høst Normark, som igennem næsten tre år arbejdede sammen hos Hello Monday som hhv. Design Director og Sr. Art Director.
De to har slået dørene op for Tokotoko, der præsenteres som et digital design studio – men først et kig tilbage:
"Vi vil godt sige et kæmpe, kærligt tak til Hello Monday, som har givet os begge to muligheden for at udvikle os både på et professionelt og menneskeligt plan, og som gør, at vi i dag står rustet til forfølge vores egen vision", siger Sebastian Gram.
Tokotoko vil specialisere sig i at skabe digitale identiteter og digitale platforme i området, hvor kultur, kunst og livsstil møder teknologien. Det kan bl.a. være tech start-ups, der ønsker mere personlighed og attitude i deres brands, og livsstilsbrands og kunstmuseer, der i højere grad ønsker at udnytte de digitale muligheder og dyrke en mere teknologisk profil.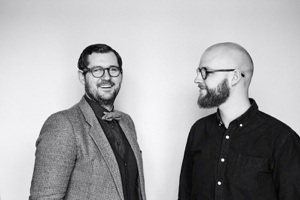 Stifterne af Tokotoko; Sebastian Gram (tv.) og Mathias Høst Normark.
Den nystartede virksomhed har 2 stiftere – på 2 kontorer, i 2 byer; Aarhus og København.
"Sebastian og jeg har altid samarbejdet godt sammen – fin, daglig pingpong, men vi har aldrig siddet i samme by fast. På Hello Monday var jeg i New York i halvandet år og i København halvandet år. Og med Tokotoko fortsætter jeg i København, mens Sebastian arbejder ud fra Aarhus," siger Mathias Høst Normark.
Udover at efterlade kærlige tanker inspirerer Hello Monday også til usædvanlige bureaunavne – Magic People Voodoo People og nu Tokotoko:
"Det er hentet fra en gammel New Zealand-tribe. Det er en stok, der er symbolet på autoritet – og en stok, der gives videre," forklarer Mathias Høst Normark.
Tokotoko har allerede nu internationale kunder på listen, bl.a. en tech-virksomhed i London.