At skrive en artikel om Danmarks kendteste bureauer kan let forekomme som en gentagelse. Fra år til år er der kun små forskydninger, og Kunde & Co topper endnu engang som landets mest kendte bureau. Med Carat som det næstmest kendte.
Samtidig halter de digitale bureauer fortsat betydeligt efter både media- og reklamebureauer.
Det fremgår af den årlige MyImage Bureau fra MyResearch.
Men hvis man går lidt dybere ned i tallene, dukker der nogle mere interessante ting op. Det sker ved at sammenholde det totale kendskab med det kvalificerede kendskab. MyResearch spørger nemlig ikke kun til, om man kender, men også til hvor godt respondenterne kender bureauerne.
Stiller man de mest kendte bureauer op fordelt på både totalkendskab og kvalificeret kendskab, så kommer listerne til at se således ud:
Top 10, totalkendskab (i procent)
(uafhængig af bureautype)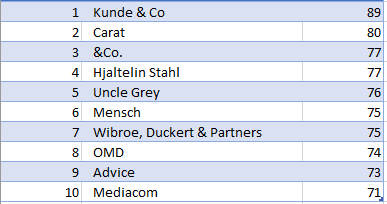 Top 10, kvalificeret kendskab
(uafhængig af bureautype)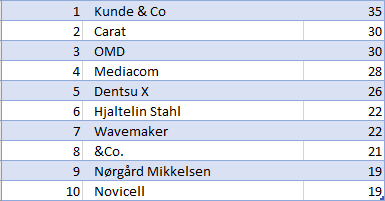 Som man kan se, så er der hele seks reklamebureauer, der har et højt total-kendskab – men kun tre af dem gør sig gældende, når det kommer til kvalificeret kendskab. Til gengæld popper et bureau som Nørgård Mikkelsen pludselig op på Top 10 over kvalificeret kendskab.
Hertil kommer to mediabureauer, hvoraf specielt Dentsu X er interessant. Det er et relativt nyt brand, så at det ligger langt efter søsterbureauet Carat i total-kendskab er ikke så mærkeligt. Men listen viser, at det er lykkedes i betydelig grad at opbygge et kvalificeret kendskab. Bureauet gik da også flot frem i MyImage, og endte på en 3. plads blandt mediabureauer.
"Kendskab har også noget at gøre med et bureaus størrelse, og specielt hvad angår mediabureauer, så er det bureauer med en meget bred kontaktflade. Der er også færre af dem sammenlignet med reklamebureauer, og derfor er deres kundebaser brede. Så at de ligger ret højt i kendskab – både total og kvalificeret – er naturligt. Kunde & Cos placering er i det perspektiv ret imponerende," siger adm. dir. Mogens Østergaard, MyResearch.
At de digitale bureauer fylder så lidt på listerne, er ret bemærkelsesværdigt. Novicell får lige sneget sig ind på en 10. plads på kvalificeret kendskab, og opstiller man en Top 5 blandt de digitale bureauer på denne parameter, så ser den således ud:

Det lave kendskab er interessant i lyset af, at de digitale bureauer på alle andre områder er dominerende. Der er tale om store bureauer, der er vokset år for år og som gruppe udgør de nu klart den største på bureaumarkedet. Når annoncørerne i MyImage endvidere skal tilkendegive, hvilken bureautype, der er den vigtigste samarbejdspartner, så topper de digitale bureauer.
Men selvom den udvikling har været i gang i adskillige år, så er der kun flyttet ganske lidt på kendskabsniveauet.
"Vi laver tilsvarende imagemålinger på en række andre brancher og i den forbindelse har vi kigget på det såkaldte Memory Blocking Index, som fortæller noget om dynamikken i kendskab – om det er nemt eller svært at opbygge kendskab i en branche. Den opgørelse viser, at de digitale bureauer vil have relativt nemt ved at udbygge kendskab, og der må således at være et betydeligt potentiale for dem i at gøre det," siger Mogens Østergaard og fortsætter:
"Når man kigger på de digitale bureauers forretningsmæssige succes, så vil det måske være let at slå det hen. Det går jo ganske godt. Man har endda rekrutteringsproblemer, og så har man vel ikke nødvendigvis brug for at booste forretningen yderligere. Men man kan også sige, at det lige netop er i en tid som denne, at man skal investere i sit brand, så man er bedre rustet til mere smalle tider."
Mogens Østergaard fremhæver desuden, at kvalificeret kendskab er klart vigtigere for bureauer end totalkendskab.
"Spørger man annoncører om, hvordan de holder sig informeret om bureaubranchen, så er den vigtigste kilde det personlige netværk. Her vil et total-kendskab næppe have ret stor betydning, og vi har da heller ikke nogen indikationer fra de mange år, hvor vi har lavet MyImage Bureau, på at totalkendskab betyder ret meget for et bureaus image," siger Mogens Østergaard.
MyImage Bureau produceres af MyResearch, som desuden producerer en række tilsvarende imageanalyser på andre brancher.
884 annoncører har svaret, hvilket giver en svarprocent på 30
Den samlede imagescore (Brand Power) fremkommer gennem en kombination af kvantitative og kvalitative parametre. De kvantitative (Brand Strength) bygger bl.a. på kendskab og på hvor mange, der angiver at ville invitere bureauet til en pitch, mens de kvalitative (Brand Position) bygger på 9 udsagn, som respondenterne bliver bedt om at bedømme bureauer op mod.