De seneste to år er tilliden faldet til traditionelle reklame- og kommunikationstyper som tv reklamer, virksomheders websites, og reklame-emails. Det viser en analyse som Nielsen har foretaget. De aktuelle tal er fra England.
Kun til 3 af de 19 reklametyper, som er med i analysen, er forbrugernes tillid steget. Det er mobilreklamer, tekstreklamer på mobiler og reklamer på sociale medier.
Og så er der lige anbefalinger fra venner. De er en kategori for sig selv og står som sædvanlig stærkt, idet 81 procent af respondenterne i England mener, at anbefalinger fra venner og familie er til at stole på. Måske mest tankevækkende, at 19 pct. ikke nærer den store tiltro til denne type reklame.
De 81 pct. er langt mere end de andre reklametyper, som alle har en tillid fra under 60 procent af respondenterne.
Den type 'reklame' som forbrugerne har næstmest tillid til er også anbefalinger, nemlig online anbefalinger fra andre forbrugere.
Kigger vi tilbage på det reklameformat, som flest har mistet tilliden til i løbet af de foregående to år, så er det 'Editorial content'.
Det er måske bemærkelsesværdigt i en tid, hvor'tekstreklame/native advertising/content marketing, er på dagsorden.
Lige efter kommer kommercielle e-mails, som dog stadig har en høj tillid hos mange, men som er faldet med 7 procent over de seneste to år.
Ændring i tillid over de seneste to år til følgende reklametyper hos forbrugere i England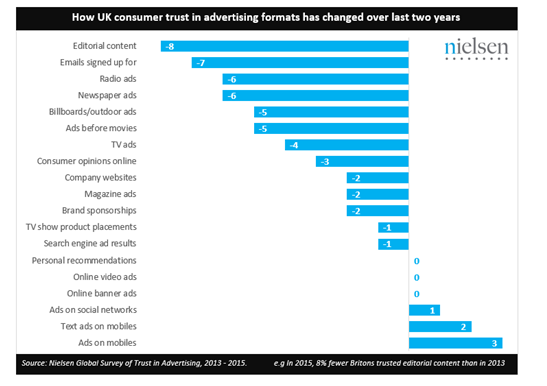 De reklamer typer som engelske reklametyper har mest tillid til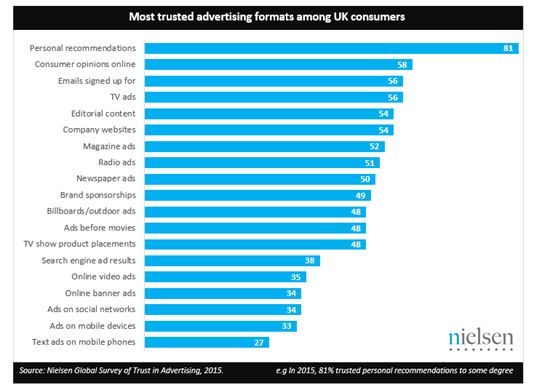 Kilde: Nielsen – Global Survey of Trust in Advertising