En liste over antallet af likes og følgere på de sociale medier vil i sagens natur være kvantitativ. Og det kan ikke bruges til noget som helst, lød kritikken, da vi i går bragte listen over reklamebureauerne.
Kritikken kom ikke mindst på Bureaubiz' Facebook-side fra Ask Hybel, David Lorentzen og Allan Vincentz.
Det er helt sikkert relevant at diskutere, hvad antallet af likes og følgere kan bruges til. Men selv om der måske ikke ligger en sandhed i antallet, så ligger der måske heller ikke en sandhed i det modsatte.
Under alle omstændigheder fornemmer vi samtidig en betydelig interesse for historien, så uagtet kritikken følger her listen over de digitale bureauer.
Udgangspunktet for listen er de 61 bureauer, som optræder i den årlige bureaurapport fra Bureaubiz, og listen viser, at to mellemstore bureauer gør sig stærkt bemærket, når det gælder antal. Det gælder Hello Monday og Mindjumpers – hvor sidstnævnte er i særklasse på Twitter-følgere.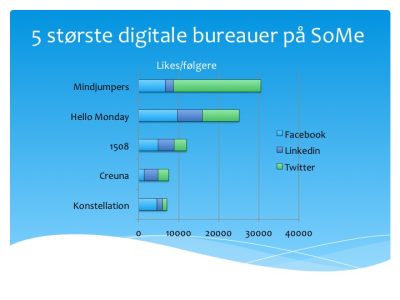 At det lige netop er Hello Monday og Mindjumpers, undrer ikke Jonas Klit Nielsen, der er adm. dir. hos Mindjumpers.
"Da vi startede i 2008, var sociale medier et helt naturligt omdrejningspunkt for os, så vi var tidligt i gang. Hello Monday er også et bureau, der er meget tro mod at være vokset op i den digitale verden," siger Jonas Klit Nielsen og fortsætter:
"Vi bruger de sociale medier aktivt i vores arbejde for kunderne – bl.a. trækker vi på netværk og free-lancere rundt om i verden. Al vores kommunikation foregår på engelsk, og når vi på den måde har et internationalt perspektiv på vores aktivitet på de sociale medier, giver det naturligt et større antal følgere."
Jonas Klit Nielsen vurderer – uden at have talt op – at omkring 70 pct. af basen findes uden for Danmarks grænser. Og så nævner han et helt konkret resultat.
"Vi har åbnet en afdeling i London, og inspirationen til dette kom fra det engelske reklamebureau, Mother, der henvendte sig til os i forbindelse med et blogindlæg," siger Jonas Klit Nielsen.
Højere gennemsnit
De digitale bureauer ligger på højere gennemsnit end reklamebureauerne, når det gælder likes på Facebook og Følgere på Linkedin samt Twitter.
Måske ikke så mærkeligt, når der nu er tale om digitale bureauer. Men sociale medier er vel efterhånden mere medier end digital, og således ikke mere naturlig for en bestemt bureautype.
De digitale bureauer har et gennemsnit på næsten 1300 likes på Facebook og ca. 1140 følgere på Linkedin, mens snittet er på ca. 1160 på Twitter.
Twitter er dog helt domineret af Hello Monday og Mindjumpers.
Også Hello Monday har et internationalt perspektiv, der givet understøtter antallet af likes og følgere. Og det internationale rummer nogle dilemmaer, for så vidt angår denne type oversigt. Også Vertic har udenlandske afdelinger, men har hovedkontor i Danmark, så disse bureauers samlede tal er taget med.
Når det gælder Valtech og Netbooster, har vi dog ikke taget gruppetallene, fordi de danske bureauer er datterselskaber i en international kæde.
Men for at vende tilbage til starten – oversigten er en rent kvantitativ optælling, og selv om man vel kan hævde, at en stor base giver flere muligheder end en lille base, så siger tallet ikke ret meget om, hvorvidt bureauerne rent faktisk bruger de sociale medier til noget.
Uanvendelige tal
Allan Vincentz, der er Head of e-Commerce,/Digital/Data/Tecnology hos Norbreeze Group, skrev således på Facebook:
Er nødt til at erklære mig enig med de øvrige i tråden her: Det giver generelt set ikke mening at evaluere virksomheders indsats på sociale medier via antallet af likes eller følgere. Like er, kan og vil aldrig blive et kvalitativt mål, der kan stå alene. Specielt ikke sådan som f.eks. Facebooks algoritme fungerer idag.
Der skal langt flere parametre ind i en sådan evaluering. Ved at skrive en sådan artikel, så holder I en gammel misforståelse i live om at antallet af likes eller følgere er vigtigt. En fuldstændig forkert opfattelse som mange firmaer stadigvæk har, og som nogle firmaer i "bureau"-branchen stadigvæk har.
Jeg håber ikke, at alt for mange beslutningstagere med et markedsføringsbudget til rådighed, der er i tvivl om hvorvidt de skal allokere en del af budgettet til sociale medier, læser denne artikel. I så fald har artiklen kun skadet og ej gavnet."
Tallene herunder er indsamlet mandag d. 16. november. Og så skal der føjes en forlods undskyldning til: Det er ikke altid lige let at identificere bureauers sider på de disse tre platforme. Har vi overset nogen, så undskylder vi.

Facebook
9763 Hello Monday
6718 Mindjumpers
4831 1508.dk
4585 Konstellation
3982 Html24
2354 Novicell
2295 Atcore
2139 Plant
1998 Magnetix
1708 Combine
1537 In2media
1485 Hello Group
1411 Creuna
1341 Think digital
1289 KathArt Interactive
1229 Signifly
1218 Vestjysk Marketing
1079 Konform
1066 Untold
1050 Adapt
Linkedin
6250 Hello Monday
4241 Vertic
4099 1508.dk
3498 Creuna
2836 Hello Group
2275 Stupid Studio
2166 In2media
2036 Mindjumpers
1760 Impact
1725 CO3 Web Agency
1521 IIH Nordic
1508 Novicell
1358 Konstellation
1251 NetBooster
1203 Think digital
1085 Digitas LBi
1051 Combine
1041 Vertica
1024 Peytz & Co
945 Hesehus
Twitter
21800 Mindjumpers
9049 Hello Monday
3642 Adapt
3020 1508.dk
2597 Creuna
2151 FFW
1634 Stupid Studio
1530 Think digital
1474 In2media
1201 Klean