Den nye globale platform, Taste the feeling, fra Coca-Cola har fået stor opmærksomhed. Og formået at skabe debat i Danmark, også på bureausiden.
Her går diskussionen bl.a. på, hvorvidt Coca-Cola er klassisk i sin kommunikation – og på effektfuld vis demonstrerer sin produkt- og marketinghistorie – eller om der er gået kuk i kalenderen hos den globale marketing, fordi henførte kvinder og svedige mænd var corny allerede for 20 år siden.
Men det er ikke den eneste Coke-kommunikation – inkl. design – der vækker undren.
Den nye Coca-Cola Life har i den seneste måned været synlig i gadebilledet herhjemme. Og hvad sker der lige for farven?
I første omgang var det Bureaubiz, der undrede sig. For lige så klar rød og forfriskende, som den klassiske Coke er, lige så vissen er den nye grønne farve. Og hvordan kan man bruge noget så vissent for et produkt, der helst skal virke forfriskende?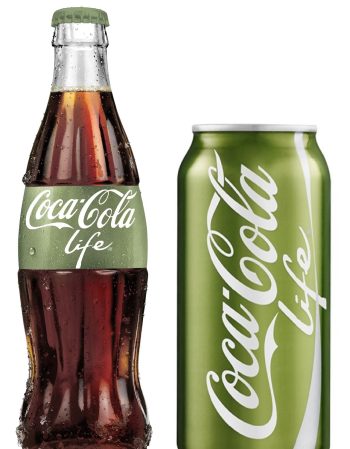 Men hvad forstår bønder sig på agurkesalat – og derfor foretog vi en rundringning til bureauprofiler. Og konklusionen er, at den grønne farve er uvant for Coca-Cola, men at det ikke nødvendigvis er helt galt.
Ligner en øl
Turen begynder i det kritiske hjørne – hos en kreativ direktør, der kender Coca-Cola:
"Man kan ikke klandre Cola for at vælge en grøn farve – især når der kommer flere subbrands til, og man i øvrigt gerne vil signalere naturlighed. Problemet er bare, at grøn også signalerer noget helt andet, nemlig øl. Jeg kom gående med en Coca-Cola Life-dåse i hånden, og folk troede, jeg drak en bajer i arbejdstiden. Og det er altså et problem, der ikke kun er dansk – hvid tekst på grøn baggrund er Carlsberg i Danmark og Heineken i resten af Europa – for slet ikke at tale om Tuborg i Asien."
Oplevelsen er reel nok. Det er den kreative direktør også, men vedkommende vil – af hensyn til sit cv – ikke have sit navn frem.
Vissen, men modig og sympatisk
Tilsvarende strategiske overvejelser hæmmer ikke Rasmus Ibfelt, der er partner og Managing Director i e-Types.
"Jo – den grønne farve i Coca-Cola Life kan godt virke vissen. Særligt i forhold til den klassiske røde farve. Hvis Coca-Cola havde gjort den mere kraftig, havde den været tro over for Coca-Cola-ånden, men det er sandsynligvis en anden familie, der skal omfavnes her," siger Rasmus Ibfelt.
Han kalder den grønne farve for et modigt forsøg på at fremstå moderne.
"Coca-Cola har aldrig været bange for at gå nye veje, og her søger man mod det bæredygtige og økologiske. Forestil dig Whole Foods Market, der har vind i sejlene i disse år – det gode selskab med kvalitet og økologi. Det er sandsynligvis i den retning, man søger – med et element af naturlighed. Og en klarere grøn ville nok have virket mindre sympatisk," siger Rasmus Ibfelt.
Støv passer godt til rejsen
En af kritikerne af Taste the feeling-kampagnen er Flemming Møldrup, der er kreativ dir. i netværksbureauet Grizzly.
Men hvad angår farven i Coke Life, er kritikken alt overvejende positiv – den grønne farve er således ikke vissen, men underspillet. Ja, farvevalget ligger langt fra Coca-Colas øvrige valg, men det gør det ikke dårligt.
"Coca-Cola Life har erstattet en del af sukkeret med det naturlige sødemiddel fra Stevia. En plante, der er dukket op i mange produkter de seneste år, og gennemslagskraften er netop, at det er naturligt. Den grønne støvede label på Life-flasken passer godt til den rejse, denne variant skal ud på," siger Flemming Møldrup og fortsætter: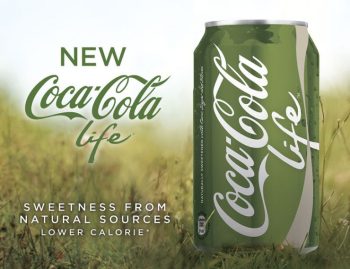 "For målgruppen er måske mange af dem, der i forvejen drikker Rød, Sølv eller Sort. Men i lige så høj grad også de bevidste mødre, en ny og mere bevidst generation og ikke mindst de coke-drikkere, der har opgivet brandet, fordi de ikke længere kunne se sig selv i nogen af farverne."
Afvæbnende og godt valg
Flemming Møldrup mener, at den grønne farve minder os om, at dette ikke er et super hipt produkt. Vil du noget andet end det naturlige, så gå et andet sted hen, siger farven.
"Der er ingen ramasjang i labelen. Og det er for ikke at skræmme dem, man gerne vil have fat i her; den bevidste forbruger," siger Flemming Møldrup.
Han mener, at den grønne farve afvæbner Coca-Cola – og uddyber:
"Den grønne farve er et godt valg, fordi alle os, der tænker på de udfordringer, de andre varianter har, er vant til at orientere os mod grønt. Men jeg tror, vi lige skal vænne os til, at den er så underspillet. Det er meget ulig Coca Cola. Men det klær dem," siger Flemming Møldrup.