"Vi gik over stregen. Beklager."
It-virksomheden Apacta arrangerede i anledning af 'Bøf og Blowjob-dag' den 14. marts en Facebook-konkurrence. Her var præmien "Vind et blowjob på en saunaklub i Berlin eller en stor bøf på Jensen's".
Det gav opmærksomhed – meget endda, men den var ikke udpræget positiv. Og både MX, Ekstra Bladet og TV 2 opfangede virakken.
"Vi har på ingen måde haft til hensigt at støde nogen. Tværtimod forsøgte vi fra starten at lægge en ironisk distance til 'Bøf og Blowjob-dagen', og det hele var tænkt som en spøg," siger direktør i Apacta, Anders Risager.
Men spøgen var ikke morsom, lod kommentarerne Apacta vide. Og den ironiske distance var ikke større end, at konkurrencen var reel nok.
Apacta blev kritiseret for sit kvindesyn og for at være fortaler for prostitution. Det tager direktøren 'på det kraftigste afstand fra'.
Apacta valgte at fjerne konkurrencen fra sin Facebook-side samme formiddag for ikke at skabe yderligere polemik. Det lykkes kun delvist, og en vinder blev i øvrigt fundet:
"Allerede mandag valgte vi at fjerne konkurrencen fra vores Facebook-side og udtrække en vinder. Vinderen kunne naturligvis vælge mellem de to lovede præmier og valgte klogeligt en bøf, " siger Anders Risager.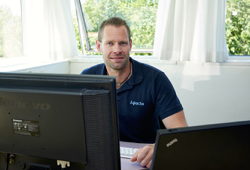 Han siger om forløbet:
"Det hele gik meget stærkt, og vi er meget overvældede over, hvordan det hele er forløbet. Vi har jo ikke prøvet at være midtpunkt i en shitstorm før, og hele ugen har været vanvittig. Set i bakspejlet gik vi over stregen, og det vil vi hermed gerne beklage."
Læren? Apacta fortsætter sin tradition for konkurrencer på Facebook op til højtider og mærkedage, men vil gøre dem 'mindre kontroversielle'.
Men hvorfor i det hele taget have en konkurrence som ovenstående? Fordi der er håndværkere til stede.
Halvdelen af medarbejderne hos Apacta er håndværkere og faglærte, og hos denne medarbejdergruppe eksisterer andre normer og regler, hedder det i en pressemeddelelse fra virksomheden:
"Vi har bevidst valgt en medarbejdersammensætning, der består af lige dele akademikere og håndværkere. Det sker for at afspejle vores kundesammensætning. Og her oplever vi internt, at der kan være store forskelle på humoren blandt de to forskellige medarbejdergrupper," siger Anders Risager og fortsætter:
"Det er ikke nogen undskyldning, men blot en konstatering, og måske havde shitstormen ikke været så markant, hvis det havde været en håndværkervirksomhed, der havde søsat konkurrencen."