Omkring 700 journalister er akkrediteret Cannes Lions. Ret forståeligt, for her bliver klodens ypperligste kreativitet identificeret blandt 40.000 indsendte arbejder, og faget bliver behandlet på seminarer, i fora, workshops og masterclasses.
Journalisterne – både diskrete nordboere og kindkyssende brasilianere – arbejder i pressecentret på 3. salen i festivalpalæet, hvor arrangørerne også dagligt afholder Speaker's corner. Her kan man udspørge udvalgte stjerner fra festival-programmet.
Onsdag var der f.eks. mulighed for at komme tættere på bureau-legenden Sir John Hegarty fra BBH, der to gange har været Agency of the Year i Cannes Lions. Det blev en nærmest eksklusiv affære, for kun en halv snes journalister satte sig til rette.
En time senere kunne man så, samme sted, opleve den begivenhed, som tiltrak sig den største opmærksomhed fra fagjournalisterne i deres egen hule: Kim Kardashian West.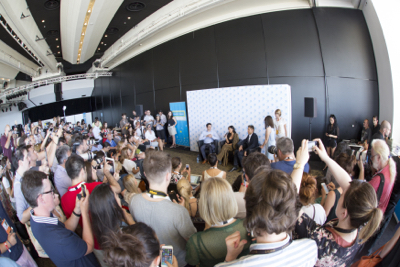 Øh … hvem? Kim Kardashian West, du ved; hende, der var Paris Hiltons veninde, hende der spillede hovedrollen i dels eks-kærestens lækkede sex-tape, dels reality-serierne om den dysfunktionelle Kardashian-klan.
Eller, som Cannes Lions også præsenterer hende, "fashion icon, brand ambassador" samt "tech entrepreneur", fordi hendes (og Glu Mobiles) app-spil "Kim Kardashian: Hollywood" er blevet downloadet 28 mio. gange.
Og dét, mine damer og herrer, slår tilsyneladende alt andet ved Cannes Lions. Op mod 90 pct. af de tilstedeværende fag-journalister deltog i seancen og klumpede sig så tæt sammen, at kun hovedet fra hendes bodyguard, Pascal Duvier, var synligt for de bagerste i flokken, da Kim Kardashian entrerede Speaker's corner.
Og denne massive opmærksomhed var en opvisning i fagligt armod. 
Eller hvad? Er det ikke bare mig, der er en fissefornem intellektuel?
Jeg er i al fald ikke kändis-foragtende. Tværtimod, levede jeg med (og af) dem i min tid på Billed-Bladet.
Jeg sad i venteværelset på anden sal i Riget, da Alexandra nedkom med Nicolai, jeg mønstrede fire års journalistisk uddannelse, når jeg ved premierer fingrerede ved stjernernes tøj og spurgte "Hvor har du købt dét henne?", og jeg har været (en i de relevante kredse anerkendt) redaktør på tillægget "Hjemme hos kendte & kongelige".
Så jeg anerkender fuldt ud, at Kim Kardashian er godt stof, men hvad pokker hun laver i Cannes Lions, og hvilken nyhedsværdi, hun kan have for klodens marketing-journalister, forstår jeg bare ikke.
Da en af bureauverdenens mest markante profiler, Bob Greenberg, R/CA, dagen derpå gæstede Speaker's Corner, skete der tre ting:
Arrangørerne måtte gå rundt blandt journalisterne og reklamere for besøget.
Journalisterne omkring mig – fra Tyrkiet – gentog navnet og så undrende på hinanden.
10 personer plantede sig i nævnte hjørne.
Fredag eftermiddag dukker Martin Sorrel, ridder af WPP, op, og jeg gider ikke engang at foreslå væddemål om, hvorvidt han kan overgå Kim Kardashian i opmærksomhed fra fagpressens side.
Men-men … måske løser sig problemet sig på længere sigt. Da arrangørerne præsenterede hende – og præparerede journalisterne – hed det bl.a:
"Det er første gang, at Kim Kardishian West deltager i Cannes Lions. Hvis hun kan lide det, er der en stor chance for, at hun kommer igen. Hvis der bliver stillet dumme spørgsmål, så kan det være, at hun ikke kommer igen."
Jeg stolede på mine kollegers evner i dén retning og koncentrerede mig om arbejdet …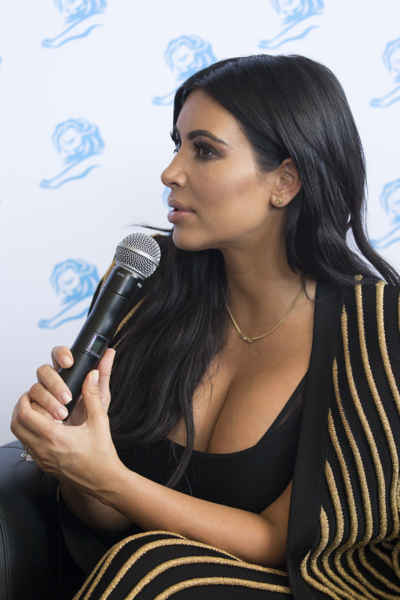 Kim Kardashian West. Foto: Cannes Lions