Når du skal researche og holde dig opdateret på content marketing, er videoer og podcasts en guldgrube.
Der findes nemlig et væld af videoer og podcasts om content marketing, men kvaliteten af indholdet varierer meget, og det kan tage lang tid at finde de mest værdifulde videoer.
Her er mine bud på de 3 videoer og podcasts om content marketing du SKAL se:
Dokumentaren om content marketing
'The Story of Content: Rise of the New Marketing' er den mest underholdende og grundige video, der findes på nettet om hvad content marketing er.
Filmen er produceret af en af branchens sværvægterbureauer The Content Marketing Institute.Dokumentaren giver dig de grundlæggende definitioner, argumenter, historisk indblik og en række meget forskellige case-eksempler på succesfuld content marketing – Herunder bl.a. Jyske Bank TV.
Selvom dokumentaren er lavet af et bureau, der ultimativt vil tjene penge ved at oplyse potentielle kunder, så er dette stykke content produceret efter princippet om at give værdi til modtagerne, længe før der forsøges at slå mønt på indsatsen.
Værdi er lige netop det du får ud af at se dokumentaren om content marketing og du kan se den her:
Sådan laver du en content marketing-strategi
Denne video har et par år på bagen, men det er stadig en must-see. Her får du nemlig fundamentet for at udvikle en content marketing strategi.
I videoen giver branchens godfather, Joe Pulizzi, dig konkrete redskaber og inspiration til at få stablet en succesfuld content marketing-strategi på benene.
Særligt værdifuldt ved Pulizzis oplæg er hans 6 skridt til en succesfuld content marketing-strategi.
Skridtene kan nemlig bruges uanset om du er en del af en stor virksomhed eller kører et enkeltmandsfirma.
Derudover stifter du i videoen bekendtskab med kernebegreber som 'The sweet spot', 'Content Tilt' og 'The Rule of Three' og lærer hvordan du i sidste ende tjener penge på content marketing. Se den her:
Opskriften på et velfungerende content marketing setup
Denne video er et webinar produceret af Kapost og Marketo.
Webinarets omdrejningspunkt er hvordan man skaber et holdbart fundament for arbejdet med content marketing.
Webinarets værter guider dig kronologisk gennem 7 niveauer af et velfungerende content marketing setup.
For hvert niveau bliver de generelle guidelines krydret med konkrete eksempler og erfaringer fra praksis.
Videoen bringer dig spadestikket dybere og giver dig helt konkrete råd om og billeder af hvordan et komplet content marketing setup kan se ud – og ikke mindst hvad der skal til.
Webinaret 'Building the content marketing machine' er perfekt til dig, der har købt idéen om content marketing og nu skal til at visualisere og forklare hvilket organisatorisk setup en content marketing strategi kræver. Se videoen her:
Det var de tre videoer. Her kommer så tre outstanding podcasts.
This Old Marketing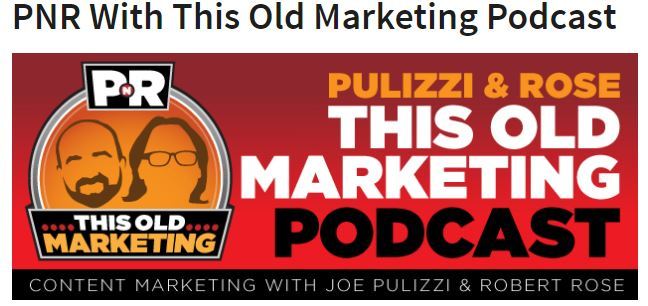 Inden for content marketing er der særligt et ekspertpar og et firma, du ikke kan komme udenom. De hedder Joe Pulizzi og Robert Rose og er frontfigurerne fra Content Marketing Institute.
Deres podcast This old marketing er i min optik den absolut bedste, når emnet er content marketing.
Podcasten udkommer én gang om ugen, og har gjort det uden undtagelse siden starten – november 2013.
Den har en god blanding af faglig tyngde, hyggestemning, aktuelle nyheder og historisk snit, som tilsammen gør, at man, som lytter, kommer igen uge efter uge.
Pulizzi og Rose jonglerer frit og underholdende med alle aspekter af emnet, og de gør det med en så stor respekt for publikum, at selv deres sponsor mentions bliver en værdifuld del af lytteroplevelsen.
Er du på udkig efter den nyeste viden, inspiration og trends, så er 'This old marketing' det eneste rigtige valg.
2. HELP Marketing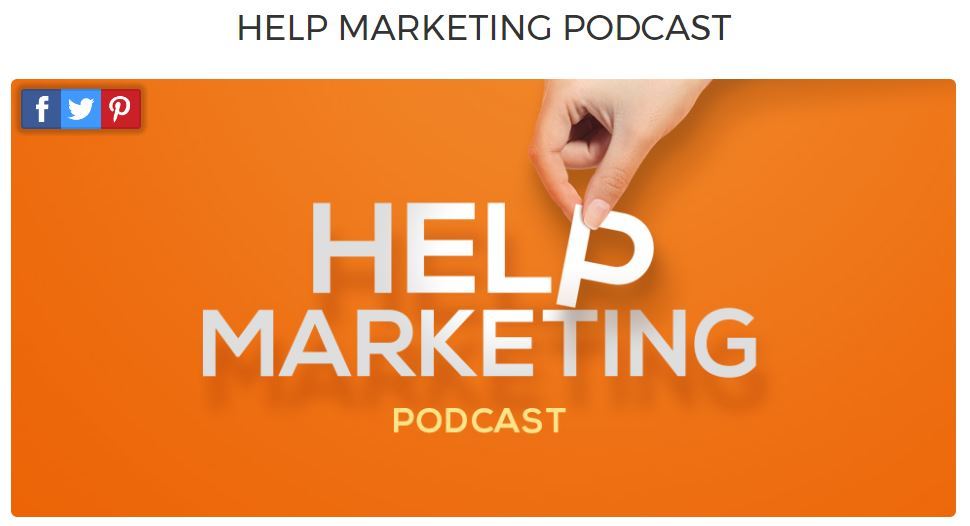 Selvom de fleste podcasts om content marketing er på engelsk, så er to af mine tre foretrukne på dansk.
HELP Marketing er lavet af en af Danmarks førende eksperter på området, Eric Ziengs.
I podcasten stiller Eric skarpt på mange forskellige aspekter af digital markedsføring, men omdrejningspunktet er altid, at "vi skal blive bedre til at hjælpe hinanden".
'Pay it forward'-elementet går igen i alle aspekter af podcasten og sikrer, at man som lytter kommer helt ind til kernen af content marketing: At give værdi til andre før du forsøger at få noget igen.
Podcasten udkommer ugentligt, og hver uge har han et nyt og friskt tema, der på den ene eller anden måde gør dig klogere på digital markedsføring.
De forskellige temaer spænder vidt fra arbejdet med data over influentmarkedsføring til cases med folk, der egentlig ikke vidste, at den succes, de har skabt, kan kategoriseres som content marketing.
HELP Marketing er for dig, der interesserer dig for alle aspekter af relationsbåret og digital markedsføring, og som elsker at få konkrete cases fra hestens egen mund. Find podcasten her.
3. Social Selling Radio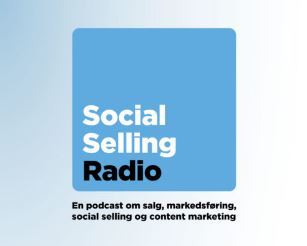 Social Selling Radio er også dansk og også i top 3 over mine yndlings podcasts om content marketing.
Podcasten udgives af firmaet Social Selling Company.
Omdrejningspunktet i denne podcast er netop dette.
Værten, Leif Carlsen, er særligt dygtig til LinkedIn, men har mange års erfaring fra traditionelt salg, og netop salgsperspektivet skinner igennem både i vinkler og temaer.
Podcasten udkommer ca. hver 2. uge, og giver lytteren nye perspektiver og konkrete eksempler på, hvordan social selling kan gavne dig selv og din arbejdsgiver.
Inden for content marketing er der generelt et stort fokus på pull-aspektet, men i Social Selling Radio er det i stedet push-aspektet.
Social Selling Radio er for dig, der vil have inspiration til sætte strøm til din content marketing-strategi, sælge via sociale medier og sikre succes med employer branding. Find podcasten her.