Bricks er et navn, der godt kan lede tanken hen på Lego, og der er da også elementer af byggeklods over det nye køkkenkoncept, som Designa netop nu er ved at sende på markedet.
Det sker med hjælp fra et nyt bureau, idet Envision er hyret som Designas nye bureau. Hvem de har arbejdet med før er uoplyst – og Designa har muligvis slet ikke arbejdet med bureau før.
Designa er blandt de største 100% danskejede køkkenfirmaer og har mere end 50 butikker i Danmark, Norge og på Færøerne. Markedsføringen rulles ud på det danske og norske markedog produktet karakteriseres som en reel udfordring af det traditionelle køkken, der er opbygget i moduler med rene, lodrette linjer.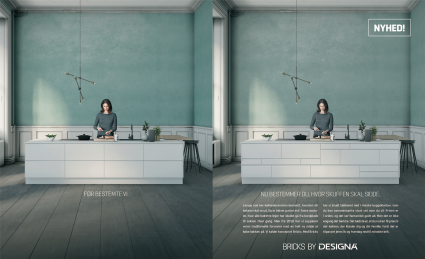 I Bricks by Designa betragtes fronten som en mosaik, hvor man selv kan opbygge sit køkken som byggeklodser – en skuffe ad gangen – så det bliver præcis, som man gerne vil have det.
Introduktionskampagnen er primært digital, og Envision har samarbejdet med det digitale bureau Nörd.
"Vi ville gerne have målgruppen til selv at opdage, udforske og opleve mulighederne. Derfor har vi lavet et website som omdrejningspunkt for introduktionskampagnen, hvor man let og intuitivt kan designe sit eget Bricks køkken. Det er medbestemmelse på køkkenfronten – Designa har skabt rammerne – kunden fuldender selv designet" siger Jesper Heinsvig, kontaktchef hos Envision.