Dagens shortliste fra D&AD dækker over en heftig udvikling: Juryen anerkender potentialet i danske Hans Augustenborgs projekt Canairi og har shortlistet det i Side Hustle-kategorien. Potentialet er sidenhen blevet forløst – også i dén grad. Pprojektet har seneste måned modtaget 3,2 mio. kr. i crowdfunding.
Den store interesse har bekræftet Hans Augustenborg og hans makker, Andreas Kofoed Sørensen, i at holde fast i Canairi, og Hans Augstenborg har sagt pænt farvel og mange tak hos UncleGrey, hvor han de seneste par år har været kreativ.
Og hvad er Canairi? En designergul kanariefugl, der måler indeklimaet. Hvis den falder ned fra pinden, er det på tide at lufte ud.
"Det begyndte med et innovationsprojekt på Kreativ Kommunikation i 2019; "Find et problem og løs det". Og jeg fandt indeklimaet. Problemet er, at vi ikke får ventileret vores hjem. Løsningen er både let og gratis: Åbn vinduerne og få luftet ud. Sundhedsstyrelsen anbefaler, at vi gør det 2-3 gange dagligt," siger Hans Augustenborg og tilføjer:
"Kanariefuglen, der blev brugt til at måle luftkvaliteten i kulminerne, var et stærkt symbol at bruge. Påmindelsen om at lufte ud skulle hverken være røgalarmens beep-beep eller et display, man ikke får tjekket. Løsningen er historien, og efter snart to årtier med alt i LCD måtte den godt være analog, lavpraktisk og tilpas gakket."
Målet blev nået på 10 minutter
De to makkeres job, hhv. på UncleGrey og Finansministeriet, var i den grad fuld tid, så de tog orlov for at hjælpe på projektet på vej:
"Jeg havde erfaring i at bygge en kampagne op og lave film, og den launchede vi i april på Kickstarter for at hente penge ind. Vores mål var 50.000 kr. – så ville vi have de første 100 produkter og et proof of concept. Dét mål blev nået på 10 min. Da dagen var omme, havde vi samlet 280.000 kr. ind, og efter de 30 dage stod der 3,2 mio. kr. Og vi har modtaget over 50 tilbud fra investorer og forhandlere," fortæller Hans Augustenborg.
De har skabt et produkt og netop fået godkendt et patent med at forbinde en CO2-sensor med en motor. Og slutte det hele til en lille computer med en algoritme, der har styr på de anbefalede grænseværdier.
Hvad skal de 3,2 mio. kr. fra crowden bruges til?
At levere Canairi til dem, der har bestilt. Vi skal bygge en produktion op – og har hyret en produktionskonsulent. Vi har også fået Oliver Gormsen fra AKQA med på teamet, fordi han er så god til 3D og til at kode. Hvis 3D print-community'et gerne vil printe deres egen Canairi, så skal de også kunne gøre det," siger Hans Augustenborg og tilføjer:
"Udover produktionen skal vi også opbygge et brand. Det kræver en løbende indsats. Da Elon Musk købte Twitter, tilbød vi ham vores fugl i hans fugls farver. Jeg ved, hvor svært det er at sælge kreative ideer igennem til kunder, der ikke tør tage chancer. Nu skal vi selv turde."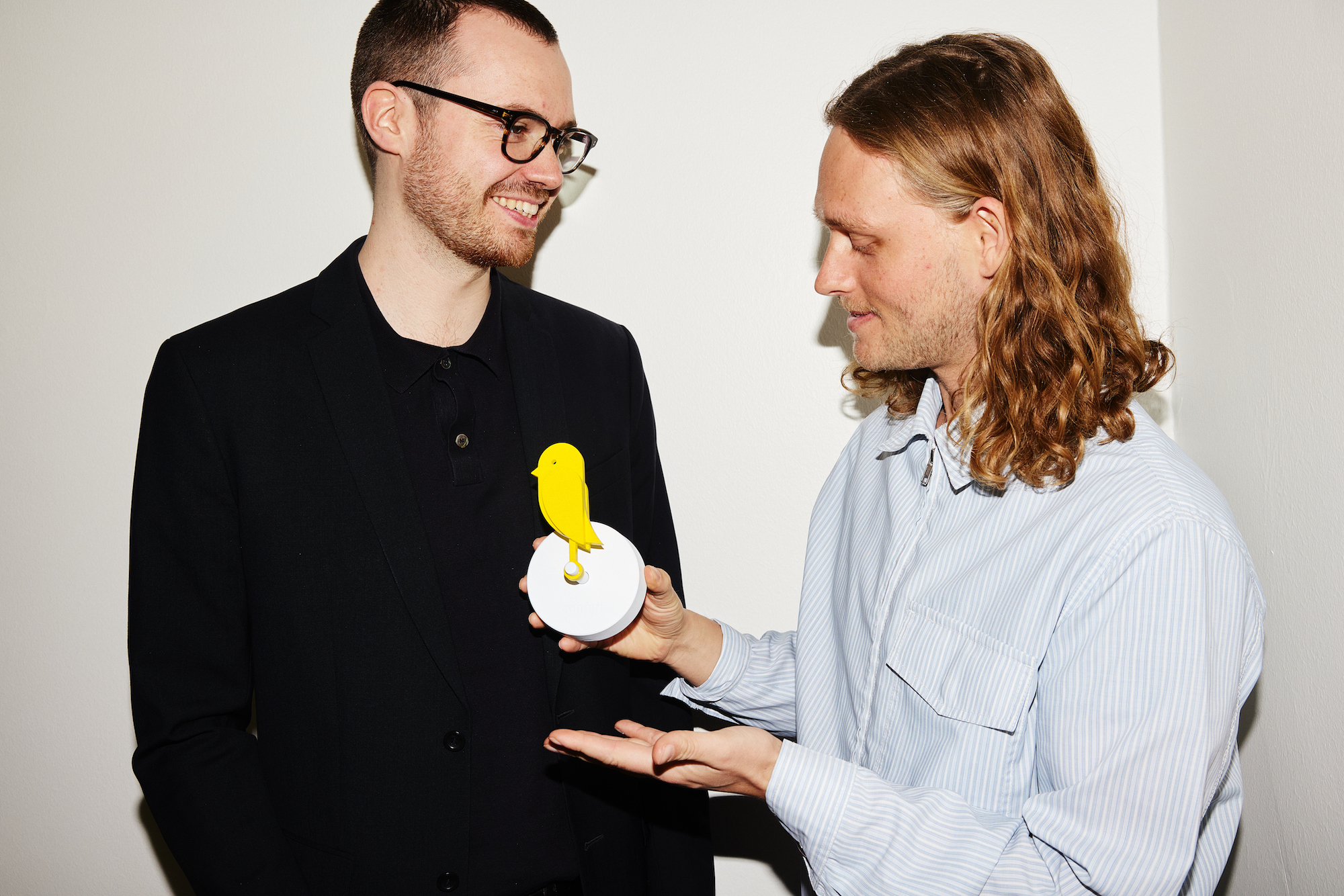 Canairis stiftere; Andreas Kofoed Sørensen (tv.) og Hans Augustenborg.
Han har sagt farvel til bureaubranchen med en stor portion taknemmelighed – og føjer en opfordring til:
"Jeg har lært hvilken værdi, kommunikation og kreativitet har. Bureauer har kompetencerne til at skære en problematik ind til benet og gøre løsningen let forståelig og fordøjelig. Medejerskab af opfindelser og ideer kunne være interessant i stedet for kun timepris."
Og mere pris: Det er tredje gang, at Hans Augustenborg er shortlistet i D&AD Side Hustle, så iværksætter-genet burde været slået fast. I 2019 blev shortlisten konverteret til en ikonisk Yellow Pencil, og sidste år blev Side Hustle suppleret med en Next Pencil i kategorien Next Creative.
Derudver har Canairi allerede vundet to desingpriser; A' Design Award og Design Educates Awards.
Til oktober – ja, op til julehandlen – forventes de første Canairi at få debut i design- og museumsbutikker. Den vejledende udsalgspris vil være 1450 kr. Men Hans Augustenborg iler dem, der ikke nåede kickstarteren, til undsætning med en forudbestillingsrabat på knap 30 pct.