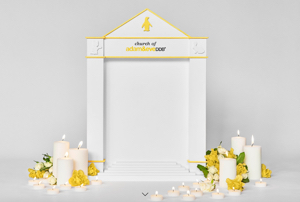 At få foden inden for hos et af højprofilerede bureauer kan i sig selv kræve et stykke højprofileret kreativt arbejde – det har flere danske kreative talenter allerede bevist, hvad enten det drejer sig om et fast job eller en praktikplads.
Nu går August Laustsen og Eve Ebbensgaard – et team, der netop er begyndt på 3. og sidste år på Kreativ Kommunikation på DMJX – nye veje for at få en praktikplads efter nytår.
"Vi har startet en religion, der tilbeder det britiske reklamebureau adam&eveDDBs arbejde. Trossamfundet hedder Church of Adam&EveDDB, og vi har opbygget et helt univers op omkring kirken med film, hjemmeside, trosretning med mere," siger Eva Ebbensgaard.
Arbejdet fra adam&eveDDB er om ikke blevet tilbedt, så i al fald hyldet af bl.a. Cannes Lions-juryerne – både sidste år med 4-dobbelt Grand Prix for 'Sorry I spent it on myself" for Harvey Nichols og i år med Grand Prix for 'Monty The Penguin' for John Lewis. Se filmene forneden.
Danskernes arbejde er imidlertid ikke gjort med at lave film og hjemmeside – samt trosbekendelse og 12 bud, i øvrigt:
"For at blive officielt registreret som trossamfund har vi brug for 150 underskrifter. Og lige nu mangler vi ca. 100 underskrifter for at indsende en ansøgning," siger August Laustsen.
Kirkeministeriet oplyser, at der kan være lang sagsbehandlingstid i sager om godkendelse, fordi Det Rådgivende Udvalg vedr. Trossamfund kun mødes få gange om året.
Det danske team havde ikke tænkt sig at vente så længe og sendte i første omgang deres materiale til London. Det har – udover en række "lovprisende mails" fra bureauets medarbejdere – kastet et møde af sig.
Derfor er August Laustsen og Eve Ebbensgaard i dag torsdag den 8. oktober i London, til en praktik-snak – uden at adam&eveDDB på forhånd vil love noget.
Herhjemme har teamet gjort sig bemærket ved at have været shortlistet ved YCCA både i år og forrige år samt ved at vinde DIA Future-konkurrencen i år.
Troende kan underskrive sig her.
Grand Prix-vinder i Cannes Lions 2015:
https://www.youtube.com/watch?v=iccscUFY860
Fire-dobbelt Grand Prix-vinder i Cannes Lions 2014: