Uncle Grey er blevet nomineret hele 19 gange på den netop offentliggjorte shortliste fra Creative Circle Award. Og i Bureaubiz' seneste oversigt over de mest prisvindende danske bureauer ligger Uncle Grey nr. 5, og året før delte bureauet førstepladsen med &Co.
Bureauets to kreative direktører, Clara Prior-Knock og Andreas Hoff, bider ikke på krogen – tværtimod. De vil gerne have sig frabedt opmærksomhed, hvis den er rettet mod dem alene. Men de vil begge gerne tale om Uncle Grey – som de nu forlader for at tiltræde som creative directors på Amsterdam-bureauet Le Pub.
"Det er så dejlige og dygtige folk, vi siger farvel til. Et hold af kreative stjerner, der har leveret fantastiske resultater," siger Clara Prior-Knock og suppleres af Andreas Hoff:
"Ja, hver og én er så dygtig. Der er ikke en enkelt eller få profiler, men én samlet hold. Og så er bureauet drevet af en åbenhed med en buffet af muligheder, hvor du får det ansvar, du selv tager initiativ til."
I siger ikke kun farvel til Uncle Grey, men til Danmark …
"Som kreativ nation er Danmark bedre end nogensinde, vil jeg mene. &Co. er kåret som verdens bedste kreative bureau, og ungdommen regerer i internationale konkurrencer," siger Andreas Hoff, og Clara Prior-Knock tilføjer:
"Vi ser det bl.a i One Show: Mange forskellige bureauer gør sig gældende. Der er ikke en enkelt frontrunner, men derimod et virkelig bredt felt."
Hvis Uncle Grey og Danmark er så godt, hvorfor så i det hele taget tage videre?
"Det er et naturligt næste skridt for Clara og mig. Vi glæder os til at videreføre det, vi har lært på Uncle. Det, vi har stiftet bekendtskab med på Grey som netværksbureau, er noget vi ser frem til at arbejde videre med i et kreativt knudepunkt som Amsterdam," siger Andreas Hoff.
"Og byen er en krativ smeltedigel for kultur og diversitet. Jeg glæder mig personligt til at abejde i det miljø. Og når et af verdens bedste bureauer ringer, så tager man altså lige telefonden. Det er en mulighed for at suge til os og lære," siger Clara Prior-Knock.
Lære af dem? I bliver creative directors – I skal vel også lære dem noget …
"Hos Warc er Publicis Milan og Le Pub henholdsvis nr. 1 og nr. 4 på 2023-listen over klodens bedste kreative bureauer. Så det er os, der skal lære noget af dem," siger Andreas Hoff.
"Og det er sgu med lidt svedige håndflader. Vi træder ind på et bureau med nogle af de bedste kreative i verden, hvor det bare handler om at suge til os," siger Clara Prior-Knock.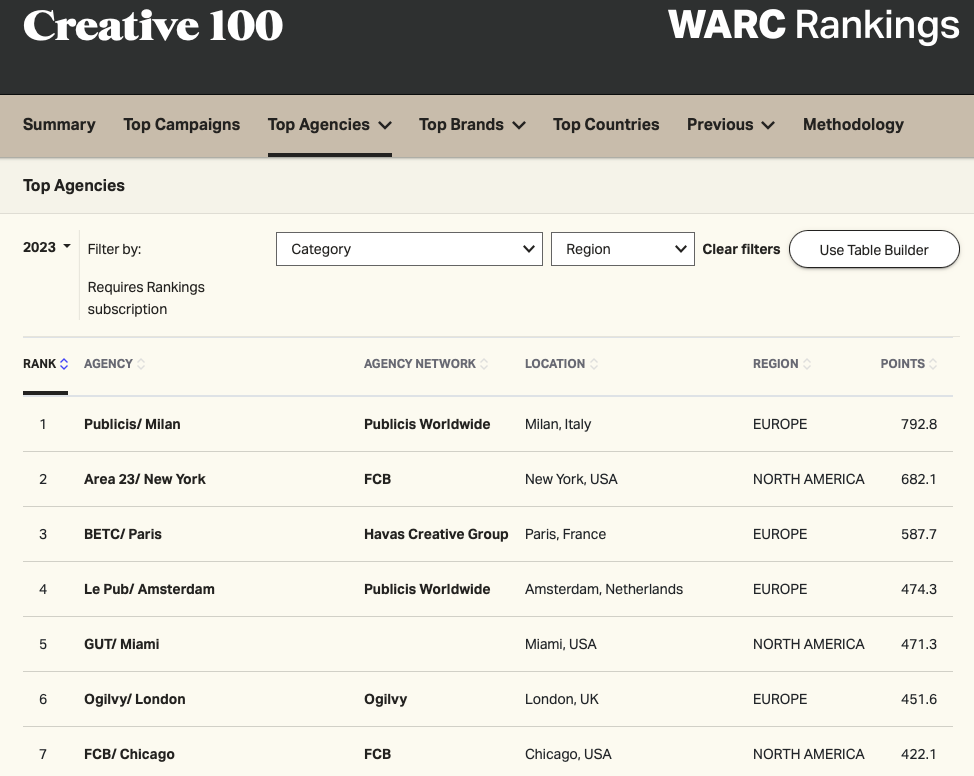 Hvad skal I – udover at lære?
"Bygge videre på et ungt bureau – og på en kultur. Le Pub Amsterdam er kun et par år gammelt og faktisk lidt mindre end Uncle Grey. I de seneste fire år på Uncle har vi hjulpet med at bringe idéer til live, der har en form for cultural tension," siger Andreas Hoff og suppleres af Clara Prior-Knock:
"Det er noget, som Le Pub allerede gør i forvejen, men noget vi gerne vil være med til at sætte endnu mere strøm til. Udover arbejdet, så brænder vi også for at udvikle talenter. og så glæder vi os til at forme bureauets kreative kultur fremdadrettet."
Om le pub
Le Pub er åbnet af Publicis Milan, og startede i Amsterdam 2020. Siden er det ekspanderet med nye bureauer Sao Paulo, Mexico City, Cape Town, Singapore og Shanghai.
Le Pub Amsterdam har i dag omkring 40 ansatte
Heineken er bureauets founding client, og Le Pub er en sammentrækning af pubben, hvor øllen drikkes, og Publicis-netværk
Le Pub Amsterdams Chief Creative Officer er Milos Obradovic, som er nr. 5 på Cannes Lions' seneste liste over top-kreative i verden