Aldrig før har der været mere brug for kreativitet end nu. Måske sød musik i ørene hos en kreativ branche, men – for der er et men – det ligger ikke lige for kreative bureauer at samle denne forretningsmulighed op.
Det er nemlig ikke kreativitet i den forstand, som branchen har levet af i årevis. I stedet handler det om kreativitet brugt bredere til problemløsning.
Det er noget så sjældent som en professor i kreativitet, der udlægger teksten.
Gerard J. Puccio er professor og leder af The International Center for Studies in Creativity, New York, hvor man har forsket i kreativitet i mere end 70 år. Han har netop været i Danmark, hvor han sammen med Creative Circle formand og tidligere leder for Kreativ Kommunikation på DMJX, Dorte Nielsen, er i gang med at starte virksomheden FourSight op, der bl.a. har introduceret ét undervisningsforløb for folkeskolelærere.
Det kreative behov finder man f.eks. i en analyse blandt 150 globale topledere, som IBM står for. I den toppede kreativitet for første gang som den vigtigste ledelses kompetence for 4 år siden.
"I en Bloomberg-analyse fra tidligere i år søgte man de mest efterspurgte kompetencer. Nr. 1 var strategisk tænkning, nr. 2 var kreativ problem-løsning – men samtidig er det kompetencer, som er meget svære at finde. Men det er også kompetencer, som man må formode, at man har i et eller andet omfang inden for den professionelle kreative verden," siger Gerard J.Puccio og fortsætter: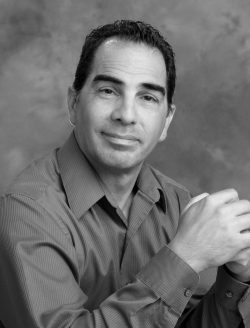 "Vi lever i en tid, hvor alt er blevet meget mere komplekst. Og vi lever i en tid, hvor innovation mere end nogensinde er på dagsordenen. Hvor et produkt tidligere kunne stå i generationer, så kan vilkårene nu ændre sig på få år. For ledere betyder det, at de i langt højere grad skal være kreative tænkere for at finde svar på de problemstillinger, som de står over for."
Gerard J. Puccio beskæftiger sig med alle typer brancher – også bureauverdenen – i Master- og diplomuddannelserne i kreativitet og forandringsledelse på The International Center for Studies in Creativity – men han er særligt interesseret i børn og unge og det er baggrunden for hans involvering i FourSight i Danmark.
"Alle mennesker er kreative i et eller andet omfang, og kreativitet er grundlaget for, at mennesket som race er, hvor vi er. Vi er ikke hurtige, vi er ikke stærke – men vi er kreative og finder derfor andre løsninger," siger Gerard J. Puccio og fortsætter:
"Men rigtig mange måler sig op mod folk med særlige talenter, og tror derfor, at de ikke er kreative. Jeg vil gerne have demokratiseret kreativiteten, så alle mennesker forstår deres egne kreative evner bedre – og lærer at bruge dem. At gøre noget for at øge den forståelse hos børn og unge er et rigtig godt sted at starte."
Gerard J. Puccios Four Sight er en systematisering af den kreative proces, som han inddeler i fire dele:
"Ideerne vil typisk udvikle sig under Ideate, men det vil være en misforståelse at betragte denne del som der, hvor kreativiteten udfolder sig. Den kreative proces omfatter alle fire punkter," siger Gerard J. Puccio og fortsætter:
"Man må ikke undervurdere det hårde arbejde, der også ligger i kreativitet. Selv ikke store kunstnere får bare en ide og så er det klaret. En forfatter som Hemmingway arbejdede benhårdt på at udvikle og implementere sine ideer, før han var færdig."
Gerard J. Puccio peger på, at man i den professionelle kreative branche kan have en tendens til at arbejde mere opsplittet mellem f.eks. kontakt (clarifying), kreative (ideate) og produktion (develop).
"Her er forklaringen på de spændinger man oplever mange steder. Det er til en vis grad forskellige kulturer, der mødes, og det kan føre til gavnlige spændinger, men man skal have forståelsen af, at alle er en del af den kreative proces," siger Gerard J. Puccio.
Tilsvarende kan man også inddele folk i fire typer i forhold til, hvilken rolle de spiller i processen (læs mere: Hvilken typer er du i den kreative proces).
"Selvom alle mennesker har en kreativitet, så har vi også alle områder, hvor vi fungerer bedre end andre. Alle føler sig ikke lige komfortable med hvert af de fire trin i processen. Nogen er bedre til at stille de rigtige spørgsmål og afdække problemstillingen, mens nogen kan hælde ideer ud af ærmet, og andre har det bedst med at dykke ned i arbejdet med at gøre en ide færdig. Men det ændrer ikke på, at alle er en nødvendig del af processen i forhold til en kreativ problemløsning," siger Gerard J. Puccio.
Forskel på en ide og kreativ proces
På samme måde ser han heller ikke en ide og en kreativ proces som det samme.
"En ide er fantasiens svar på en problemstilling af en eller anden slags. Men man skal ikke forveksle en ide med en løsning. Her træder den kreative proces ind," siger Gerard J. Puccio og tilføjer, at mennesker har behov for tre forskellige typer af kreativitet:
Problemløsning – innovation af services og produkter
Til at udtrykke sig/formulere følelser – her kommer kunsten ind
"Således kan man heller ikke tale om, at kreativitet er forbeholdt bestemte brancher eller faggrupper. Nogen steder er det mere oplagt – som f.eks. inden for underholdning – men når det gælder problemløsning, så kan ingeniører og programmører være lige så kreative som andre," siger Gerard J. Puccio og fortsætter:
"Og når vi taler om at udtrykke sig, så kan kunst f.eks. være med til at påvirke udviklingen i samfundet. At skabe forandring er en grundlæggende kreativ proces."