Rikke Sternberg har valgt at udskifte rollen som partner hos PR-bureauet, Mannov, med en ny som kontaktdirektør og partner i Make Sense Film og TV.
Selskabet er stiftet i 2011 af journalisten Murad Ahmed, der således nu deler ejerskabet med Rikke Sternberg.
Hun skal være med til at eksekvere en vækststrategi, der skal gøre Make Sense til den foretrukne partner inden for produktion af video-indhold til virksomheder, brands og organisationer – ofte med kommunikationsbureauet som bindeled.
"Vi har set en voldsomt øget efterspørgsel på rådgivning om og produktion af videoer for både B2B og B2C-virksomheder, og det var derfor det rigtige tidspunkt at tilknytte en erfaren kapacitet med stor indsigt i strategisk kommunikation, salgsarbejde og kunderelationer. Jeg er meget glad for, at Rikke har valgt at blive partner i Make Sense og har store forventninger til, at vi sammen kan skabe Danmarks stærkeste videopartner for bureauer, virksomheder og medier," siger Murad Ahmed.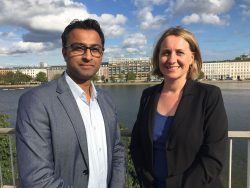 Rikke Sternberg blev partner hos Mannov I 2009, og hun har fortrinsvis beskæftiget sig med corporate communications og content strategi – ikke mindst for BtB og teknologidrevede virksomheder.
Sideløbende med tilknytningen af Rikke Sternberg har Make Sense ansat flere, så firmaet nu har fem videojournalister og producere, to kreative producere og en kontaktchef udover de nu to ejere.